Cookbook #132: Forrest Gump™ My Favorite Chocolate Recipes, Oxmoor House, Inc., Birmingham, AL, 1995.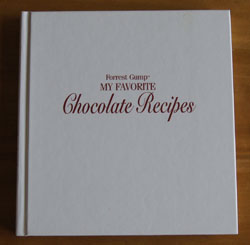 "Forrest Gump" was a cultural phenomenon in the 1990s. Probably most Americans of a certain age have seen the 1994 film, starred in by Tom Hanks as the slow but wise and likeable character Forrest Gump who bumbled through life with a Southern accent and a good attitude and lots of amazing adventures. I admit that it isn't among my favorite flicks, so I am sort of surprised that I own this book. Maybe it was on sale? Dunno.
The book does not credit an author, but the copyright page credits Winston Groom as the author of the Southern-accented introductions to the recipes. Who is Winston Groom? Aha, the author of the novel, Forrest Gump. He also authored several other novels as well as history books.
The recipes are all chocolate and rich. I did use this book – chocolate stains on the pages! Chocolate, cream, butter, candy bars, nuts, sugar, ice cream, cream cheese . . . it's hard not to make a good tasting dessert. But as I've stated before, these lovelies rarely fit into my diet plan. (Moderation, yes, is the answer, but it's hard to adhere to.)
For this blog? I decide to make Triple-Decker Brownies. With a slight hint of nutrition from oatmeal and pecans, these will be a sweet treat for Halloween festivities, shared with my daughter's family to spread the calories around. I am already looking forward to my first taste of these brownies!
Triple Decker Brownies, Forrest Gump™
makes 2 8×8-inch pans
Crust
1 1/2 cups toasted oatmeal (quick type; toast in dry pan on stovetop until fragrant)
1 cup flour
1 cup brown sugar
1/2 teaspoon baking soda
1/4 teaspoon salt
3/4 cup butter, melted
Filling
2 ounces unsweetened chocolate
1 1/2 cups sugar
2 eggs
1 1/3 cups flour
1/2 teaspoon baking powder
1/4 teaspoon salt
1/2 cup milk
1 teaspoon vanilla
1 cup pecans, chopped
Frosting
2 ounces unsweetened chocolate
1/4 cup butter
3 cups powdered sugar (sifted if it is clumpy)
2 teaspoons vanilla
1/4 cup hot water
Crust: Combine oatmeal, 1 cup flour, brown sugar, 1/2 teaspoon baking soda, and 1/4 teaspoon salt in a bowl. Add the 3/4 cup melted butter and stir well. Press into two greased 8-inch square pans. Bake at 350˚ for 10 minutes.
Filling: Melt 2 ounces chocolate and 1/2 cup butter in a pan. Off heat, add sugar and eggs and mix well. Combine the 1 1/3 cups flour, 1/2 teaspoon baking powder, and 1/4 teaspoon salt and add to the chocolate mixture alternately with milk. Stir in vanilla and pecans. Spread over the baked crust. Bake at 350˚ for 20-25 minutes. Cool.
Frosting: Melt 2 ounces chocolate and 1/4 cup butter in a pan. Off heat, stir in powdered sugar, 2 teaspoons vanilla, and 1 tablespoon water. Stir in an additional 3 to 3 tablespoons water until frosting is desired spreading consistency. Spread on cooled brownies.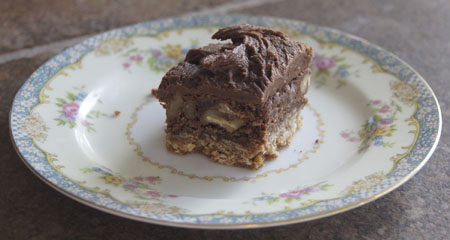 These are sinfully good. I ate one and wanted more more more! Will I make them again? Only if I have help eating them!