Cookbook #131: Cooking of Vienna's Empire, Joseph Wechsberg and the Editors of Time-Life Books, Alexandria, Virginia, 1968, 1974, reprinted 1977. Foods of the World series.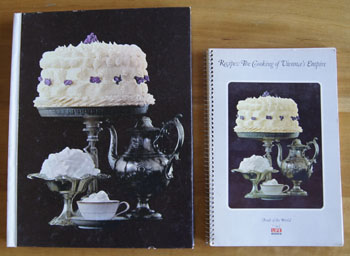 I looked forward to discovering another interesting author as I opened this cookbook, as I had discovered M. F. K. Fisher in the Cooking of Provinvial France and Emily Hahn in the Cooking of China. I wasn't disappointed!
Joseph Wechsberg was born in Czechoslovakia in 1907. He took up the violin at age 7, studied music, and then law, worked as a musician on French ocean liners, played violin in Paris night clubs, was a reporter for a newspaper in Prague, and commanded a machine gun company on the Polish frontier. In 1938 he came to the US as a representative of the Czechoslovakian government; after the war broke out, he claimed assylum in the US and remained here until the 1970s. He passed away in Vienna in 1983.
Wechsberg worked at the New Yorker for decades, and contributed to numerous other magazines, including Gourmet Magazine. He was proficient in four languages, and authored many books of fiction and non-fiction. According to the Joseph Wechsberg website, he had some "raffish" occupations as a young man, and:
"He could scarcely have avoided becoming a reporter: he had an intense curiosity about how things worked and how people behaved; he was a natural absorber of sounds and sights and facts; he took nothing for granted; detail enchanted him. His private pleasures and his journalism largely overlapped."
He had a love of good food. I can see that clearly as I read The Cooking of Vienna's Empire. In chapter five, "The Influence of Czechoslovakia", he writes of Marie, the cook in his family's home: "She was born to cook as other people are born to write or paint. She was an instinctive cook. I never saw her read a cookbook, but her recipes had become part of her life, closely guarded from the curious and envious."
Wechsberg's Definition of a 'Serious Eater' (the New Yorker, 1949):
"My friends were 'serious eaters'; they loved truly good food and scorned the snobbism of self-appointed 'gourmets' and one-dish amateur cooks. They didn't consider themselves gourmets, but they would confide to each other, with the air of brokers divulging something hot in the market, the addresses of good restaurants." (Aaron Mattis)
Happily, I have discovered another interesting culinary writer of the twentieth century. I plan to look up a few of his books. In the meantime, I am enjoy reading The Cooking of Vienna's Empire. It is called a "coffee table book" (can't help but think of Kramer of Seinfeld fame!). Alongside full page color photographs, Wechsberg describes the cooking of the Old Empire, Austria, Hungary, Czechoslovakia, and Yugoslavia (note the names/borders of these countries have changed). A whole chapter is devoted to the "Pastry Paradise".
Searching for a recipe to cook for this blog, I know I would love to cook just about any recipe from this book – but they are pretty heavily laden with cream and butter and dumplings and sausages and . . . calories. Some recipes include fish or game that is not available here.
Then – "paprika" and "onions" and "lard" catch my eye:
"The foundation of modern Hungarian cooking is the use of lard, onions and paprika . . . Perhaps the most critical thing in Hungarian cooking, according to experienced cooks I have talked with, is the frying of onions. On this process depends the subtlety of color and flavor that lovers of such food expect. The onions are fried in lard – slowly and with great care. Paprika . . .  Hungarian cooking is famous for it – but it is nonsense to believe that any dish containing a handful of this strong red spice is good Hungarian food. Good cooks agreee that it should be used sparingly."
I know that cooking and seasoning onions properly is the basis of a lot of dishes that I make, and I enjoy the process. I am interested in following this cookbook's suggestions on preparing an onion-lard-paprika dish, so I choose to cook "Potato Paprika" for this blog.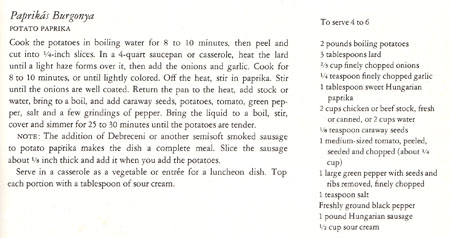 I made this pretty much as the recipe above.
1 1/2 pounds potatoes (I used russets but I suggest red or yukon potatoes)
2 tablespoons lard
1/2 cup finely chopped onions
1 teaspoon finely chopped garlic
1 tablespoon sweet Spanish or Hungarian paprika
1 to 1 1/2 cups chicken or beef stock (or use water)
1/8 teaspoon caraway seeds
1 tomato, peeled, seeded and chopped
1/2 of a green bellpepper, finely chopped
1/2 teaspoon salt (or to taste)
pepper to taste
Boil the potatoes for about 10 minutes, then cool, peel, and cut into 1/4-inch slices. (They will not be totally cooked at this point.)
Heat the lard "until a light haze forms over it", then add the onions and garlic. Cook over medium heat for 8-10 minutes, or until lightly colored. Off the heat, stir in the paprika. Stir until the onions are well coated. Return the pan to the heat, add 1 cup of stock (or water), and bring to a boil. Add the caraway seeds, potatoes, tomato, green pepper, salt, and a few grinds of black pepper. Simmer about 30 minutes, or until the potatoes are tender and the liquid evaporated. If the liquid evaporates before the potatoes are done, add more stock or water as necessary.
Here is my Potato Paprika, during the cooking. By the time I served this dish, most of the liquid had evaporated.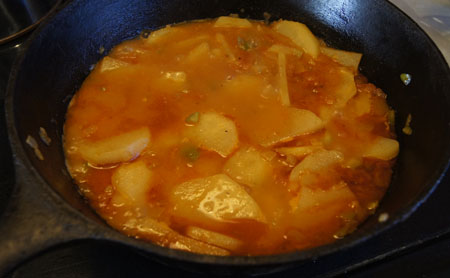 These were good. To me, they had a hint of Middle Eastern flavors. I had a problem with my potatoes, since I chose big russets and the initial 10-minute cooking left them raw in the middle (as in, very hard). I had to cook my Potatoes Paprika a long time, almost an hour. I have changed my version of the recipe to reflect this suggestion.
Would I make these again? Yes. They are very flavorful and different from all my other recipes for potatoes. And I think they would be really good with sausages added, as the original recipe suggests.