Cookbook #133: Artichoke to Za'atar, Greg Malouf and Lucy Malouf, University of California Press, Berkeley, Los Angeles, CA, 2008.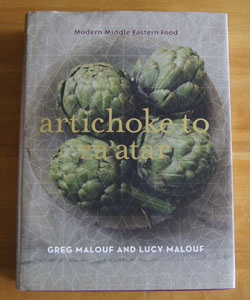 This is a beautiful cookbook. The photos are amazing. Pleasing designs and colors are carried throughout the pages. And – the Middle Eastern recipes are interesting and often enticing.
My daughter brought me this cookbook when she moved from Washington, DC to Togo, West Africa. She knows a lot more about Middle Eastern cooking than I do. I only took a class in it – she traveled to Morroco and stayed with families there. I do want to learn more about this cuisine, and Artichoke to Za'atar is great for reference and for recipes. I'm glad this blog got me to take this book off the shelf and spend some time with it.
A little about the authors. Greg Malouf is "modern Middle Eastern" grand chef. He lives in Australia but his heritage is Lebanese. On this site, you can see some of his handiwork (2015). I recommend his Facebook page too. Lucy Malouf, who is now his ex-wife, has had a "rich and varied career". From her site, Lucy ". . . is regarded as one of the most experienced food editors in the publishing industry. She is also a member of that peculiar group of people who enjoy compiling indexes." Ah, a woman after my own heart! I once indexed an organic chemistry laboratory text and thoroughly enjoyed that task!
Oh yes, I can learn a lot from Greg and Lucy Malouf.
Many recipes in Artichoke to Za'atar look exotic, but the directions seem clear and easy to follow. I think that my problem will be in finding some of the ingredients in local stores. Examples: amardine (apricot leather), orange blossom water, haloumi cheese, merguez sausages, white haricot beans, fresh fava beans, juniper berries, sumac, quinces, rose water, Vialone Nano rice, poussin (very young chicken), pigeon, rabbit. (Rabbit? We have tons of rabbits on our land this year, but I am not about to kill and dress one.)
I decide to make "Honey-Roasted Pear and Walnut Salad" for this blog: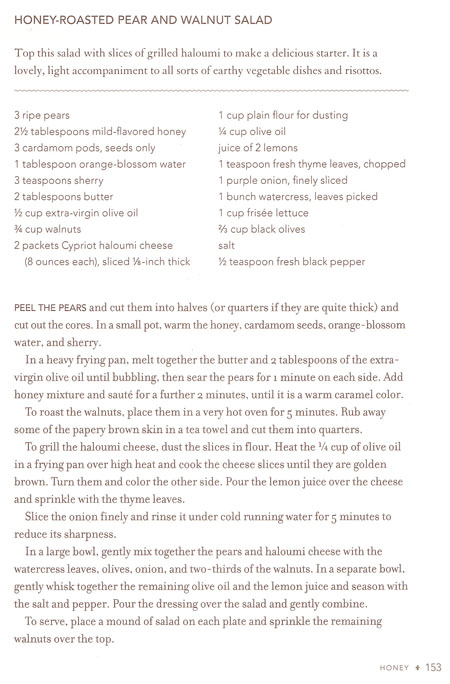 The ingredients that might be hard to find are orange blossom water and haloumi cheese and frisee. I start in downtown Boulder with a visit to my favorite ingredient and spice shops. Got lucky on my first store, Peppercorn, and found the orange blossom water (with the help of a saleswoman).

Cypricot haloumi cheese? I know that Whole Foods has a good selection of cheese, so I started there. Couldn't find it in the fancy cheeses, but a store helper led me to the area of fresh mozzarella, feta, quesa fresca – those sorts of cheeses – and there it was: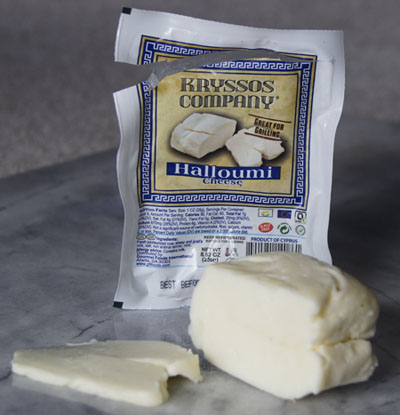 When I got to the check-out stand, they couldn't find a price on this cheese, even sent the bagger back to look, so they gave it to me for free! The clerk raved about this cheese as a "grilling cheese". I am looking forward to tasting it!
Frisee is a type of lettuce that is often in the "spring mix" packages, but I don't recall seeing it sold separately. I was wrong! I found "endive frisee" sold by the head in the produce section of Whole Foods.
I have cardamom pods in my own spice cabinet. They smell wonderful! Cardamom comes in seeds, powder, or pods. Here is my jar of whole cardamom pods: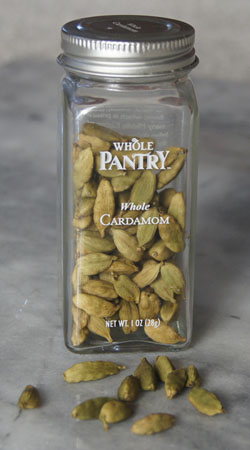 The cardamom seeds are inside the greenish pods. I cracked a pod and peeled it apart and found these black seeds: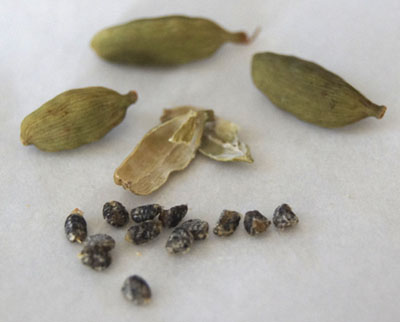 If you have cardamom seeds or powder in your pantry, my guess is that you could substitute them for the pods.
The rest of the ingredients (even watercress) are easy to find. Pears especially are easy – it is fall and pears are in abundance. (Once I ordered "roasted pear salad" at a restaurant in Boulder, and they only put one measly pear in it! This time I will have a lot of pears.) The recipe does not say how many it serves. It looked like too much for the two of us, so I cut back the ingredients.
Aargh. As I prepared this salad, I took issue with many of the instructions. It said to use a "very hot oven" for the walnuts. To me, a "hot" oven is 475˚, the temperature I use to bake rustic breads. I chose 450˚ to roast the walnuts, and they were burnt after 4 minutes of cooking (I had to start over). It calls for the "juice of 2 lemons" but did not specifiy how much went for the cheese and how much for the dressing. I don't think running the onion under water for 5 minutes is necessary. It says to "add the pears", but I wasn't sure if I was supposed to add just the pears, or the pears and their cooking liquid. (For that matter, I was disappointed that the pears were "roasted" by frying in a pan, not cooking in a hot oven.) The recipe lists frisee but does not specify when to add it to the salad. Whisk the oil and lemon juice "gently"? That's odd, usually you want to whisk it to an emulsion.
Below is my version of this recipe.
Pear, Walnut, and Haloumi Cheese Salad
2 ripe pears, peeled and cut into quarters
2 1/2 tablespoons honey (about 50 grams)
3 cardamom pods, seeded (use the seeds only)
1 tablespoon orange-blossom water
1 tablespoon sherry
2 tablespoons butter
2 tablespoons of extra-virgin olive oil
Combine the honey, cardamom seeds, orange-blossom water, and sherry in a small pan and heat gently to combine. Save.
Heat the butter and 2 tablespoons extra-virgin olive oil in a heavy fry pan. Keeping the heat at medium high to high heat, add the pear and sear the pears for 1 minute on each "side" (my pears had 3 sides). Add the saved honey mixture and cook for 2 more minutes, or until the liquid is a caramel color. Turn the pears carefuly a few times as the liquid is caramelizing.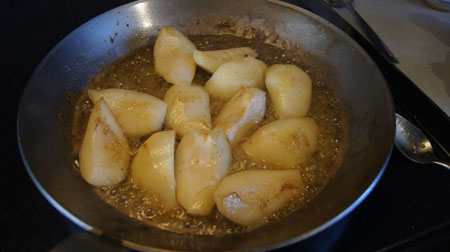 Set the pears aside and save.
Walnuts
Roast the walnuts by placing in a pan in a 400˚ oven for about 5 minutes. Check during the cook time, as they can become black quite quickly.
Cheese
4 ounces Haloumi cheese, sliced 1/8-inch thick
1/4 cup flour
1-2 tablespoons olive oil (extra-virgin not necessary)
1 tablespoon lemon juice (juice one lemon and use 1 tablespoon here, the rest in the dressing)
thyme, about 1 fresh sprig chopped or about 1/4 teaspoon dried
Heat a fry pan over high heat and add enough olive oil to cover the bottom of the pan. Dust the haloumi cheese in the flour and then cook the cheese slices until they are golden brown on each side. Remove the cheese from the pan and sprinkle with the 1 tablespoon lemon juice and the thyme.
Salad
1/4 of a red (purple) onion, thinly sliced
about 1/4 of a bunch of watercress, leaves only
about 1/2 cup endive frisee lettuce (if you can find it)
(use any lettuce combination you have on hand)
about 1/3 cup whole black olives, brined are especially good
3 tablespoons extra-virgin olive oil
juice of one lemon (well, what is left after taking out the 1 tablespoon for the cheese slices)
salt and pepper to taste
Put the pears (fish them out of their cooking liquid), the fried haloumi cheese, the watercress, frisee, olives, onion, and most of the walnuts in a bowl and mix gently. In a separate small bowl, whisk together the olive oil and lemon juice and salt and pepper. Pour the dressing over the salad and mix gently. Serve topped with the remaining walnuts.
My version of this salad was very flavorful, and quite pretty. In the cookbook they say to serve it as a "starter". Since it is a fairly substantial salad, I decided to serve it plated with salmon and garlic bread as a complete meal.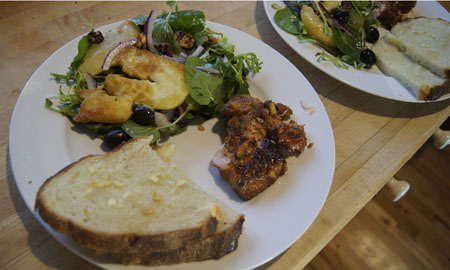 I will make a version of this again, I'm sure. But next time I might try a couple variations. I would like to try the haloumi cheese grilled outside instead of fried in oil. For the pears, I want to try roasting them in the oven instead of frying in a syrupy sauce.
A small additional note. This cookbook is organized in alphabetical order by ingredient name. But, "artichoke" is not the first entry, "almond" is. And the last entry is "zucchini". "Za'atar" is a thyme spice mixture, and does not have it's own entry. I guess they did not want to call this book "Almond to Zucchini"!