I had a craving for cherry pie this week. I pulled out my old recipe card and figured I had better save it in a better format before it was totally ruined.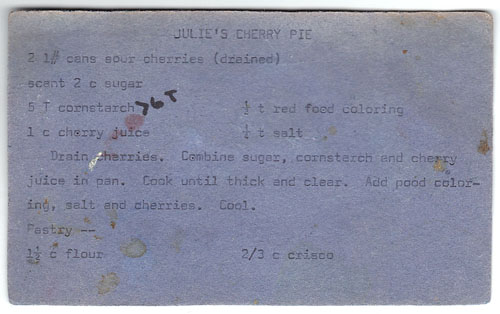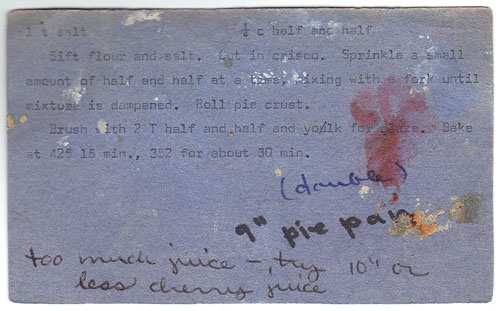 This is a great cherry pie. I copied it from my mother's collection when I left home in the 70s. Why is it called "Julie's" cherry pie? I have no idea. My husband has a sister named Julie, but I was making this pie before we met. Cherry pie is probably my husband's favorite pie! He always insists that I make criss-crosses of crust strips on top.
The crust recipe on this card calls for Crisco and half and half. It is a good, tender crust, but these days I prefer my newer crust recipe that uses Crisco, butter, and vodka.
As for the tart cherries, the easiest to find are canned cherries. But I have used fresh-picked (when very lucky!) or fresh-frozen cherries as well in this recipe. (Not sure where I got the cherry juice in those instances, but I'm pretty sure today that cherry juice is sold separately somewhere.)
This weekend, I made this pie as two small pies. We split one pie on Saturday and still had another for the next night. Mini-sized desserts works well for the two of us – here are a couple other mini-dessert recipes on a previous blog entry.
Double the recipe and bake in a 10-inch pie pan. (If you use a 9-inch pie pan, it might run over.) My small pie "pans" are fiesta ware 6-inch slanted side oven-safe dishes, a little over 1 3/4-inch deep.
Julie's Cherry Pie
makes 2 small pies
one recipe pie crust (use 1 1/4 cup flour)
1 can tart cherries; 14.5 oz. size
scant 1 cup sugar
3 tablespoons corn starch
1 cup cherry juice
a few drops red food coloring (you can leave this out)
Drain the cherries, reserving juice.
Combine the sugar and corn starch in a pan, then slowly stir in 1/2 cup of the cherry juice. Bring to a boil, stirring constantly, then simmer and stir a couple minutes. It doesn't get real thick or real clear, but it's okay.
Remove from heat and add the red food coloring (if using) and the drained cherries. Cool.
Divide the crust dough into 3 nearly equal portions. Roll out 2 of them and fit into 2 small pie pans. Divide the cherry mixture between the two pans.
Roll the rest of the dough and cut into strips. Put the strips in a criss-cross pattern on each pie. Trim the crusts, roll under and flute.
Bake at 425˚ for 10 minutes and then at 350˚ for 30 minutes.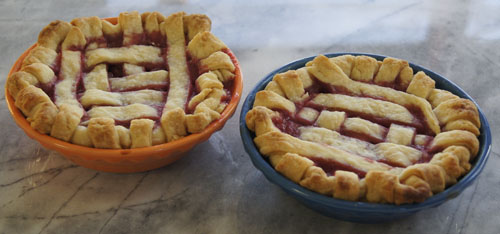 Boy these are good. A little ice cream on top? Sure. Absolutely heavenly.