Cookbook #139: FYI Chem Recipe Book, Second FYI Chemistry Conference: Global Communication for a Sustainable World, University of Colorado, Boulder, 2007.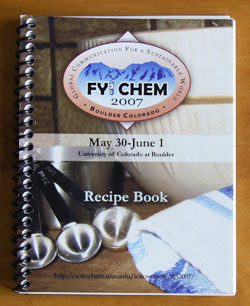 This delightful small book is a keepsake from the  second FYI Chemistry Conference, held at CU Boulder in the spring of 2007. I was still working then, and although I didn't attend the conference, Dr. Margaret Asirvatham – a long-time colleague – gave me this book. (I'm not sure that the International Center for First-Year Undergraduate Chemistry, ICUC, the sponsor of the event, is currently active, since the url listed in the book says "server not found".)
Conference participants contributed recipes from their homelands for this cookbook. Like many a group of university chemistry teachers, they came from all over the world: India, Israel, Italy, Peru, Mexico, the US, Greece, and Spain.
This is a geeky international chemistry version of a community cookbook!
I know I have made one recipe from this cookbook: Chicken Curry. This is one of Margaret's recipes, and it was really good. I will make it again for this blog! A few of the other recipes I'd like to try are: Easy Rice Pilaf (baked with vermicelli), Vada (yellow split peas), Dolmadakia (stuffed grape leaves), Traditional Andalusian Gazpacho, Tacos Dorados de Pollo (shredded chicken fried in tortillas), Pinza (a traditional Italian cookie) and Chocolate-Mint Cookies (peppermint frosting!).
And here is my favorite ice cream recipe, although I can't make it at home!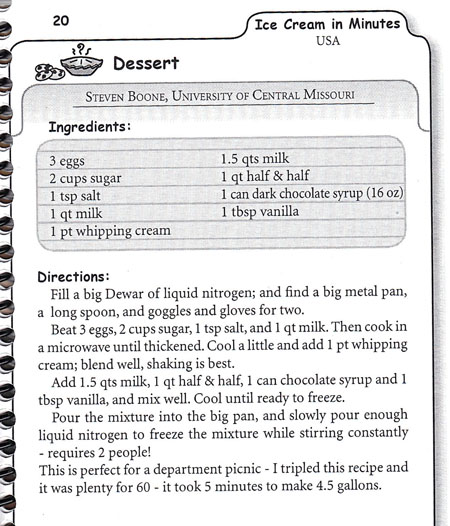 Liquid nitrogen! Since I was in the chem building for most of my working life, I've had this ice cream a lot. The undergraduate chemistry club liked to make it on "mole day" (celebrated on October 23), plus it worked it's way into other parties and events.
Here is Margaret's recipe for Chicken Curry.
This recipe calls for bone-in chicken pieces, and I have made it that way before. This time, I want to use some boneless chicken thighs instead. This makes eating the sauced-chicken easier (plus I have some boneless thighs in the freezer). I didn't have fresh ginger, so I used ground ginger from a jar. My husband sees turmeric and sees yellow – and hates it. So, I left it out. When he asked what I was cooking for dinner, I said "spiced chicken over rice". If I had said "curry", he would have hated it. So. Below is my version of this dish.
Note: Don't leave out the cayenne, garam masala, or coriander. Otherwise, this is just another chicken dish. The spices make it special.
12-14 ounces boneless skinless chicken thighs or breasts (or use bone-in pieces)
olive oil for frying
1 smallish onion, chopped
1 clove garlic, diced
1/4-inch fresh ginger, diced OR use 1/2 teaspoon ground ginger
1 medium or large tomato, diced
optional: 1 teaspoon turmeric powder
1/4 – 1 teaspoon cayenne (to your own taste)
1/2 teaspon garam masala
1/2 teaspoon coriander powder
1/2 cup plain yogurt
salt (to taste)
black pepper (to taste)
fresh cilantro leaves to taste (optional)
Cut the chicken into bite-sized chunks and fry in a little hot oil. Remove from the pan and set aside. Fry the onion (and fresh ginger, if you are using it) in a little hot oil until it softens and is lightly brown. If you are using ground ginger, sprinkle it over the onions as they cook. Add the garlic and stir about half a minute.
Add the chopped tomato and cook 5-7 minutes. Add the turmeric (if using) and cayenne and cook at low heat for a few more minutes, then add the yogurt, garam masala, coriander powder, and salt and pepper. Stir well.
Add the chicken back to the sauce, stir, and then cook for about 30 minutes (more if you are using bone-in pieces). Serve over rice with cilantro leaves sprinkled on top if you like.
This did take quite a gathering of ingredients: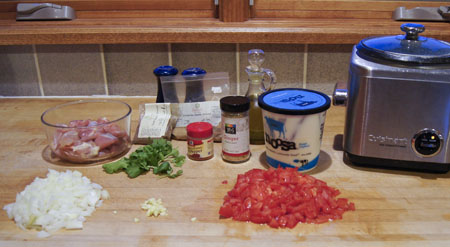 The final dish: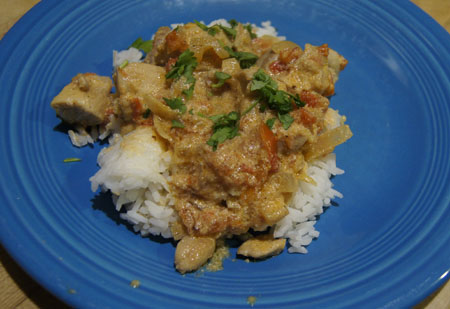 I loved this curry! My hubbie went back for seconds, so he liked it too (I never told him it was curry).
Another success in my kitchen lab!