Cookbook #151: Carousel of Cultures Cookbook, Woodbury 1975-76, The Multicultural Committee, Woodbury Elementary School, Garden Grove, California, 1976.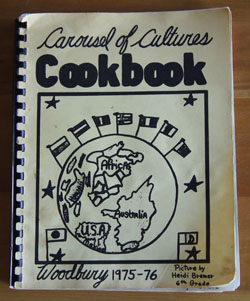 I just returned from a fun visit to my sister's lovely home in Southern California, so when my hand reached for this cookbook on the shelf yesterday, I smiled. My sister taught at Woodbury Elementary School and she gave me this cookbook way back when. In it are handwritten notes for me. I'm keeping this cookbook!
Carousel of Cultures Cookbook is a "community" cookbook, similar to my Lyons Elementary Cookbook. Teachers and parents at Woodbury Elementary contributed all of the recipes. The introduction reads: "This cookbook is our way of sharing the different ways food is enjoyed in the many cultures of our community." Each section is illustrated with a drawing by one of the students.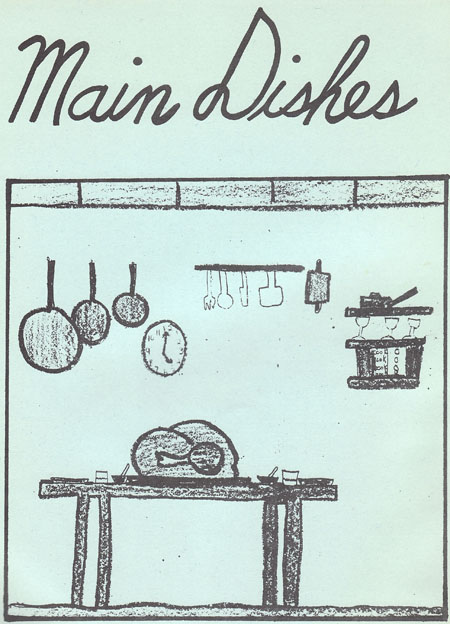 So many cultures joining together in Southern California in 1976! Below are the countries represented and a sample recipe title from each:
African (Fufu)
Chinese (Chinese Beef and Peppers)
English (Maids of Honour cakes)
French (Crepes with Creamed Seafood)
German (Sauerbraten)
Greek (Telley Savalas' Lamb Pallakari)
Indian (Hurgha Kari)
Italian (Fettuccine)
Mexican (Pescado en Mantequilla)
Moroccon (Lamb Moroccan)
Philipino(Chicken a la Monja)
Polynesian (Crab Meat Polynesian)
Swiss (Chicken with Tomato Sauce and Bacon)
Spanish (Leg of Veal)
Turkish (Rice Pilav)
Russian (Karabakh Loby)
Sweden (Rye Bread)
U.S.A. (Company Stew)
I was surprised to see a recipe for the African dish "fufu" in this 1976 gathering of recipes. In 2010, we traveled to Togo, West Africa to visit our daughter in the Peace Corps. Her favorite food there was fufu. Of course we had never heard of it! Making fufu in Africa was a long and usually social project. The ingredients were plaintains (a less sweet banana usually eaten cooked) and yams. But the "yams" were not the orange sweet potatoes that we eat at Thanksgiving. No, these yams are large and long and white and starchy, and look like a root. (See my footnote on yams at the bottom of this blog entry.) For fufu, they are peeled and then boiled, then they are put in a huge wooden bowl and pounded with a large mallet for about an hour. Traditionally, the men take turns doing the pounding, and the women move the mixture around under the mallet between pounds. When the pounding is finished, the fufu has a consistency of sticky mashed potatoes. Here is a photo of authentic fufu prepared in Togo at a gathering of friends of my daughter in 2010: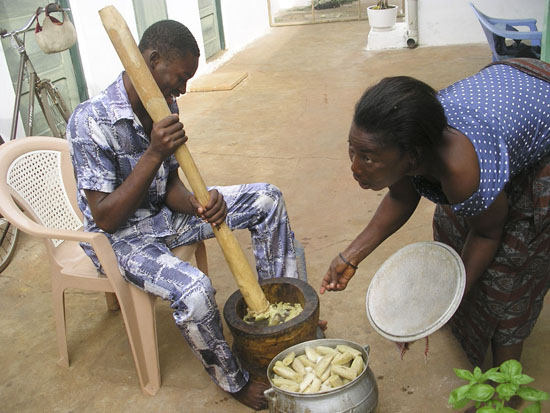 Here is the recipe for fufu from Carousel of Cultures: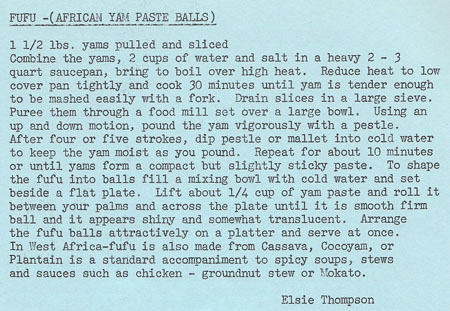 I was surprised at how many recipes I'd like to try from this cookbook: a Greek lamb dish, French seafood crepes, sauerbraten, rice and bread puddings, fig nut bread, Greek nut cake, and one or all of the raw apple cakes. Spinach Salad, with notes from my sister, is a classic potluck dish that is worth saving. I like the almond cookies for a Chinese meal. My sister contributed a recipe for English Toffee Brownies and my mother contributed Frosty Lemon Pie. My sister's mother-in-law contributed Chocolate Nut Balls.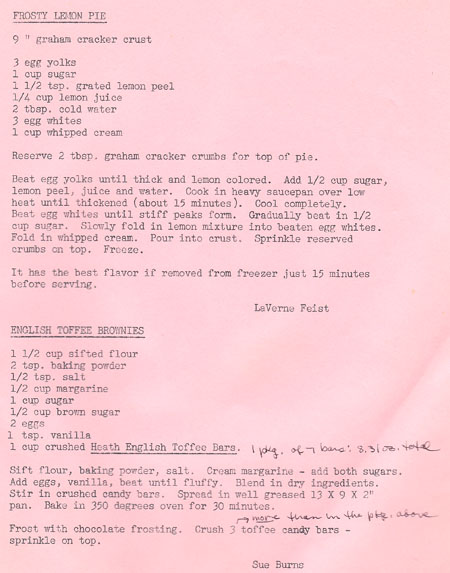 I decide to make "Rice Pilav" for this blog: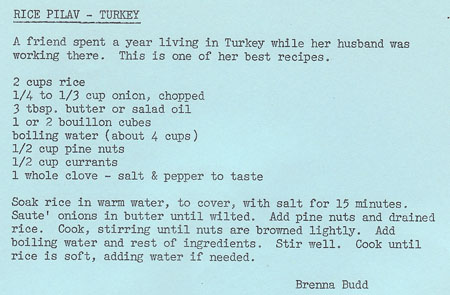 We traveled to Turkey a couple years ago and thoroughly enjoyed the food (and the trip!). We often had rice like this rice pilav on that trip.
Rice Pilav (Turkey)
serves about 4
1 cup white rice
1/2 teaspoon salt
1 tablespoon butter
1/4 cup chopped onion
1/4 cup pine nuts
2 cups boiling water and 1 cube bouillon OR mix and boil 1 cup water and 1 cup chicken stock
1/4 cup currants
1 whole clove, or a few shakes of ground cloves
salt and pepper to taste
Cover the rice and salt with hot tap water (this is not the boiling water indicated in the ingredient list). Let soak about 15 minutes, then drain.
Melt the butter and add the chopped onion; cook until the onion wilts. Add the pine nuts and the drained rice; cook and stir until the pine nuts are lightly browned. Add the boiling water/bouillon OR water/stock mixture, currants, clove, and salt and pepper. Cover and cook until the rice is soft, adding more water if necessary.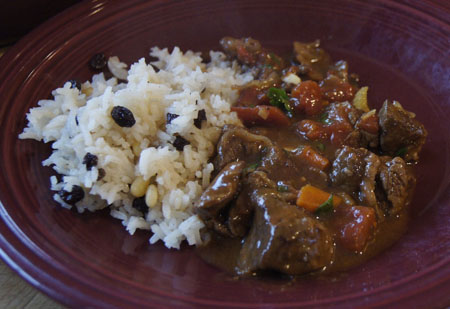 I served this with my own Lamb Stew with Cinnamon and it was delicious! Perfect combination of flavors.
Footnote about yams
(a note about the yams used in fufu)

In the US, yams and sweet potatoes are often called the same thing. In botanical terms, they are different species. True yams are seldom grown in the US, but around the world, over 150 species of yams are cultivated. Yams can range from potato-size to over 7 1/2 feet long and 120 pounds. The ones we saw in Togo were about a foot long, white to tan in color, and a couple inches in diameter. (Reference: Food Lover's Companion)