Cookbook #152: Recipes for a Small Planet, Ellen Buchman Ewald, Ballantine Books, NY, 1973.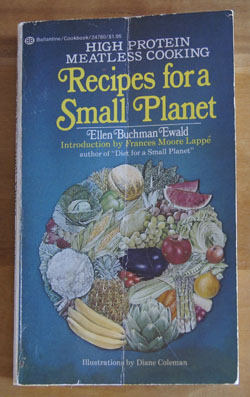 "If you are already complaining that your don't want to spend an extra minute in the kitchen, read no further." So writes Ewald in her introduction to Recipes for a Small Planet. That could be the intro line for this-here blog of mine!
This book goes hand-in-hand with Diet for a Small Planet by Frances Lappé, a book I covered in a previous post. Recipes for a Small Planet provides hundreds of recipes for high protein meatless cooking – combining different vegetables (with dairy) to get complete or complementary proteins, while Diet for a Small Planet focuses mainly on the theory behind the method. (Since Lappé's book was published, the research her "complementary proteins" is based on has been disputed. Read the Diet post for details.)
The two women, Ellen Ewald and Frances Lappé – or "Frankie", as Ellen calls her – were close friends. Lappé writes in the Diet for a Small Planet introduction:
"The fun of writing this book was increased immeasurably by the aid and encouragement of friends. First I must thank the person who created the delicious dinner that introduced me to the pleasures of eating without meat – Ellen Ewald. After dinner I went through her kitchen asking: What's this? What's that? And she sent me home with a variety of samples – soy grits, whole oats, buckweeat groats, bulgur – all these strange sounding foods which are really amount the most common foods in the world! Ellen is also the person you  can thank for many of the appetizing redipes you'll find later in the book. Her help made compiling the recipes an adventure."
Ellen Ewald's preface reads:
"If we all took a little time to nourish our bodies in the best way possible (instead of in the quickest way), life could be long and healthy. If we choose to disregard the importance of what is in the food we eat, we may as well disregard the importance of having clean air to breathe. (But it should be obvious to all of us that most industries, including the food industry, consider profit before they consider air polution and the internal polution of our bodies.)"
"Food industry". Unless we have our own gardens, we are dependent on it, for better or worse.
The recipes in this book tend to have long lists of ingredients. Yes, Ellen Ewald likes spending extra minutes in the kitchen! Each recipe is followed by a little box that shows us the "complete protein" combination. Note that hers is not a vegan diet; milk products and eggs are prevalent throughout the book.
The chapters are: breakfast, lunch, soups and stews, salads, dinners, breads, cookies and bars, desserts, and dairy drinks. Some of the recipes do not appeal to me at all: oatmeal soup (stock, milk, garlic, onions, rolled oats, tomatoes), barley and yogurt soup, cabbage soup, garbanzo stuffed cabbage, soybean stroganoff, and split peas in a cheese sauce over rice. I did find several recipes in the bread, dessert, and cookie sections that were more up my personal-taste alley.
My pantry is not stocked with the ingredients to make many of the recipes. Ewald relies heavily on soy beans. Soy products, once the darling of the vegetarian movement, have faded in popularity. It's not too hard to find soy beans in local stores, and tofu, but soy grits or soy flour can require searching several natural foods markets or online sources.
I choose to make "Banana Spice Bars" for this blog.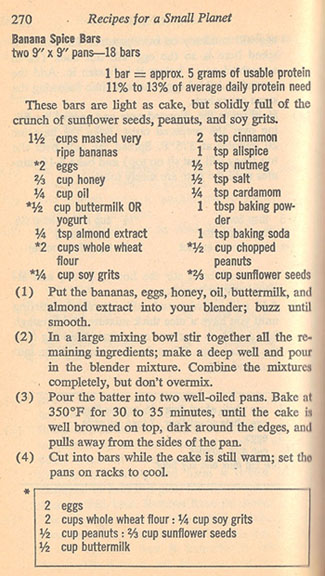 I really don't think these bars will be "light as cake", not with the whole wheat flour and nuts and seeds to weigh it down. I couldn't find soy grits, so I used 3 ounces of tofu.
There are 17 ingredients in these bars!
The box at the bottom of the above recipe lists the sources of protein in these bars. The eggs and buttermilk have complete protein on their own; the whole wheat flour and soy grits are complementary; the peanuts and sunflower seeds are complementary. I am making a half-recipe in a 9-inch pan; if I cut them into 9 bars, each will have 5 grams of usable protein.
Banana Spice Bars
makes one 9-inch pan
3/4 cup mashed bananas
1 egg
1/3 cup honey (4 ounces)
2 tablespoons oil
1/4 cup buttermilk (or yogurt)
1/8 teaspoon almond extract (or vanilla)
2 tablespoons soy grits OR 3 ounces tofu
1 cup whole wheat flour
1 teaspoon cinnamon
1/2 teaspoon allspice
1/4 teaspoon nutmeg
1/8 teaspoon cardamon
1/4 teaspoon salt
1 1/2 teaspoons baking powder
1/2 teaspoon baking soda
1/4 cup chopped peanuts
1/3 cup sunflower seeds
Put the bananas, egg, honey, oil, buttermilk and almond extract in a blender or food processor. If you are using tofu, add that too. Process until smooth.
Stir together the flour, soy grits (if you are using them), the spices, salt, baking powder, baking soda, and peanuts and sunflower seeds. Pour in the banana mixture and stir to combine (do not overmix).
Pour the batter into an oiled or non-stick-sprayed 9-inch pan. Bake at 350˚ 30-35 minutes, until they test done with a toothpick.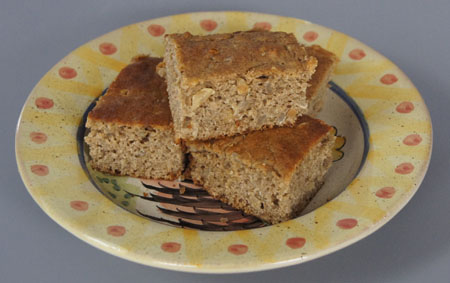 To my surprise, these really are light as cake! And delicious too! They fall into my personal classification as "healthy": honey instead of sugar, whole wheat flour, very little oil, tofu, and nuts and seeds. A good snack for an active day.
I was going to recycle this cookbook, but this recipe turned out so well that I think I'll keep it around and try a few other recipes.