Cookbook #153: Easy Entertaining, Tone's 125th Anniversary, Tone Brothers, Inc., Iowa, 1998.
Where/when/why did I buy this cookbook? Dunno. But it is a pretty cookbook, nicely laid out, and some of the 84 recipes are tempting. I don't find any post-its or writing in it. It's in great shape! I'll keep this cookbook.
So what is "Tone's"? I am unfamiliar with this brand. I learn in the first pages of this book that Tone's is a brand of spices. In 1873, Jehiel and Isaac Tone founded Tone's Brothers, Inc., in Des Moines, Iowa. The reason I don't have any Tone's spices on my shelves is that they are sold in warehouse stores, like Sam's Club. None of those stores close to my small town of Lyons!
Tone's early product line included cinnamon, nutmeg, cloves, allspice, mace, and ginger. And, black pepper. But not black pepper like we have today! No, it was a mixture of pepper, ground olive stones, cayenne pepper, and black coloring. The black coloring was called "lamp black", and it was made from soot. And we complain today about food additives! Thank you, brothers Tone, for the "revolutionary idea of selling pure ground pepper".
Tones Brothers introduced other innovations in spices, including selling spices in individual consumer units. At first, the containers were made of paperboard and tin.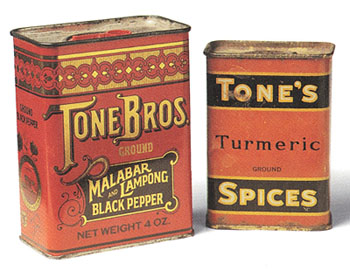 Tone's was the first spice company to use clear plastic packaging (1980s). By the 1990s, they produced more than 250 varieties of seasonings and mixes. Tone Brothers was a family-owned-and-run business until the 1970s, when it was purchased by Mid-Continent Bottlers. Then it was swept up in the merger and acquisition frenzy of the business world, and the brand name has now been owned by a series of conglomerates. (Here is a good history of the company.) Tone Brothers registered these different trademarks: Tone's®, Durkee®, DecACake®, Spice Islands®, Spice Advice®. Tone's current website is here.
The 84 recipes in this book range from appetizers to salads and sides to main dishes to desserts to beverages. A few years ago I tried the "Mesa Corn with Chili-Seasoned Pork" and liked it so much I added it to my personal recipe files. I'd also like to try: Greek Cauliflower Dip, Coconut Pork Stir-fry, Quesadilla Pie (flour tortillas layered with with rice, chicken, and cheese), Broccoli Pesto Fettucine, Spanish Gaspacho Salad, Sesame Spinach Salad, French Potato Salad, Tuscan Green Beans, and Zucchini Raisin Wheat Muffins.
For this blog I choose to try "Fresh Tomato Cheese Tart". I hope it turns out as good as it looks, because I plan to take it to a potluck dinner-meeting. I decided to use dried basil in the filling as called for in the recipe, but fresh basil for the top.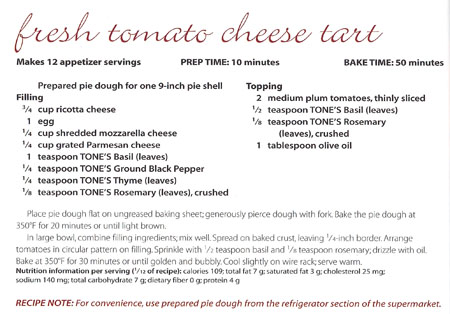 Fresh Tomato Cheese Tart
serves about 12 as an appetizer
crust
pastry for one 9-inch pie crust, purchased or homemade
filling
1 egg
3/4 cup ricotta cheese
1/4 cup grated mozzarella cheese
1/4 cup grated Parmesan cheese
1/2 teaspoon dried basil
1/4 teaspoon ground pepper
1/4 teaspoon dried thyme
1/8 teaspoon dried crushed rosemary, or fresh rosemary chopped fine
topping
1-2 fresh plum (roma) tomatoes, unpeeled, sliced thin
fresh basil, several leaves, sliced or chopped
1/8 teaspoon dried crushed rosemary, or fresh rosemary chopped fine
1 tablespoon olive oil
Roll the pie crust to a 9-inch circle. If you make your own, you will need to cut it neatly around the edges. Place it on a piece of parchment on a baking sheet, or put it in a large pie plate, like a quiche dish. Poke a lot of holes in it with a fork. Bake at 350˚ for 20 minutes, or until light brown. Let cool before adding the filling and topping.
For the filling, whisk the egg, then whisk in the ricotta cheese and the remaining filling ingredients. Spread carefully and evenly on the crust, leaving a 1/4-inch border.
Arrange the tomato slices on top in a single layer. Sprinkle with the basil and rosemary. Drizzle with the olive oil.
Bake at 350˚ for 30 minutes, until golden and bubbly. Serve warm. (If you cook this on parchment, slide it carefully onto a plate to serve. I baked it in the pan showed in the photo, below.)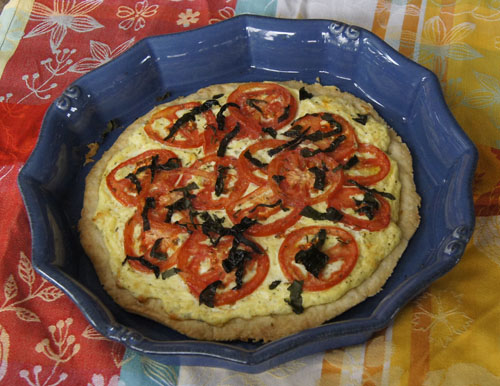 This was delicious! Savory and rich. I strongly recommend the fresh basil – it adds a burst of flavor and color to this dish. Next time, I think I'll put the fresh basil leaves under the tomatoes.