Cookbook #156: All-Time Favorite Recipes, Better Homes and Gardens, Gerald Knox (editor), Meredith Corporation, Des Moines, Iowa, 1979.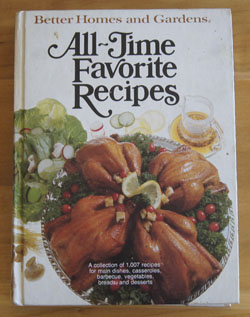 I like this book a lot! I don't think I have ever looked at it before. It's from my mother's collection. This is on the inside cover:

That's my mothers's writing, and I'm pretty sure it says "from me March, 1981". That made me smile. She bought it for herself and wrote a little inscription to mark that fact.
This cookbook has the type of recipes I grew up with, so I'm not surprised she chose this book for herself. She never worked outside the home, and thus her personal spending money was pretty special to her. So this is a special book to me.
All-Time Favorite Recipes is bound, rather than loose leaf like her Better Homes and Garden New Cook Book. It's a big book: 480 pages! The introduction reads:
"Through the years, the editors of Better Homes and Gardens, like all good cooks, have collected a huge recipe file. In All-Time Faovrite Recipes, we have compiled for you the favorites of all the recipes we've published. Whether you are planning a meal for family or guests, you'll find dishes for the entire meal in these pages. Choose a main dish from the meat, fish, poultry, or casserole pages. Or, for warm weather entrées, turn to the barbecue recipes. Complete your menu with dishes from the vegetable, salad, bread, and dessert sections. From one good cook to another, we give you our favorites."
After this short intro the editor gets right into the recipes. On page 9, I find a recipe for Sauerbraten. Mother says it is "Delicious" and the "gravy is yummy!" You take a beef round rump roast, marinate in red wine vinegar, spices, and onions for 3 days, simmer a couple hours, and then add crushed gingersnaps. I bought gingersnaps for the first time in years just last weekend, with sauerbraten on my mind. I'll try this recipe soon. She also liked the Pot Roast Dip Sandwiches on the same page. Other main dishes she favored are the Sicilian Meat Roll and Manicotti. The Tetrazzini Crepes on page 121 is the same recipe as in All-Time Favorite Casseroles, another Better Homes and Gardens book that I covered in this blog.
I think the recipe she used the most from this book is 24-Hour Vegetable Salad on page 248. The book opens easily to this page, like it's been opened there a lot, she marked it "Delicious", and I see a couple food stains on the page. This is a great large-potluck dish. The day before, you layer romaine, Swiss cheese, hard boiled eggs, cooked bacon, leaf lettuce, thawed frozen peas, mayonnaise, and green onions. The next day, toss and serve! (I found a similar recipe in the Carousel of Cultures Cookbook, so if I ever want such a salad, I'll compare and contrast the two.) Mother liked a few of the other salad recipes, but not the "Cheesy Coleslaw Mold". For that she says simply: "Do not make again". Ha! I'd never try it in the first place!
The recipe I use for "Biscuits Supreme" is on page 390 with her notes, and she liked the whole wheat rolls. She marked the Banana Nut Bread "Delicious" – and I found that someone reviewing this cookbook on Amazon really liked this banana nut bread too. I'll have to try this recipe sometime, it's a bit different from the one I currently use.
That's about all she marked in this cookbook. I made a list of about ten recipes I'd like to try. Good ideas in this old cookbook!
I decide to make Cinnamon Swirl Loaf for this blog.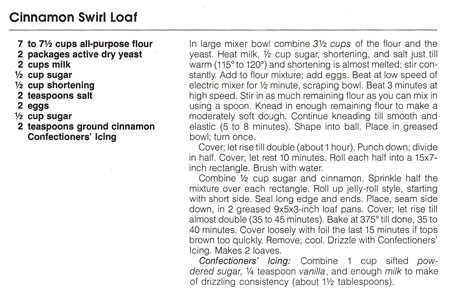 In this recipe, a sweet and rich yeast bread dough is rolled around cinnamon and sugar before baking. I've tried swirled breads before, but after baking they always had big gaps in the swirls. Why? Because I always brushed butter onto the dough before the cinnamon and sugar. The butter sent the layers flying apart when the loaf was cooked. This recipe uses water (duh! says this chemist) to keep the dough layers together. I want to see if it works.
I plan to make a few changes: I want to use a breadmaker, I prefer butter over shortening, and I want raisins in the dough. Plus I'll skip the glaze. And make just one loaf. Below is my adaptation of this recipe.
Cinnamon-Raisin Swirl Loaf
makes 1 9×5-inch loaf
for the bread
1 cup milk
1/4 cup butter, cut in small pieces
1/4 cup sugar
1 egg
17 ounces bread flour or all-purpose flour
3/4 teaspoon salt
2 1/2 teaspoons yeast
1/3 cup raisins
for the swirl
1/4 cup sugar
1 teaspoon cinnamon
Put the bread ingredients EXCEPT the raisins in the order given into a breadmaker and set to a dough cycle with a rising step. Watch the dough as it kneads and add a little flour or water if necessary. Add the raisins near the end of the kneading cycle – most breadmakers have a "beep" or such for adding raisins or nuts.
When the dough is ready, roll it into a 15×7-inch rectangle. Brush with water. Combine the 1/4 cup sugar and 1 teaspoon cinnamon and sprinkle it over the dough. Starting from the short side, roll up jelly-roll style. Pinch the long edges and ends together to seal them (a little extra water helps seal the dough edges). Place seam side down in a greased 9×5-inch loaf pan.
Let rise just until the dough crowns above the edges of the pan, about a half hour. Bake at 350˚ for 45-50 minutes. (I used an instant read thermometer and baked until it tested close to 200˚).
Here is the dough rolled out. Note it is glistening a bit since I had just brushed it with water.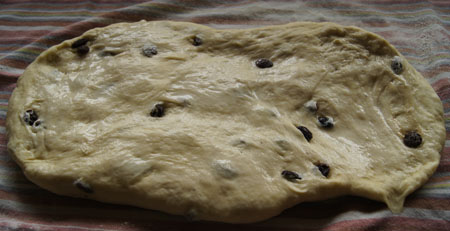 The cinnamon-sugar sprinkled on top: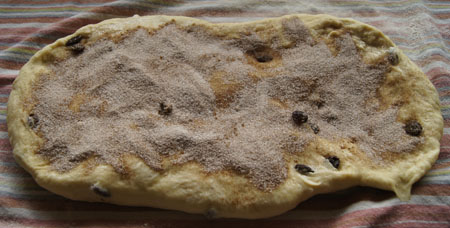 Now the next photo isn't terribly pretty. This bread about overflowed the pan on baking and leaned to one side. But it tasted great! Next time I make it, I will probably start with less milk and less flour or maybe less yeast (this is not written into the above recipe). I baked it at 375˚, and the crust was browner than I like; next time, I will bake it at 350˚. Otherwise, I will definitely make this again! The swirled layers stayed together, just like I wanted.