Cookbook #155: Healthy Bread Recipes, Salton/MAXIM Housewares, Inc., Mt. Prospect, IL, 1998.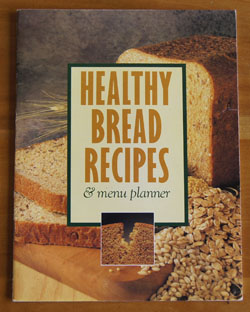 Healthy Bread Recipes reminds me that I purchased a Breadman breadmaker around 1998. My second breadmaker, it was highly recommended by King Arthur Flour. I recall that it eventually died – a problem with the dough bucket paddles binding up. I replaced it with another Zojirushi in 2008. The Breadman brand is currently owned by Spectrum Brands Inc. I wrote about my thoughts on yeast breads and breadmachines in the post My Daily Bread.
Healthy Bread Recipes has less than 20 recipes. But since they all have whole grains and are designed for breadmakers, each recipe is right up my alley. I'll keep this booklet.
I decide to make "Honey Banana Whole Wheat Bread" for this blog. I've made banana yeast breads before, but don't quite remember which recipe I used. I don't expect the banana flavor to come through very strongly in this very wheat-y yeast bread, but I like the poppy seeds it calls for and it should be good for breakfast toast and as they say, for great peanut butter sandwiches!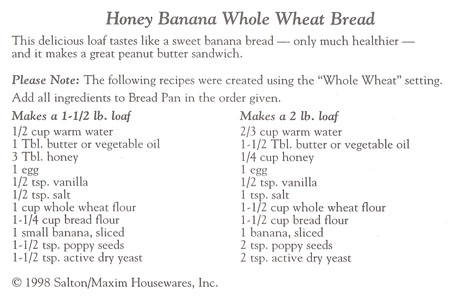 Comments
This recipe calls for "1 banana". Bananas do not come in one size! The banana I had sitting on the counter must have been bigger than they meant because I had to add almost a cup more flour to get the dough "right". (I weighed one of its bunch-buddies and it was over 6 ounces.) With this big banana and the extra flour, my bread came out huge! It tasted great and had a good texture, but was not pretty in the pan. And it didn't taste banana-y enought for me, even with all that banana.
Next time, I will slice the banana into a measuring cup, then add water (or milk) to 1 1/3 cup liquid volume. That's much more scientific and should provide consistent results. And, it will have a higher banana to water ratio and perhaps more banana flavor. I've incorporated these changes into the directions below, but I haven't tried this newer version yet.
Honey Banana Whole Wheat Bread
1 banana, sliced
water or milk (see directions below)
1 1/2 tablespoons butter
1/4 cup (3 ounces) honey
1 egg
1 teaspoon vanilla
3/4 teaspoon salt
9 ounces whole wheat flour (I used whole wheat, not white whole wheat)
7 ounces bread flour (I added a bit of gluten flour into this weight)
2 teaspoons poppy seeds
2 teaspoons yeast
Slice the banana into a 2-cup glass measure. Add water (or milk) to 1 1/3 cup volume. Dump the mixture into your bread machine. Add all of the remaining ingredients.
Choose a dough cycle that kneads and takes the dough through the first rise cycle. Watch the dough during the kneading process and add flour or liquid if it needs it (this recipe isn't perfected yet!).
Remove the dough from the machine and form into a loaf. Place in a 9×5-inch loaf pan. Bake at 375˚ for 30-35 minutes. (When I baked my loaf, I used an instant-read thermometer and when the bread looked brown and done, it tested to 190˚.)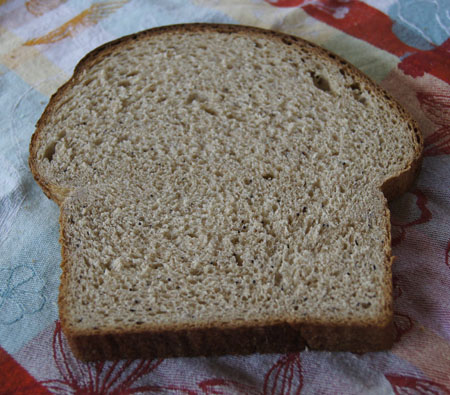 This bread is very good! I won't say excellent (yet) because I want more banana flavor, I'm hoping my suggested revisions will do the banana flavor trick. (Adding dried banana chips might help too.)
Honey Banana Whole Wheat Bread is excellent in peanut butter sandwiches. And it's good for toast. It might be kind of weird in deli meat sandwiches, but go ahead and experiment.
An even better idea for this bread is: French toast! I used Honey Banana Whole Wheat Bread to make French toast this week liked it so much that I'll make this bread again just for the delicious treat.