Cookbook #180: General Foods Cook Book, General Foods Corporation, NY, NY, 1932.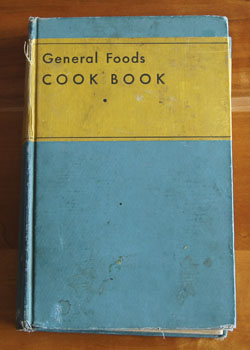 Mother would have celebrated her 100th birthday this week. She loved celebrations! In her honor, I choose her vintage General Foods Cook Book to cover for this blog.
General Foods Cook Book was one of Mother's textbooks when she attended Woodbury's Business College from 1934-36. She would have been 18-20 years old at the time. On the inside cover are several notes about due dates for assignments, oven temperature notes, and some calculations. I remember from family history that she had attended this business school, perhaps more of a "secretarial" school. Obviously, since she had this General Foods Cook Book as a text book, she took a course in "home economics". The culture of the time and place encouraged young women to stay at home and run their household, as their vocation, sort of like a business. I tell you, my mother, a traditional stay-at-home mom, would have been an excellent business woman! Our household ran smoothly, and she was a fast typist and great at keeping books and records.
Woodbury's Business College, founded in Los Angeles in 1884, was one of the first institutions of higher learning in Los Angeles, and also one of the first colleges in the West to admit women. At its beginning, Woodbury's offered bookkeeping, commercial law, and telegraphy studies, it eventually expanded to fashion and inerior design and business administration, and by 1969 offered an MBA. In 1974, the school name changed to Woodbury University.
My mother would have attended Woodbury's while it was located in downtown Los Angeles. She wasn't married to my father yet, so that means she had to travel about 30 miles from Covina to attend classes. I have no idea how she made the trip, by car? train? bus? What was it like in the mid-1930s in the LA area? Wish I had a time machine.
By the time I was born, our young family was living in Burbank. In 1985, Woodbury's re-located to Burbank, on the old Catholic school campus known as Villa Cabrini. So many times as a child or teen I passed the Villa Cabrini school – and now it is the home of the college my mother attended, so long ago.
As you can tell, this cookbook has a lot of meaning for me. I definitely will keep it, if just for the memories!
General Foods Cook Book teaches young women how to run their household like a business, promotes General Foods products, and has a lot of recipes. The best way to tell you about this cook book is to let you read a few pages.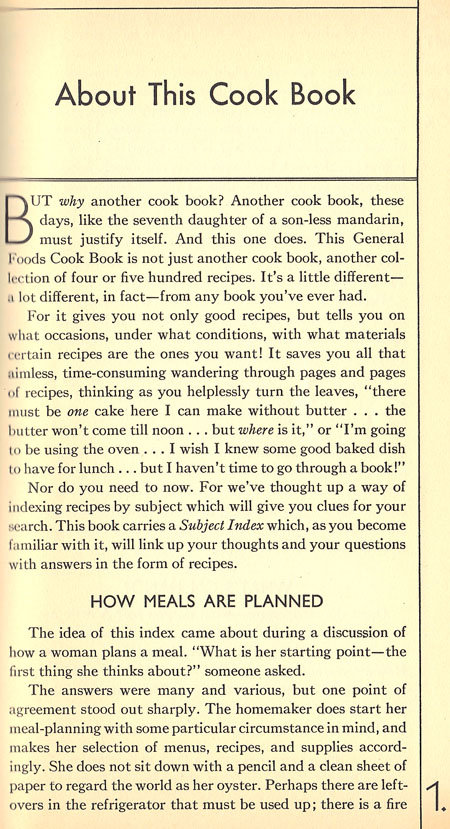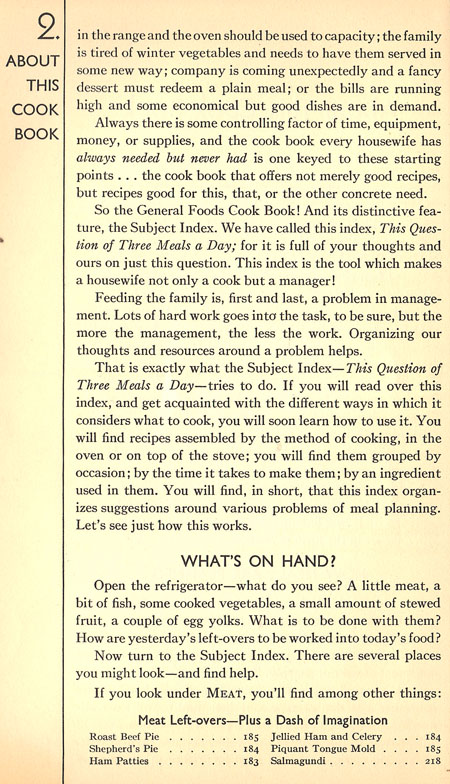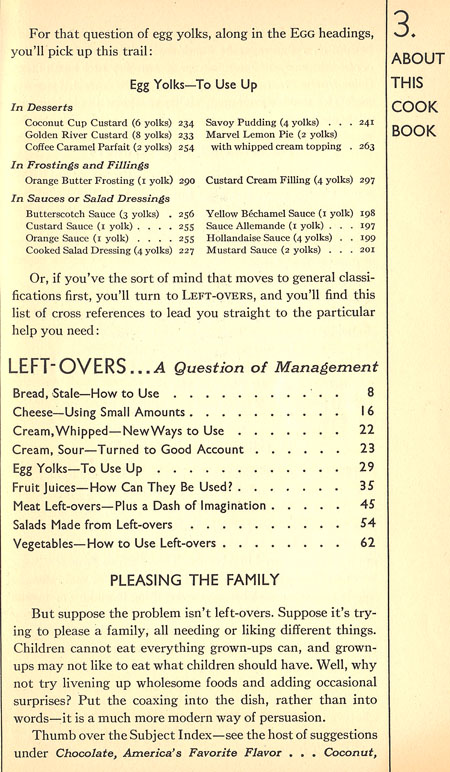 The first sixth of this cookbook is a cross-refernce called a "Subject Index". This index is an ingenious way for an organized cook to plan the requisite "three meals a day" using what they have on hand and the situation or the meal they are planning. Here is a sample page from this section: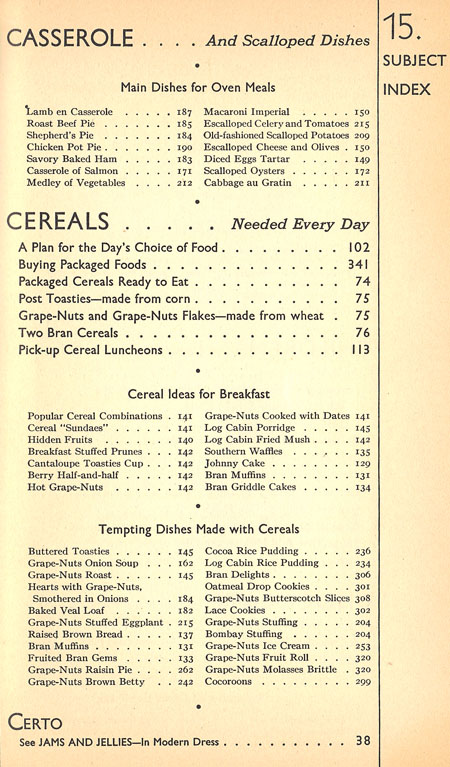 After the Subject Index is a chapter entitled "General Foods Corporation":
"Most of you know General Foods Corporation. At least, you know its products; for many of them are old friends, kept regularly on the pantry shelf, and used nearly every day – Jell-O, Minute Tapioca, Swans Down Cake Flour, Maxwell House Coffee, Baker's Chocolate, Baker's Coconut, Calumet Baking Powder, Grape-Nuts, Postum, Certo, and many others."
"These foods were not always in one family, of course. The building of this company, operating some forty-five plants, and distributing over seventy different products, is one of the romances of modern business."
General Fooods was established by Charles Post in 1985 in Battle Creek, Michigan. His poor health led him to experiment with food products, and out of his research Postum Cereal was developed, then Grape Nuts and Posts Bran Flakes. (Wikipedia has more information on the history of General Foods.) At the time of General Foods Cook Book's publication, 1932, the company's products included: Maxwell House Coffee and Tea, Sanka, Postum Cereal, Baker's Cocoa, Post Toasties, Grape-nuts, Swan's Down Cake Flour, Calumet Baking Powder, Jell-O, Minute Tapioca, Baker's Unsweetened Chocolate, Baker's Coconut, Certo (pectin), Log Cabin Syrup, and Diamond Crystal Shaker Salt. The energy value of each of these foods is discussed, as well as the proper way to store them. Later sections in this book discuss "how to provide an adequate diet" using General Foods products.
Page 89 caught my eye. I smile at Mother's note to herself: "read".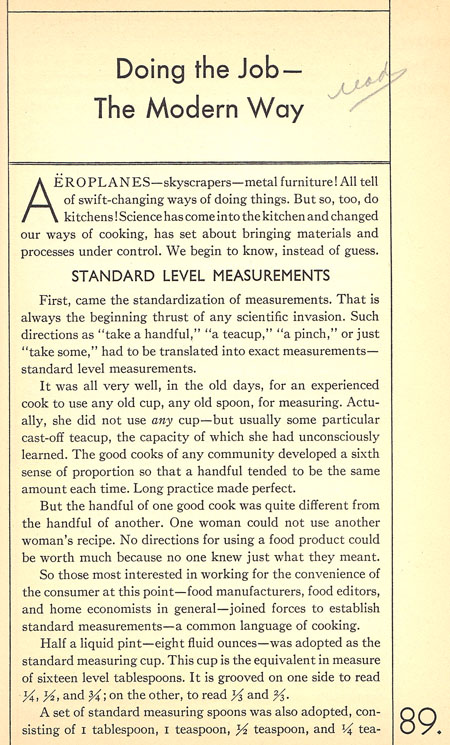 The rest of the book is recipes. I took a long time turning the pages and reading the old recipes, reading my mother's notes. I spent two weeks on this cookbook – instead of the usual one week – for this blog. Some things cannot be rushed.
I decide to buy a box of Grape-Nuts and make two recipes for this blog. First, Grape-Nuts Orange Muffins. Note my mother's writing on the left hand side: "every girl makes muffins".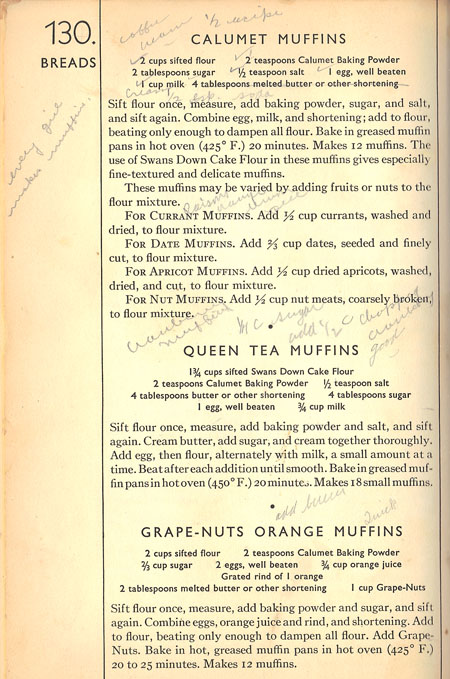 I'll also make "Grape-Nuts Brown Betty":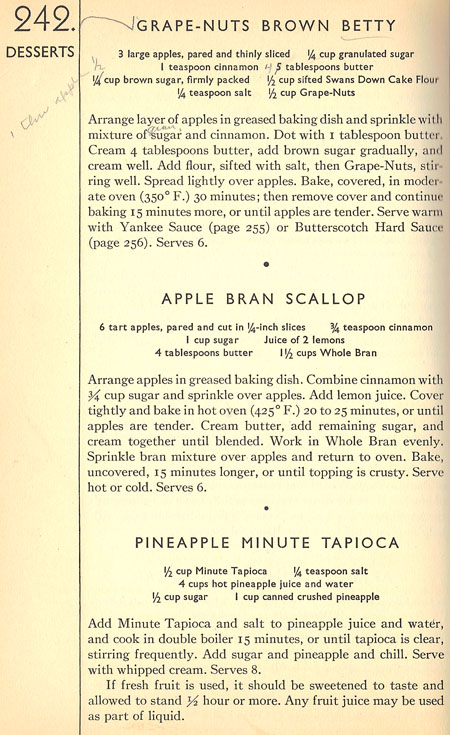 Each recipe will require a few changes for successful baking in my own "modern" kitchen. But I am confident in my cooking skills and I know I will do the proper adjustments.  I learned both how to cook and to love cooking from my mother.
I am thankful to her every day of my life. Happy 100th, Mother. Wish you were here to enjoy these with us, your ever enlarging family.
Grape-Nuts Orange Muffins
makes 11 big or 12 smallish muffins
2 cups flour
2 teaspoons baking powder
2 tablespoons butter
2/3 cups sugar
2 eggs
3/4 cup orange juice (or, the juice from one orange plus enough milk to make 3/4 cup)
grated rind of one orange
1 cup Grape-Nuts cereal
Stir together the flour and baking powder, set aside.
Use a mixer to beat the butter, then add the sugar and eggs and beat well. Mix in the orange juice and rind. Add the flour mixture and mix only until just combined.
Fill 12 (or 11, if you like them bigger) muffin cups and bake at 400˚ for 18-20 minutes, until they are lightly brown and test clean with a toothpick.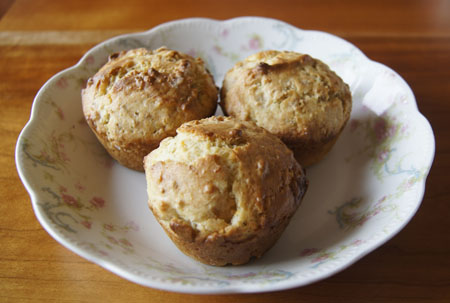 Grape-Nuts Brown Betty
serves 4-6
4 largish apples (I used granny smiths)
1/4 cup granulated (white) sugar
1 teaspoon cinnamon (I used more because I love cinnamon)
5 tablespoons butter, divided
1/3 cup brown sugar
1/2 cup flour
1/2 cup Grape-Nuts
Peel and slice the apples. Place in an 8×8-inch baking pan. Mix the 1/4 cup white sugar with the cinnamon and pour over the apples. Mix in with your hands, then let stand about a half hour to macerate the apples.
Beat 4 tablespoons of the butter with a mixer, then add the brown sugar and cream well. Add the flour and the Grape-Nuts and mix well (the mixture will be crumbly).
Dot the macerated apples with the 1 tablespoon butter. Spread the Grape-Nut mixture over the top. Cover with foil and bake at 350˚ for 30 minutes, then uncover and bake another 15 minutes.
Serve warm with ice cream.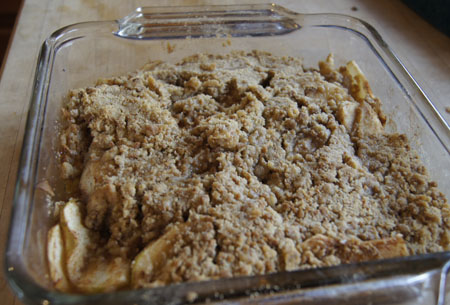 Both recipes were delicious!