Cookbook #184: The Bakery, New and Improved Recipes, Zojirushi America Corporation, Bell, California (circa 1980s).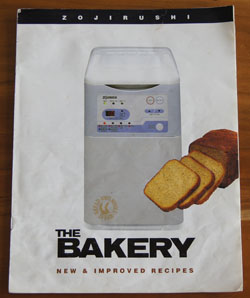 This is the recipe/instruction booklet that came with my first bread machine, a Zojirushi, sometime in the 1980s. I enjoyed kneading breads by hand, but it took too much time for a working mom – with the machine I made yeast breads a lot more. In fact, for a time I had two bread machines and used them simultaneously, often to make a "My Daily Bread" loaf and a breakfast bread loaf or a pizza dough. I also felt I needed two machines because if one broke, I would have a backup.
My first Zojirushi machine (I still have it) made upright loaves (note the photo of the cover, above). This older Zojirushi model is particularly great at kneading and baking 100% whole wheat bread. I also have another Zojirushi (Home Bakery Supreme). It bakes loaves shaped like traditional loaves baked in an oven. I rarely bake my breads in the machine, but if I do, I prefer the traditional shape. (I usually use the machine to knead and rise the bread dough, then bake the loaf in an oven.)
My copy of The Bakery is very well used. It is wrinkled and full of writing and stains and post-it notes. The center pages are falling out. After all these decades, I still keep it in my kitchen with other oft-used references. The Zojirushi recipe for "Buttermilk Wheat Loaf" is the basis for "My Daily Bread", a white whole wheat bread. Other favorites are 100% Whole Wheat Bread, Raisin Bread, and Apple Oat Bread. I used to make the Pizza Dough a lot. This recipe uses beer for the liquid, and includes oilive oil. I usually made it with part whole wheat flour and baked the pizza on a hot stone. (These days, I make thin crust pizza using a no-knead recipe.)
I know that any recipe I try from The Bakery will turn out. For this blog, I choose to make "Honey Wheat Berry Bread". It's one of the recipes in the scan below – I wanted to illustrate the condition of this booklet so I scanned the entire page: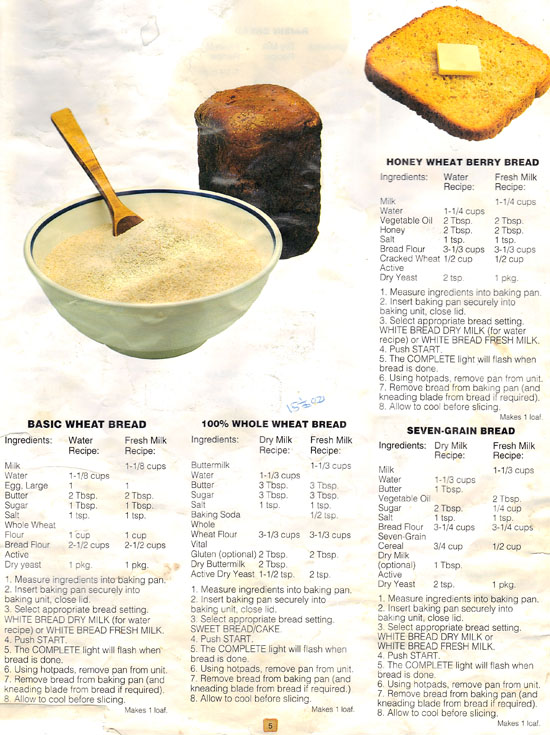 Although the title is "Honey Wheat Berry Bread", the ingredient list calls for "cracked wheat". What is cracked wheat? It is milled whole wheat grains or "wheat berries". Over the years I have purchased several different forms of cracked wheat, sometimes labeled "bulghur"or "bulgur". Different milling produces small particles or large particles. Long-cooking cracked wheat is large particles, and is good as a hot cereal, or can be used as a side dish or salad. Quick-cooking bulgur is made from wheat that has been pre-cooked. This type is often used for salads, like Tabouli (see my post on the book Diet for a Small Planet.)  I once found a wheat product called burghul or cracked wheat, similar to something we had in Turkey. That burghul took a long time to cook and was big and chewy.
I search my pantry, and find that this is what I have on hand: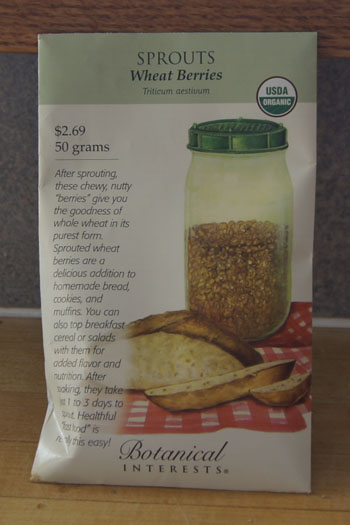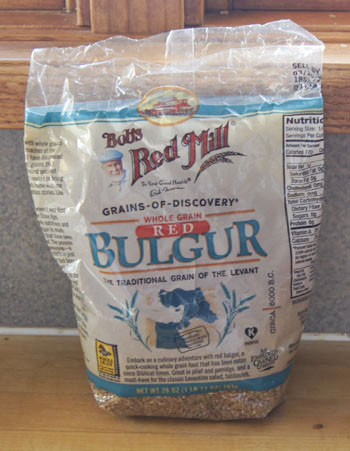 The wheat berries are sproutable, and I have used them to make Sprouted Wheat Bread. The Bob's Red Mill whole grain red bulgur consists of fairly large grain particles; the cooking instructions say to soak in boiling water for 1 hour before use in recipes.
I decide to use the Bob's Red Mill bulgur for my bread. I'd prefer a quicker-cooking cracked wheat, since this type will probably be a bit chewy, but the store is a long ways away! To soften it a bit, I decide to add it directly to the milk and let it sit 30 minutes before the kneading process.
I goofed and used butter instead of oil, but it turned out to be a good "mistake" so I kept it in my recipe below. Below is how I made Honey Cracked Wheat Bread, based on The Bakery recipe.
Honey Cracked Wheat Bread
makes one large loaf (9×5-inch)
1 1/4 cups milk
2 tablespoons butter
2 tablespoons honey (1.5 ounces)
1/2 cup cracked wheat
3/4 teaspoon salt
3 1/3 cups bread flour (17.5 ounces, I used King Arthur Flour unbleached bread flour)
2 teaspoons yeast
Combine the milk, butter, honey, cracked wheat, and salt. Let stand 30 minutes. (My Zojirushi has a pre-warm dough cycle, so I just put everything in the breadmaker and started the "pre-warm dough cycle".
Add the flour and yeast and set the bread machine to a kneaded dough cycle with a rising step.
When the cycle is complete, take the dough out, form a loaf, and place it in a 9×5-inch loaf pan. Let rise until it crests the top of the pan, about 20-30 minutes.
Bake at 385˚ for 22-25 minutes, until golden brown.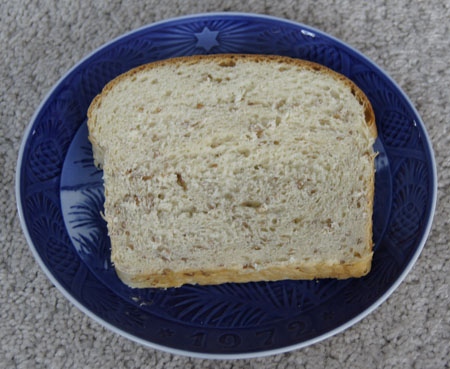 This bread has an excellent flavor and a pleasant crunchy-chewiness. Not too chewy as I feared. Great for sandwiches, toast, and with stews and spaghetti. A success!