Cookbook #185: Presto Pressure Cooker Recipe Book, National Presto Industries, Eau Claire, WI, 1970.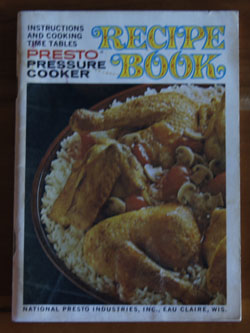 I saved this little booklet from way back in the early 1970s, when I got my first pressure cooker, a Presto. That cooker lasted until the late 1990s. It still semi-worked, but the gasket leaked and I don't think I could find a new one. So I bought a Fagor pressure cooker, as I described in another blog post, Fagor Pressure Cookers. That pressure cooker also failed because of gasket issues. Currently, I own only an electric pressure cooker. It is a dream!
I looked carefully through the Presto Pressure Cooker Recipe Book to see if there are enough good recipes in it to warrant keeping it. Only one – Savory Chicken – catches my eye. So I will recycle the booklet.
I'll get to that recipe later. As I write this, I have already made the recipe, and it was delicious! In fact, I was so impressed with my electric pressure cooker, that I have to rave about it a little. I cooked the chicken (10 minutes) and meat for a stew (16 minutes) sequentially one afternoon, for a total prep/cook time of maybe 45 minutes. Each recipe made enough for two meals. Each tasted great. Amazing.
I recently covered two methods of braising meats: slow cookers (crockpots) and clay pots. I also often braise meats in a covered range-top to oven casserole (like a LeCrueset). Each has its advantages and disadvantages. Braising in general includes:
a browning step in an open pan
a covered baking/heating step
a final heating step in an open pot to reduce the gravy
Slow cookers generally require a separate pan for the browning step. Most slow cooker recipes take 6-8 hours to cook, which can be good (you can be gone) or bad (often some ingredients in the dish are overcooked). Gravy reduction can be done right in the pot. If the slow cooker has a removable crock, it can be pretty easy to clean, especially if it fits in the dishwasher.
Clay pots do not allow browning/gravy reduction in the pot (but meats cooked in them brown anyway!). Cooking time is about an hour. I find taking the very hot clay pot out of the oven difficult. Gravy must be thickened in a different pan. The pot takes an overnight soak to clean.
LeCruesets allow stove top browning/gravy reduction and are easy to get out of the oven and to clean. Most recipes take a few hours in the oven (and smell delicious all the time!).
Electric pressure cookers are about the best in all of the braising steps. The unit is shaped like a slow cooker, with a light weight non-stick insert (easy to clean). You brown the meats right in the unit using a "browning" setting. Then, you add all the ingredients, seal the unit with the lid, and set the timer to however long you want to cook on high (or low) pressure. It heats up, hisses briefly, then settles into the  cooking time with just a tiny bit of hissing. Pressure is released slowly or quickly with the release knob. If the meat isn't done enough, or if you want to add another ingredient like potatoes that need a short cooking time, the unit quickly gets back up to pressure. After the pressure cycle you take off the lid and set to the browning cycle to reduce the pan juices. Cook times are short! 15 minutes to cook stew meat! Clean-up is very easy, a quick wash in soapy water is all the insert needs.
(A note about the older style stove top pressure cookers. They allow browning and gravy reduction directly in the pan, and cooking/cleaning steps are short. But, the little pressure regulator/rocker hisses loudly during the cook time. To release the pressure, the heavy hot pot must be taken to the sink and run under cold water. And if the meat is not yet done or you want to add potatoes, it takes a long time to for the pressure cooker to heat up again.)
I found a great website with a lot of recipes for electric pressure cookers: Pressure Cooking Today. I love the author's statement on the main page – "Today's pressure cookers aren't the scary pressure cookers your mom used." That's exactly how I felt about my manual pressure cookers!
Here is the recipe for Savory Chicken, as printed in Presto Pressure Cooker Recipe Book.

The version of this recipe, below, is my adaptaion of Savory Chicken for my electric pressure cooker.
1 chicken cut into serving pieces (or buy already cut up)
2 tablespoons olive oil
1 teaspoon paprika
1 small onion, chopped
1 carrot, chopped
1 14-ounce can diced tomatoes
salt and pepper to taste
1 small can chopped or whole button mushrooms
half of a small can of chopped olives (use the entire can if you want)
Heat the oil in a pressure cooker set to "brown". Add the chicken pieces and brown all sides. Add the paprika, onion, carrot, tomatoes, and salt and pepper. Cover and seal the pressure cooker. Set to high pressure, 10 minutes. Start the cycle.
Quick-release the pressure regulator. Open the pot and remove the lid. Add the mushrooms and olives. Again set to "brown" and reduce the pan juices to your desired thickness. (I needed the pressure cooker for another recipe, so I did this last step on the stove top.)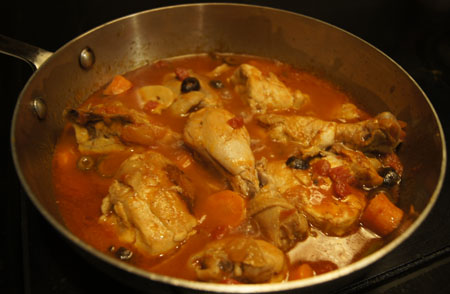 This tasted great! I served it over rice, but noodles would work well too. The chicken was juicy and tender and very flavorful.