Cookbook #194: Mexican Cookery for American Homes, Gebhardt's, San Antonio, 1935.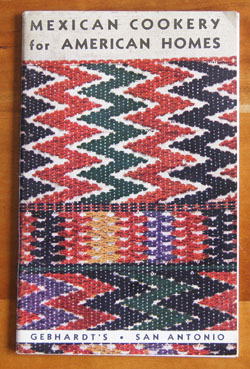 I am not sure how I acquired this cookbook, maybe it was Grandmother's, or maybe it came from the Ruth C. Vandenhoudt house. One recipe – Chili Meat Loaf – has a handwritten note, but I'm not sure whose writing it is.
Mexican Cookery for American Homes was produced by the manufacturer of a chile powder: Gebhardt. Almost every recipe calls for either Gebhardt's chili powder or Gebhardt's canned chili.
An earlier version (c1923) of Mexican Cookery for American Homes is available in full text on the Hathi Trust web site. An even earlier version is now available as a reprint. The back cover of this 2005 reprint, compiled by Andrew F. Smith, a teacher of culinery history, reads:
"The Gebhardt Chili Powder Company was founded by William Gebhardt, a German, who migrated about 1885 to New Braunfels, Texas. Gebhardt opened a café, which served chilis imported from Mexico. To preserve them, he dried and crushed them into powder. He began bottling his powder, and in 1890, he opened a factory to San Antonio. Six years later he trademarked the name "Gebhardt's Eagle Brand Chili Powder." The powder became an important ingredient to such an extent that recipes in Texas cookbooks specifically recommended its use. When Gebhardt began marketing chili powder to a wider audience beyond Texas, he ran into a very serious problem-consumers not familiar with Tex-Mex cookery had little idea what to do with it. To help cooks understand Tex-Mex cookery, Gebhardt produced a small 32-page cookery pamphlet. This cookbooklet was originally published about 1908. As such, it was the first English-language booklet published in the United States that focused on Mexican-American cookery. It proved so successful that new editions of it were regularly published through the 1950s. In 1911, Gebhardt sold his company to his brothers-in-law, who expanded their product line to include beans and tamales. During the 1920s, they introduced to the tourist trade Gebhardt's Original Mexican Dinner Package, consisting of cans of chili con carne, Mexican Style Beans, shuck-wrapped Tamales, Deviled Chili Meat, and a bottle of Chili Powder-all for one dollar. By the 1930s, Gebhardt products were sold throughout the United States and Mexico. The company survived until 1960 when it was purchased by Beatrice Foods, which in turn was acquired by ConAgra in 1990." (From Amazon description accessed 2017.)
My 1935 edition of Mexican Cookery for American Homes reflects the culture of America at the time – women were the home cooks. I've addressed the issue of women-in-the-kitchen many times in this blog, most recently in this post. The foreword (below) to Mexican Cookery for American Homes states in the last paragraph: "Earlier editions of 'Mexican Cookery for American Homes' have been welcomed by countless thousands of women."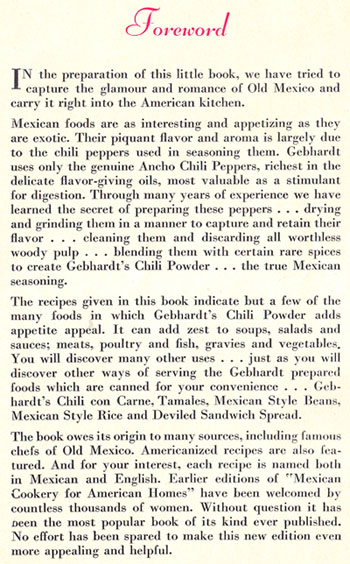 I found a post about Mexican Cookery for American Homes on a website by another affectionado of old cookbooks, Wendi. The blog is called "Resurrected Recipes, this is your grandma's cooking". Wendi has the same version of Mexican Cookery for American Homes that I do. I like her discussion of the recipes, recipes quite different from the Mexican foods we have today, or even the recipes in the 1950-60s era of cookbooks. She calls some of them silly! Like this recipe for "Gebhardt's Tamales and Chili with Meat":
Yup, you put two cans – unopened – in boiling water for 20 minutes! Silly indeed.
I decide to make "Enchiladas, Mexican Style for this blog". It's the middle recipe in the scan below – I included the other recipes for curiousity's sake.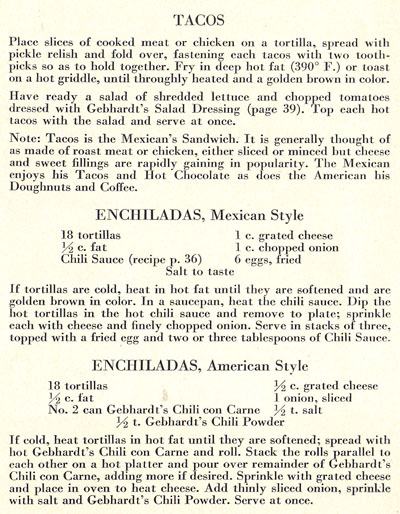 Note that the Mexican style of enchilada is served on flat – not rolled – tortillas. And, you put fried eggs on top. Another twist! I've put poached eggs on tortillas and beans to make Huevos Rancheros and we've always like them.
This enchilada recipe calls for Chili Sauce on page 36: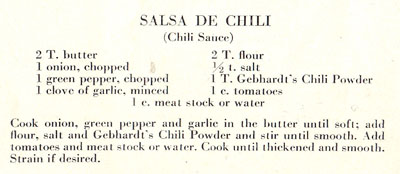 I'll make these pretty much as the recipe reads. Except, I do not want to fry the tortillas, instead I'll soften them in the microwave. I don't have Gebhardt's chili powder, but I have some great chili powder from Savory Seasonings.
Enchiladas with Eggs
serves 2 for dinner
1 small onion, diced
1/4 bell pepper, diced
1 clove garlic, minced
2 tablespoons flour
1 tablespoon hot chili powder
1/2 teaspoon salt
1 cup chopped tomaotes (fresh or canned)
1 cup beef stock (or water)
6 corn tortillas
1/2 to 1 cup grated cheese (I used cheddar cheese)
a few diced onions, if desired
1-2 eggs, fried or poached
To make the sauce, cook the diced onion, bell pepper, and garlic in a little oil until soft. Combine the flour, chili powder, and salt, then add to the cooked onion mixture and stir until smooth. Slowly stir in the tomatoes and beef stock (or water) and simmer about 20 minutes.
On each plate, layer 3 tortillas with a little sauce and cheese between each layer. Microwave on high until the cheese and sauce are bubbly – probably less than a minute. Top with fried egg(s) and serve.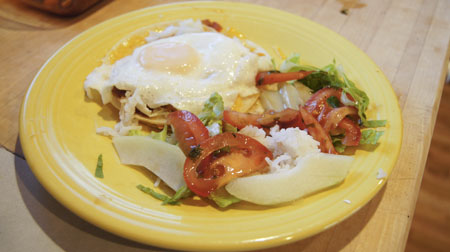 I served these enchiladas with a little lettuce, rice, tomatoes in a balsamic vinaigrette, and chayote. (More on chayote below.) This meal was a success! I really enjoyed the mixture of egg, tortillas, cheese and seasonings – a different taste for dinner. Hubby said he'd prefer it with refried beans, more like traditional huevos rancheros. Maybe next time.
Chayote
Chayote is a member of the gourd (squash) family, as I learned when I read my 1928 Salads, Vegetables and the Market Basket. Chayote is common in Latin American cooking, but is not listed in Mexican Cookery for American Homes. Last week I was at my favorite Asian Seafood Market and found a chayote in the fresh produce area. I brought it home because it looked so interesting! I served it with a mixture of tomatoes and balsamic vinegar: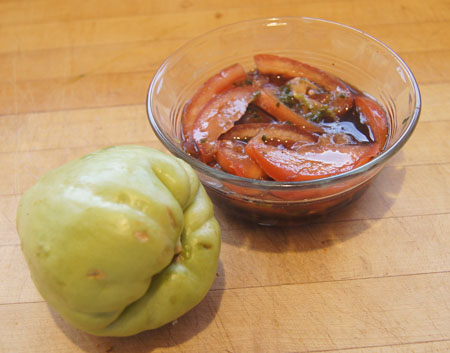 Here's the sliced, peeled chayote. It tastes like something between an apple and a pear, crunchy and interesting.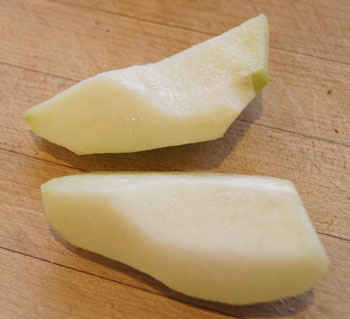 My tomato vinaigrette is a modification of a recipe for "Spicy Balsamic Tomato Salad" that I found on allrecipes.com.
2 tomatoes, cut into thin wedges
1 tablespoon balsamic vinegar
1 tablespoons rice vinegar
 basil to taste, dried or fresh
1/4 teaspoon ground ginger
salt to taste
chayote, peeled and sliced
Combine tomatoes and vinegar and seasonings. Let sit, stirring every 15, until flavors combine, about 1 hour. Combine with sliced chayote and serve.