Cookbook #193: Salads, Vegetables and the Market Basket, California Home Economics Association, Southern Section, 3rd ed., 1928.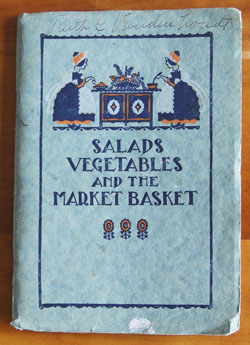 Note:This cookbook is in the same series as Pastries and Desserts, 250 Cookbooks entry number 218.
This book was published in 1928! That means Salads, Vegetables and the Market Basket gives a glimpse into the kitchens of America when my own mother was not yet a teen. Here is the foreword: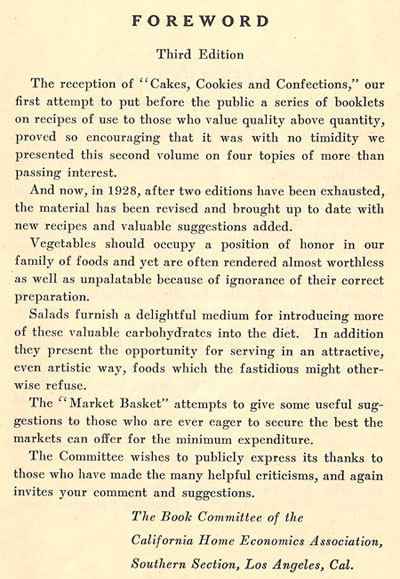 This description of "vitamines" is interesting: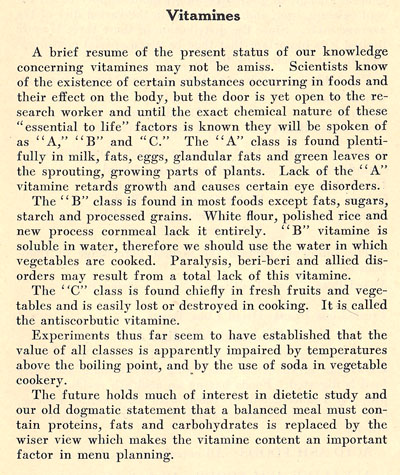 A web search for Salads, Vegetables and the Market Basket only pulled up one relevant site, the bibliographic entry on the site "Food and Agriculture Organization of the United Nations (AGRIS)". I did find full text of a related book: The California Home Economics Association, yesterday, today, and tomorrow, 1921-1961 in the digital library of Hathi Trust. I spent a bit of time perusing this history of the California Home Economics Association (CHEA) and the introduction of courses in "Home Economics" to the curriculum of California schools. An excerpt from the forward (note that the century is the twentieth):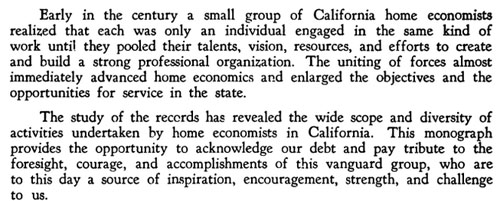 (I discussed home economics in when I covered my mother's text, General Foods Cookbook. I brushed on the topic in The Fannie Farmer Cookbook and Rice – 200 Delightful ways to serve it.)
Secondary schools in California had home economic classes in secondary schools as in the early 1900s:

College courses in home economics were introduced by 1909: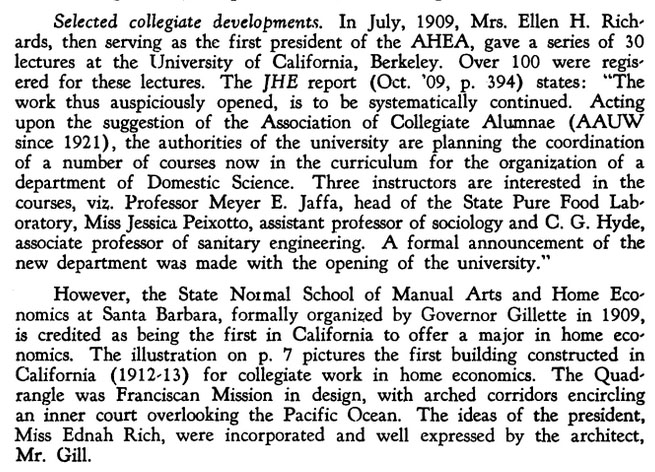 The following is the beginning of an appendix in The California Home Economics Association, yesterday, today, and tomorrow, 1921-1961. It dilineates the early introduction of home economics to California schools. Note the last entry on "hand and machine sewing". I learned sewing (as well as cooking) in junior high in California in the 1950s.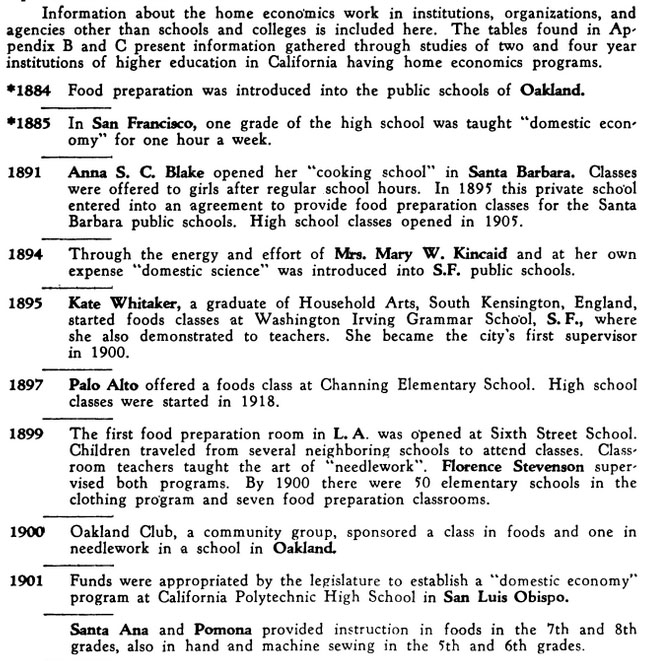 By the 1960s, American home kitchens are influenced by many changes: industrialization, urbanization, suburbanization, working mothers, a higher level of education, and automation.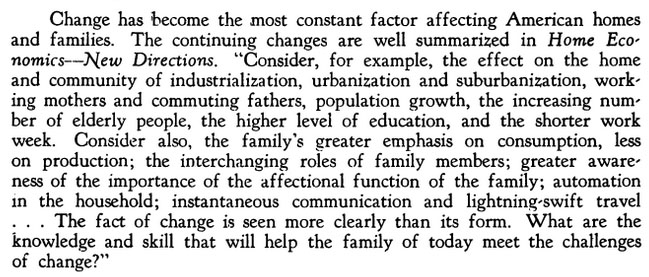 (I puzzle over the phrase in the above excerpt: "Consider also, the family's greater emphasis on consumption, less on production.")
Salads, Vegetables and the Market Basket in my hands, I stand in my sunny kitchen and feel company with all the women who ever stood in their own kitchens, studying how to get the best food – the best health – for their children and spouses. And yes, I say women. I know that men are also cooks, but in the culture of my youth, the home was the where woman belonged. I am so thankful for my college education, and the chance to break some of womens' bonds to the kitchen and engage in the scientific pursuit of chemistry, enjoying stretching my intellect, hobnobbing with Nobel laureats, studying in the lab where DNA was first synthesized and isolated, creating new experiments for organic chemistry students, creating web sites, and basically, enjoying the heck out of life. But I always come back to my kitchen for comfort.
What shall I cook from this book? The recipes are quite aged. Below are two pages of recipes for salad dressing. They do not include good directions for a true vinaigrette dressing. Cream cheese dressing made with cream cheese and a bit of vinegar does not entice me. Nor am I inclined to make a piquante salad dressing from cooked eggs, mustard, sugar, worcestershire, catsup, oil and vinegar – or potato, gelatin, and sylph mayonnaises (the last has mineral oil in it instead of vegetable oil).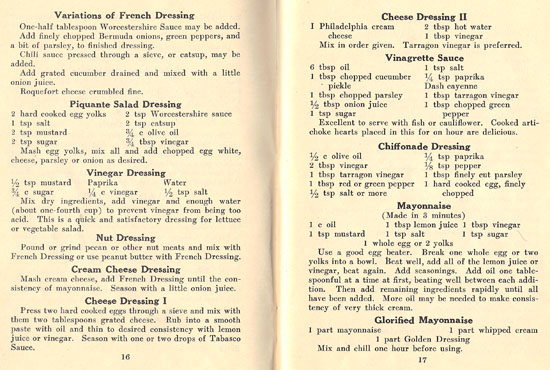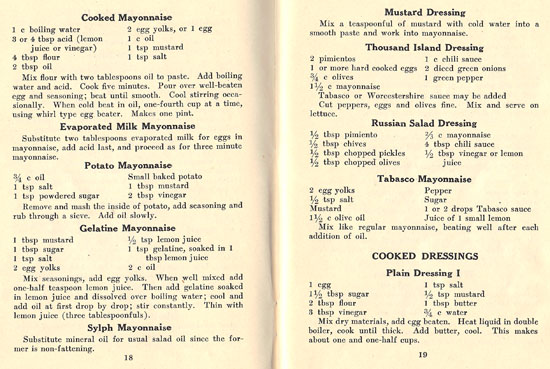 Some salads have fancy presentations, like Butterfly Salad, or Banana Canoes.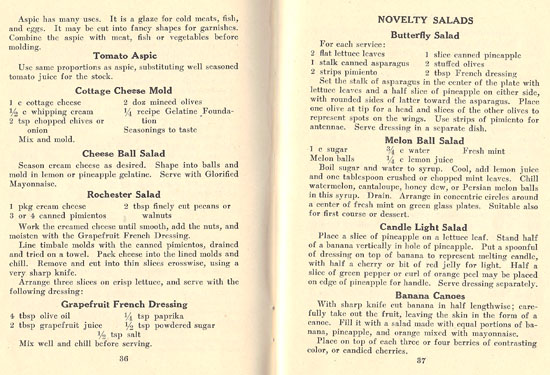 Salads, Vegetables and the Market Basket includes many recipes for cooked vegetables, from broccoli to to collards to chayote to lentils to potatoes to tomatoes. Many times they are cooked in white or cheese sauces, butter and sugar, or baked covered with buttered bread crumbs. I can't find anything I want to make!
Finally I come upon a recipe for Mint Glazed Carrots (second from the bottom in the scan below). If I cut down on the butter and sugar, these might be a good accompaniment for a meat and potatoes meal.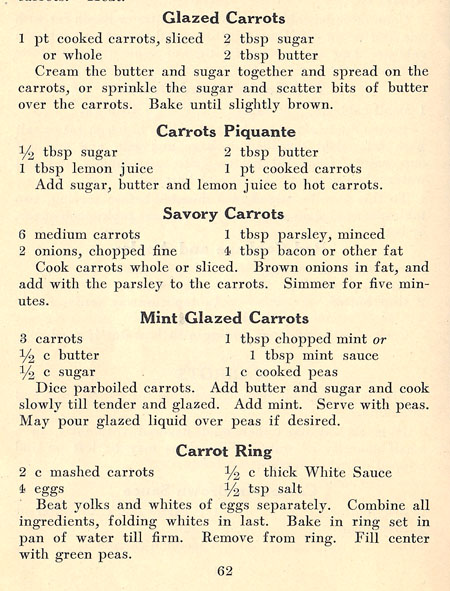 Glazed Carrots with Peas with Mint
serves two
2 medium carrots, peeled and cut in half
2 tablespoons butter
2 tablespoons sugar
1/2-1 tablespoon chopped fresh mint
1 cup cooked peas (about)
Parboil the carrots: put in boiling, salted water, then simmer 10-15 minutes, just until barely fork tender. Dice the parboiled carrots.
Melt the butter in a pan and add the sugar, stir until incorporated. Using medium heat, cook and stir until the carrots are tender and glazed (they do not need to brown). Add the mint.
Scoop the carrots and mint out of the pan and put over cooked peas. (This way, you can leave some of the butter/sugar/calories in the pan.)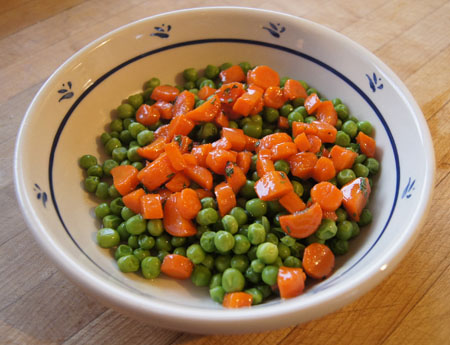 I thought these were good – hubby was less impressed. I love the colors and the bright mint flavor. Yes, they were a bit sweet, but I thought it nice for a change.
This name is handwritten on the cover of my copy of Salads, Vegetables and the Market Basket. This tells me that I acquired this cookbook from the Ruth Vandenhoudt house, back when I was a teen. My paternal grandmother was related to Ruth Vandenhoudt, and on Ruth's passing, relatives were invited to her house to take things from the estate. I found books and books and books – old books with brittle pages and faded covers. A couple were gorgeous, most were just curious and aged. I still have many of these books.