Cookbook #210: Weber Gas Grill Cookbook, Weber-Stephen Products, 2005.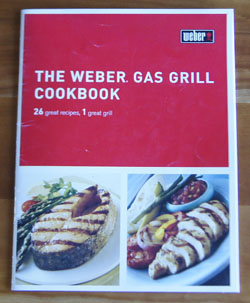 This booklet of 26 recipes must have come with our Weber gas grill. I have forgotten all about this cookbook, since soon after getting the grill I purchased Weber's Real Grilling, a large cookbook with tons of recipes.
Today as I open this 8 1/2 x 11-inch booklet, I am so very glad I rediscovered it! It is formatted much like Weber's Real Grilling, and I invite you to read that post for background information.
First are three recipes for grilling steak, including a recipe I'd like to try: "Marinaded Flank Steak". Next is baby back ribs with a "spiced apple cider mop". Onions and green peppers are doused with beer in a foil pan and grilled alongside bratwurst in "Bratwurst & Beer".
"Gaucho Grill with Chimichurri Sauce" grills a mixture of chicken, sausages, and flank steak, all rubbed with a homemade chimichurri sauce before grilling and served with more of this sauce. "Gyros Roast" is interesting, but sounds like a lot of work. First you pound a slab of lamb and a slab of round steak, rub herbs on the lamb, top with the round steak, roll up this lamb-herb-beef sandwich, tie with string, and grill 1 1/2 hours. Both the Gaucho Grill and Gyros Roast would be good recipes if cooking for a crowd.
"Rack of Lamb" and "Leg of Lamb" are other group-sized recipes. Not sure they would work for a couple, since what would I do with the leftovers? "Spicy Lamb Kabobs" would work well for two people, though. The lamb cubes are marinaded in red wine vinegar, lemon juice, orange rind, green onion, cinnamon, and cloves . "Pecan-Stuffed Pork Chops"? Sound great – I have baked stuffed pork chops, but never done them on the grill.
"Ricotta Chicken" begins with a whole chicken. You remove the backbone and slice the chicken in half lengthwise. Then you push a mixture of ricotta cheese, Parmesan cheese, egg, and herbs under the skin. Finally, you grill it. Sounds good, but a bit of work.
"Cornish Hens with Mandarin Sauce" would probably be good. I have never grilled stuffed game hens. I marked "Tandoori Chicken" as good, and now I decide to cook this dish for this blog.
"Chicken Fajitas" and "Grilled Chicken Pitas" are nice, everyday meals. There are recipes for sea bass and tuna, if I am every able to find these expensive fishes. A recipe for salmon doesn't inspire me, and I know I'll never try the shrimp recipe, because it has curry in it.
I rarely grill vegetables. This book has recipes for grilled tomatoes, red peppers stuffed with fresh mozzarella, corn on the cob in the husk, stuffed potatoes, and squash with peppers. Doubt I'll use these recipes, although I do love fresh mozzarella and red peppers.
The last recipe is for "Paradise Grilled". This is grilled pineapple, and I love grilled pineapple! This recipe includes a glaze, which I really think is unnecessary. Grilled pineapple is great on its own, or maybe over ice cream.
At the very end of Weber Gas Grill Cookbook is a 3-page grilling guide. Weber's Real Grilling has grilling guides, but they are scattered throughout the book. The one in Weber Gas Grill Cookbook is much more concise, and I think it is more useful.
I definitely will keep this cookbook. I am going to store it tucked inside the big Weber's Real Grilling (my favorite grilling cookbook) so that I don't forget about it, and also for ready access to the grilling guide.
"Tandoori Chicken" is the recipe I chose for this blog. It is the only recipe I marked in this cookbook – I marked it with a post-it as "excellent".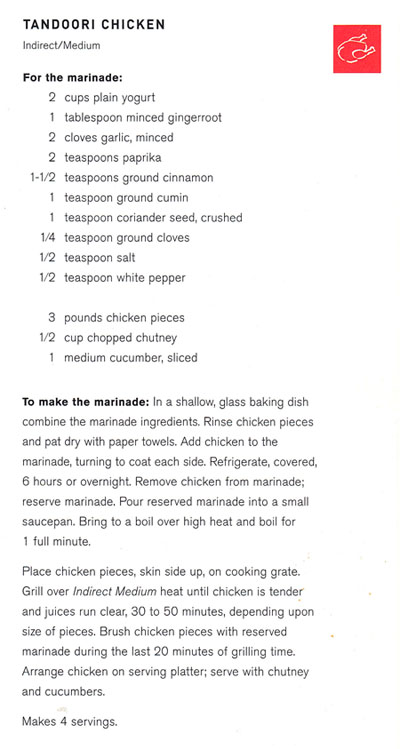 I will make it exactly like the recipe, except we'll skip the chutney and cucumbers. I can tell this is a recipe that is "up my alley", since I have all of the ingredients on my shelves or in my refrigerator.
2 cups plain yogurt
1 tablespoon minced or grated fresh ginger
2 cloves garlic, minced
2 teaspoons paprika
1 1/2 teaspoons cinnamon
1 teaspoon cumin
1 teaspoon ground coriander (or crushed coriander seed)
1/4 teaspoon cloves
1/2 teaspoon salt
1/2 teaspoon pepper
3 pounds chicken pieces
Combine all of the marinade ingredients, and then add the chicken. Refrigerate at least 6 hours or overnight.
When ready to cook the chicken, remove it from the marinade, saving the marinade. Boil the marinade for 1 minute: it will be used to baste the chicken in the last part of the grilling step.
Heat a gas grill with all burners on until it is very hot. Then, turn off half of the burners (or two-thirds, depending on the size of your grill) and let the temperature drop to about 350-375˚. Place the chicken pieces skin side up on the grill over indirect heat.
Cook for about 45 minutes, until done, as indicated by a quick read thermometer, or observing that the "juices are running clear". Brush with the boiled marinade during the last 15 minutes or so of grilling time.
Note that this recipe does not call for turning the chicken pieces. I like grill marks on both sides, so I turned them once to skin side down for about 5 minutes. I put them over the direct heat, and I shouldn't have! They tasted great, but were a bit blackened. Next time, I might try placing them skin side down first, over indirect heat, for a few minutes, then turn them skin side up for the remainder of the cooking.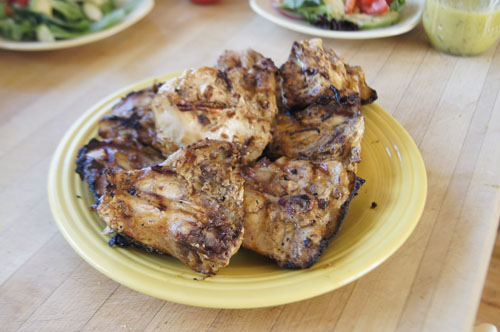 These tasted great! The yogurt marinade makes them not only well seasoned, it also makes them very tender. (I put the blackened side down for the photo. They would have been so much prettier if I hadn't tried something experimental!)
I served the Tandoori Chicken with a fresh lettuce salad with wonderful tomatoes from our local fruit stand, fresh vinaigrette dressing using my garden's herbs, corn on the cob, and a loaf of sourdough bread from our local Button Rock Bakery. Topped the meal off with fresh peach and apricot pie, fruits again from our local stand.
Ah, I love the days of summer with fresh local produce. And I enjoy re-discovering a good cookbook.