Cookbook #221: Original SchlemmerTopf® Recipes, Scheurich, circa 2009.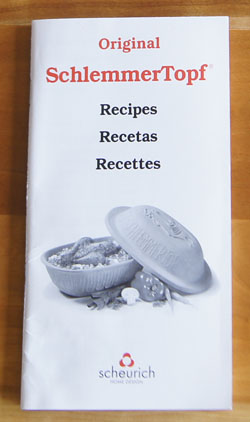 A "Schlemmertopf" is a covered clay baking pot. I wrote a lot of material on clay pots in Römertopf Cooking is Fun, and more in Original Schlemmertopf Recipes, so I won't repeat that information here.
Original SchlemmerTopf Recipes is the instruction and recipe booklet that came with my current SchlemmerTopf. I bought this clay pot in 2009 (plus or minus a year or two) to bake no-knead breads. The back cover of Original SchlemmerTopf Recipes states that Reston Lloyd Ltd. is the exclusive US and Canada distributor for SchlemmerTopf. They suggest: "Visit our Web Site: www.restonlloyd.com" – so I did, and found that currently Reston Lloyd  offers only the Romertopf® brand of covered clay baking pots.
The bottom section of my SchlemmerTopf® is glazed; the top section is not. This makes it a lot easier to clean than the first clay pot I had. The unglazed top section needs to be soaked in water for about 10 minutes before use. After filling the bottom of the pot with recipe ingredients, the top is added, and the SchlemmerTopf® is put in a cold oven. Only then is the oven turned on, usually to a high temperature, like 425-475˚.
And yes, my last two experiences with clay pot recipes for this blog were very successful! I need to remember to use this pot more often, and no only for baking bread!
Here is the instruction page: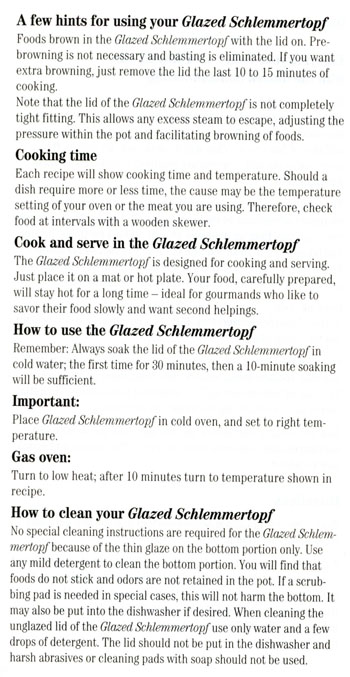 And Six Golden Rules: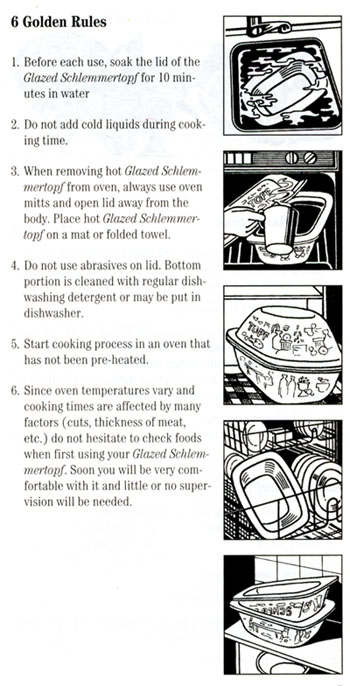 The first 23 pages of this booklet is written in English, then (as far as I can tell) the same instructions and recipes are written in Spanish and then in French. Example recipes are stuffed flank steak, beef stew, meat loaf, beef cabbage rolls, roast beef, chicken shanghai (I made this for another blog entry), chicken paprika, turkey curry, roast game hens, roast duck, and roast salmon. I find these recipes are helpful because they illustrate how to bake a variety of foods in the SchlemmerTopf. But, they are not very inspiring.
Hmmm, shall I keep this small booklet? For a while. But I know I could live without it.
For this blog I decide to make the Roast Beef. Largely because I have a small roast in the freezer!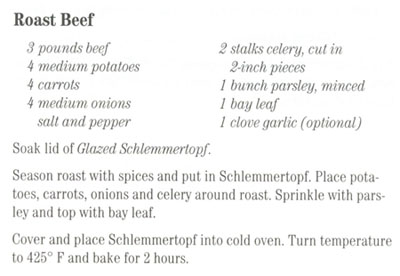 My roast is only about a pound and a half, so I will cut the recipe in half. Note how the recipe (above) does not state what cut of beef to use, nor does it tell me if the potatoes, carrots, and onions are to be peeled or chopped. It does direct the cook to cut the celery in "2-inch pieces". I decided to peel and cut in half the potatoes, carrrots, and onions.
SchlemmerTopf® Roast Beef
serves 2, with leftovers for sandwiches
beef roast, about 2 pounds (I used a bottom round roast)
salt and pepper
2 potatoes, peeled and cut in half
2 carrots, peeled and cut in half
2 onions, peeled and cut in half
1 stalk of celery cut in 2-inch pieces
1/4 cup chopped fresh parsley
1 bay leaf
Soak the lid of the SchlemmerTopf® in cold water for at least 10 minutes.
Season the roast with salt and pepper and place in the base of the SchlemmerTopf®. Add the vegetables around the roast, then put the parsley and bay leaf on top.
Cover the SchlemmerTopf®.
Place in a cold oven. Turn the oven to 425˚ and bake for 2 hours. Feel free to open the lid and check for doneness at any time, it won't affect the baking.
Here is the beef and vegetables, ready to go in the oven.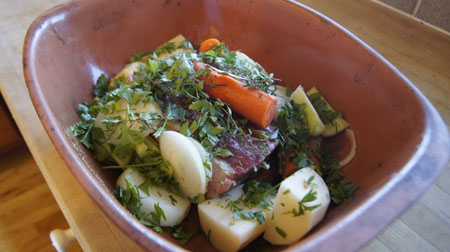 And here is the finished roast.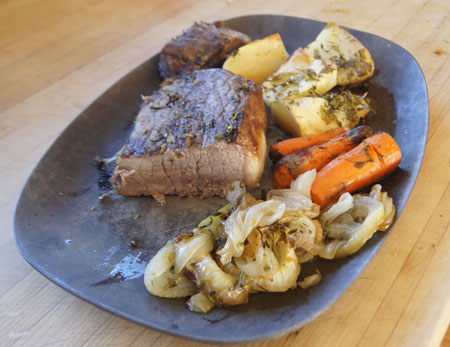 This was good. The potatoes were nicely browned and not mushy inside. I liked the onions too – browned and soft and perfect. I wasn't able to make a gravy, so I served it with ketchup. (I liked the Römertopf Pot Roast that I made when I covered Römertopf Cooking is Fun. For that pot roast, I used a cross rib roast, lots more seasonings, and was able to make a gravy.)
The leftover beef from this Beef Roast recipe was great the next day, sliced thin in sandwiches. So I'd say the recipe was a success!