Cookbook #233: The Vegetarian Epicure Book Two, Anna Thomas, Alfred A. Knopf, NY, 1978.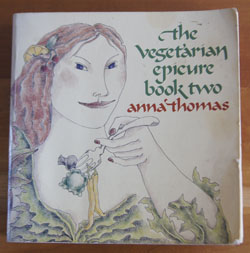 The Vegetarian Epicure Book Two is pleasantly illustrated and is printed on solid, rough paper – such a good tactile touch. Anna Thomas is a friendly author, and the recipes straightforward. I bought this cookbook for myself, and I'm sure that I leafed through it at the store and was intrigued by the look of the book and the variety of recipes.
Who is Anna Thomas? I find that she is alive and kicking, and has a website and a wikipedia entry. She is the author of five books, and my book, The Vegetarian Epicure Book Two, is still being printed, and in the same paperback format. This is pretty amazing. She is a popular food writer, and contributes to several periodicals. But perhaps more interesting than that, she studied filmmaking in school, and is a screenwriter and producer! The Haunting of M, El Norte, and Mi Familia are among the films she produced.
I decide this book needs more than a casual glance. So I dig into Anna Thomas' introduction. "Book Two is not just a continuation of the first volume but an exploration of rich new lodes. The first book came out of my own past . . . this second volume is the result of new adventures." Namely, "Work and whim took me through large parts of Europe – Portugal, Spain, Italy, France, Greece, Austria, Hungary, Poland – as well as to England . . . the Middle East . . . Mexico." She looked for vegetarian dishes: "Many people, I found, were curious how a vegetarian could survive, and even eat splendidly, while traveling abroad. The answer is, easily. Nearly everywhere I went, I discovered that the emphasis on meat was much less overwhelming than it is here in the United States."
This book is not for vegetarians only. "It is for anyone who can enjoy foods like fettucine alfredo, pea soup with dumplings, fondue, pimiento and olive quiche, tomatoes filled with hearts of palm, Liptauer cheese, wild mushroom souffle, Caesar salad, and frozen strawberry mousse." I am in that group!
And I agree with Anna Thomas in this next: "The most important thing about food, after all, is enjoyment, and what a grand thing it is that eating is such a renewable pleasure: We always do get hungry again! We all eat, and it would be a sad waste of opportunity to eat badly. It's true that the meals we consume in a lifetime number in the tens of thousands, but the number is finite; each one should be as nice as it can be, for it can never be regained."
Yes, we all get hungry again! Anna Thomas has made me smile. I turn the next pages ready for a little adventure, a little more acceptance of a dinner without meat.
A menu section precedes the recipes. This is really helpful for me. Sure, I have a vegetarian main dish or two in my repertoire, but a whole meal for guests? I would need some help.
"Breads" is the first recipe chapter. Well if you know me, you know that bread is one of my favorite foods. Her breads vary from whole wheat to white, yeast to quick breads. I've tried An Easy Herb Bread on page 35.This is a yeast bread, but can be ready in two hours. The herbs are basil, oregano, and thyme, with garlic and egg in the dough – it makes a nice bread to accompany soups and the like. Oatmeal Raisin Bread is interesting because it is made from cooked oatmeal – I usually just add dry oats to a batter. It also has honey, whole wheat flour, and wheat germ. Beer Bread has whole wheat berries, molasses, beer, white and rye flours, and a hint of fennel seed. Pumpkin Corn Bread is a quick bread with whole wheat flour, spices, corn meal, and pumpkin. Chapitis, Puris, and Sweet Finnish Rusks recipes reflect Anna's travels. I might try her muffins: Corn and Rye Muffins, Four-Grain Muffins, and Oatmeal Muffins.
"Soups" begins with recipes for vegetable broths. I've  made non-meat stocks before, but only a couple times, and I don't have the best recipe. The Vegetarian Epicure Book Two has two variations on vegetable broth recipes, and also a garlic broth and a potato peel broth. These recipes look so interesting – so chemistry-lab-experiment-style interesting – that I think I'd have fun trying them. I also like these soup recipes: Tortilla Soup Tlaxcalteca, Pasta e Fagioli (pasta and bean soup), and Creamed Fresh Pea Soup with Dumplings.
The "Sauces and Salad Dressings" chapter has good recipes, but none strike me today as better than what I have in my repertoire. "Eggs, Souffles, Omelets" is next. Souffles tend to have a lot of calories so I stay away from them, although she has some interesting ones. I like the chapter on "Salads and Cold Vegetables". Marinated Leeks, Garbanzo Bean Salad, Lima Bean Salad, and White Bean Salad tempt me. Potato Salad Tzapanos is cooked carrots and potatoes with dill and garlic. Gnocchi Salad! I love gnocchi – and this one has fresh peas in it. And the "Cold Omelet Salad" would be tasty when we are on a low-carb eating plan.
"Stews, Casseroles, Hot Vegetable Dishes" employs a lot of vegetables that I have to admit I don't really like, such as eggplant, brussels sprouts, turnips, and cooked cabbage. But I might try the Red Cabbage with Apples and the Mushrooms on Toast (marinated and then cooked). The Stuffed Potato Pancakes begin with pancakes made with eggs, potatoes, flour, cream, and parsley. These cook up as "crepes" rather than my usual flat potato pancakes. They are filled with a wild mushroom, onion, celery, and walnut mixture, then sauced with hot paprika sauce that is hot with both spice and temperature. I think I'd really like these.
Anna Thomas states that "Croquettes, Pâtés, Cheeses" are "hard to classify, but only because they're so well suited to so many purposes". Honestly, I doubt they would fit into my repertoire, because I don't "entertain" very much. Plus I can't get hubby to enjoy white beans, much less white beans chopped up into a molded appetizer. And the croquettes are deep fried, and so pretty much off the list of foods that we eat (although I am sure they are good). I did note the Mushroom Pâté II and White Bean Pâté, though, and maybe I'll make them for a family get together. The mushroom pâté has hoop cheese in it. And Noodle Kugel, a slightly sweet hot noodle pudding dish might be just the recipe I have tried to find for years to duplicate a dish a college friend made.
"Savory Pastries: Quiches, Pizzas, Pierogi" recipes are good, but few catch my interest. The quiches are high calorie and I already have tons of pizza recipes. I would like to make the Yeast Pierogi, but doubt I will – they are a lot of work. I made notes on the basic crepes recipe in "Crepes". The Parmesan Crepes recipe jogs my brain: I think I was looking for this recipe a long time ago, for use in Pizza Crepes with Garlicky Marinara Sauce, a recipe clipped from a magazine ages ago. I also like the Crepes with Feta Cheese – a folded rather than rolled crepe. In "Italian Pastas, Vegetables, and Fritattas", I like the Fritatta of Zucchini. It would fit into a no-carb diet, as it's just chopped zucchini, eggs, onions, basil, and a bit of olive oil. The Conchiglie Tutto Giardino (pasta with fresh vegetables, "the whole garden") has cooked radishes in it.
"Spanish Specialties, including Tapas and Tortillas" has several recipes that I noted: spinach enchiladas suizas, Enchiladas Salsa Verde, and Tortitas con Queso (a tapa). Cantaloupe Water sounds interesting – blended cantaloupe with water and honey!
"Indian Foods" I pass by, because hubby really doesn't like curry. Desserts? Well, I have too many dessert recipes, but I do like a couple of the apple desserts. The Vegetarian Epicure Book Two even has a "Preserves and Relishes" section. Catsup, dill pickles, and chutneys. The last chapter is "Tiny Open-faced Sandwiches". These might be nice for Tapas.
I decide to make the Cold Omelet Salad for this blog. Fits in well with our current January low-carb diet.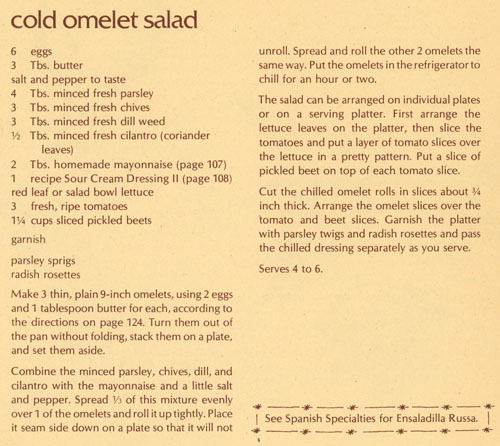 I know this omelet would be very good served over lettuce, tomatoes, and beets, with a sour cream dressing. But I can't eat beets, and I decided to just make the omelet and cut it into pieces to use as high-protein snacks for us. To make the omelet, I consulted both this book and Julia Child's Mastering the Art of French Cooking.
2 eggs
1 tablespoon butter
1 tablespoon each chopped fresh herb: parsley, dill weed, cilantro
1 tablespoon chopped chives or green onion tops
1 tablespoon mayonnaise
salt and pepper
Crack the 2 eggs into a bowl and mix with a whisk until the eggs are all mixed together. In a large skillet, on medium high heat, melt the butter until it starts to foam and brown. Turn the heat to medium, and pour in the eggs, tilting the pan to cover the bottom. Shake the pan to loosen the bottom. Lightly spread the uncooked egg areas around the top of the omelet so it all gets cooked. After about 30 seconds, the top of the omelet should look almost cooked. Loosen the edges of the omelet and carefully slide it onto a plate or work surface.
Combine the chopped herbs, chives, mayonnaise, and salt and pepper. Carefully spread over the surface of the omelet.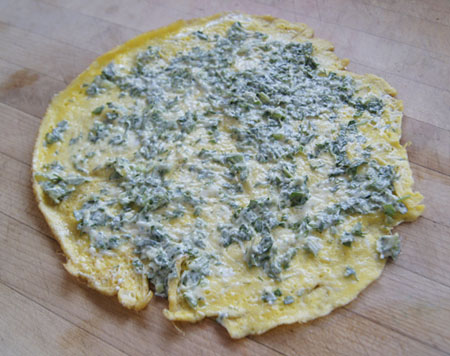 Carefully roll the omelet. Chill a couple hours, then cut into 3/4-inch pieces to serve as a snack.

We enjoyed these as a late-afternoon snack – they are delicious! We both liked them.
Wow. When I first opened this book I thought I didn't like any of the recipes and thought my conclusion would be "recycle". But I found many, many recipes to try! Glad I found this book again.
We all get hungry again! Thank you, Anna Thomas.