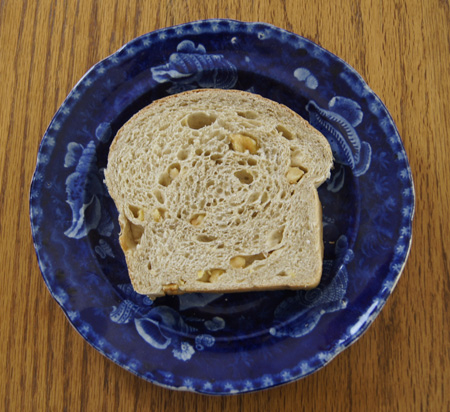 Apple Oat Bread is a great bread for toast and for peanut butter sandwiches. It's been a favorite of mine for twenty years. The recipe originated in the small booklet that came with my first bread machine.
I thought about making this bread a couple weeks ago – I craved it. But alas, I didn't have any dried apples in the house. I put "dried apples" prominently on my next shopping list. I tried the groovier store first (Whole Foods), but only found some brownish ones in the bulk section. No problem, I'll get them at the regular store (Safeway). But they had no packaged or bulk dried apples. Only some "apple chips" that had been fried in oil.
Okaaay. Guess I'll have to make my own. So I purchased a few fresh apples. The next day I used my dehydrator to dry them …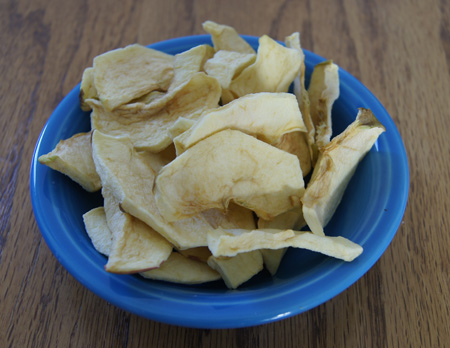 … and the next day I made Apple Oat Bread. It was worth it all! My recipe is below. Please refer to my post "My Daily Bread" for my methods of kneading, rising, and baking yeast breads, as well as information on flours and measuring.
Apple Oat Bread
1 cup apple juice
1 1/2 tablespoons butter
1 teaspoon sugar
1/2 teaspoon salt
3/4 teaspoon cinnamon
1/3 cup dried apples, chopped into the size of raisins
12 ounces bread flour (about 2 1/4 cup)
1/2 cup oatmeal (quick works best)
2 1/2 teaspoons yeast
Put all the ingredients in a bread machine and set to the dough cycle. Most machines take about 1 1/2 hours to knead and rise the dough. Some machines have the option to add ingredients like raisins late in the kneading process; this is not really necessary for dried apples because they will hold up okay through the kneading process.
When the bread machine is done, remove the dough from the machine and set it on a bread board. Fold it over a few times, then form into a loaf. Put it in an 8 1/2″ x 4″ loaf pan and set it in a warm place to rise until it is above the edges of the loaf pan. (See My Daily Bread for reference.)
Bake at 385˚ for 22 minutes.
It's yummy toasted with cream cheese and Apple Butter! Toasting brings out the cinnamon, permeating the whole house with its wonderful aroma.