This recipe became part of my repertoire in 2006. I combined a recipe clipped from a magazine and class notes from the Mediterranean cooking class that I took at the Culinary School of the Rockies (now Escoffier). Input from my daughter's Moroccan boyfriend and his family helped too. The recipe is now fine-tuned and tested enough to share. I have to tame down the olives and saffron to suit my dining partner; I'm giving options for those (like me) who love these ingredients.
A "tagine" is basically a stew. It gets its name from tagine, a traditional pot with origins in North Africa. A tagine is a flat cooking dish with a lid that has tall, sloping sides. It is meant for long, slow cooking of meats, allowing time for the meat to tenderize, while the cooking liquid constantly condenses on the lid and drops back into the pot. Authentic tagines are earthenware and colorful. I would have loved for my daughter to bring me one home from her travels, but they are a little too big to fit in a backpack. Instead, I purchased a westernized one made by LeCreuset. It has a cast iron base (good for browning meats) and a stoneware lid.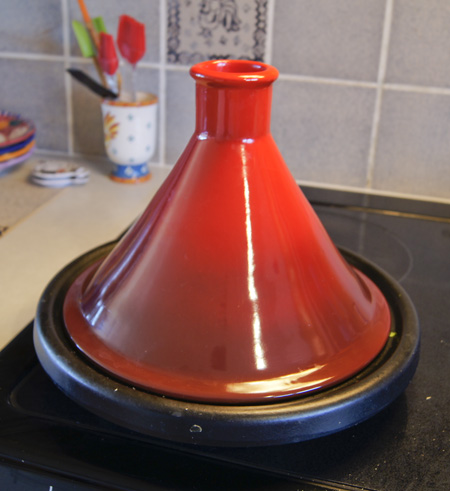 My tagine recipe can be cooked just as well in any heavy, lidded stove top pan, or baked in the oven in a stove-top-to-oven casserole. When we made a lamb tagine in cooking class, we cooked it both ways, and none of us could tell a difference.
About the olives. My first choice are the big, green "Greek" olives, probably from a market's open deli section. Do not use the bottled "Spanish olives" used for martinis. Do not use stuffed olives. Greek olives might be called Ionian, Nafplion, or "cracked green". (Here's the Cooks Thesaurus reference on olives.) You can use kalamata olives; these are smaller and purplish-black, but they are almost as good in this dish, and are good jarred, so you don't have to make a special trip to the store. The original recipe called for 2 cups of olives; I cut this down to 1/2 cup so that I could serve it to my dining partner. I'll usually add more to my own serving, although they are best cooked into the sauce, as they help thicken the dish.
About the "preserved lemons". This is a Moroccan specialty. They are difficult to find in local stores, but are pretty easy to make. I was given some at my cooking class, and later by some Moroccan friends. But I've substituted plain lemons as in the recipe below and find they work fine (at least for this non-connoisseur).
Chicken Tagine

This serves about 4-5 people. It can easily be cut in half for 2-3 people.
8 large boneless, skinless chicken thighs, skinned and cut into big chunks
3/4 cup onion, chopped
2 cloves garlic, minced
salt (to taste)
1/2 cup cilantro, minced
1/2 cup parsley, minced
1 teaspoon cumin
1 teaspoon ginger
1 teaspoon paprika
1/4 teaspoon saffron (optional)
1/2 teaspoon pepper (or to taste)
2 average-size potatoes; Yukon golds work well but any will do
2 cups water or chicken stock
1/2 cup Greek green olives (Ionian or Nafplion)
1/4 cup fresh lemon juice (about 1 lemons-worth of juice)
grated peel of 1/2 lemon (or use 1/2 of a Moroccan preserved lemon, peel only, chopped fine)
1 1/2 tablespoon cornstarch dissolved in a little water
chopped fresh cilantro and parsley for garnish
Cook onions in a small amount of olive oil until they wilt, salting to sweat, then add the garlic and stir for 30 seconds. Add the chicken and stir for several minutes, then add the cilantro, parsley, cumin, ginger, paprika, saffron, pepper, potatoes, and stock.
Simmer, covered, about an hour. (Or, bake in a 350˚ oven, covered, for an hour.) Add olives, lemon juice, and lemon peel. Slowly and with stirring, add the cornstarch and water. Simmer a few minutes until it thickens. Taste and adjust seasonings.
Sprinkle with a little chopped fresh cilantro and parsley and serve over couscous or rice.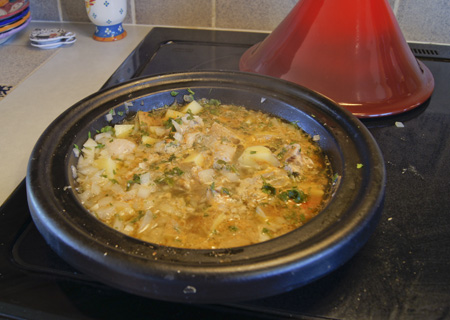 This is one of my new comfort foods!