Cookbook #60: The Wine Diet Cookbook. Dr. Salvatore P. Lucia and Emily Chase, M.S., The Piper Company, NY, NY (Abelard-Schuman also listed), 1974, Bantam Edition, 1976.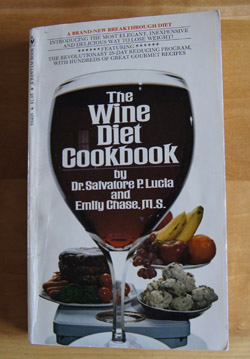 I bought this book back in the 70s. I love wine and I have to watch calories, so I thought: a wine diet, perfect! Sort of tongue in cheek though, since I know from experience that wine sometimes ruins my personal dieting strategy.
I believe in keeping small amounts of your choice foods in a diet, especially if your diet is long term. Too much denial will derail any healthy eating plan. So for me, wine and chocolate are included – but in moderation. And wine (like chocolate) is good for you. According to the authors of this book: "Wine is a food; a source of energy for work and body maintenance."
A brief outline of the wine diet is on page 10:
"The Magic Number: 1200. The total daily calorie budget for these menus is approximately 1200, including a 4-ounce glass of table wine with dinner each night. . . . We have selected a 1200-calorie program because at this calorie level it is possible to include the basic elements needed for good nutrition and still give the slimmer a chance to average as much as a two-pound loss per week."
I agree with the 1200 calories per day for dieting, and that was my goal when I used to (obsessively) count calories. But my 1200 total was without wine, and I was never able to give up a treat of fruit in the afternoon for a glass of wine at dinner.
The authors state that "a glass of table wine brings relaxation and satisfaction that adds greatly to the slimmer's enjoyment of the meal". "Wine is a stimulating and a most salutary nutritional element." "Very little will power will be needed to diminish the volume of a meal." That may work for some people, but not always for me. Instead, one glass can tempt me to have another glass, and too much wine decreases my will power to stop eating.
This book might work for someone besides me. The diet plan is sensible, including a good balance of carbohydrates, protein, and fruits and vegetables. Diet margarine and low-fat milk products are employed to shave calories, and all recipes are explicit in portion amounts and calories. Daily menu plans are outlined. Wine is used in many of the recipes, adding flavor without adding calories.
Not many of the recipes in this book beg me to be tried. I appreciate the reminder to use more wine in cooking to boost flavor, but today I find no other benefits in this 50 year old cookbook. I will recycle the The Wine Diet Cookbook.
Before recycling: for this blog, I will cook "Dilly Beef Rolls".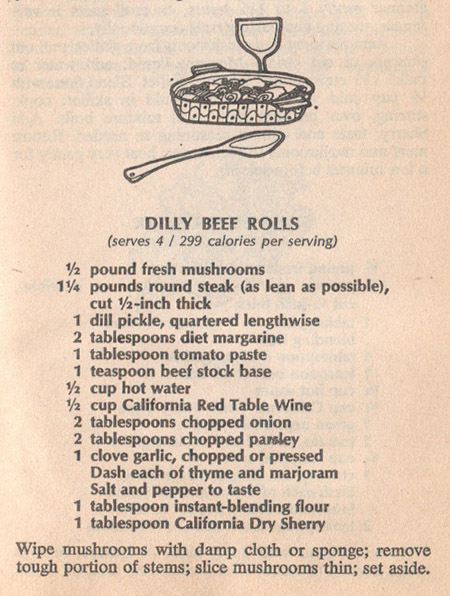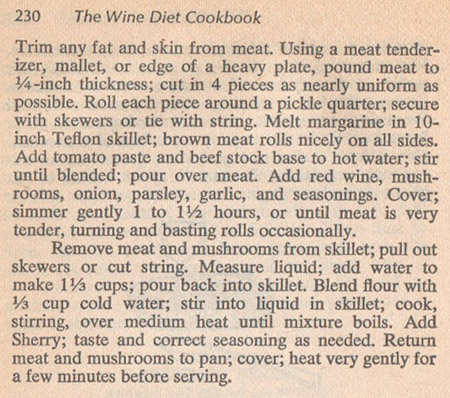 Kind of a cute idea, rolling round steak around a dill pickle. I will use the dill pickles I made last summer. I will skip the "2 tablespoons diet margarine" and use a few drops of olive oil instead. For the "1 teaspoons beef stock base" and "1/2 cup hot water", I will substitute my own beef stock. I buy tomato paste in a tube, so that's easy. I see no need for instant-blending flour; it's almost as easy to use regular flour mixed with a little water. California Red Table Wine? No, I won't leave that out! Not sure the bottle in the refrigerator is Californian, but it's red. And I have sherry too. Okay, this should be fun. I get to get out my ancient meat mallet too, that's always fun.
Let's see if this recipe can turn a usually tough and bland round steak into a flavorful, low-fat meal. My version of the recipe follows.
9-12 ounces round steak – buy the "thin cut" if possible
1 large whole dill pickle, quartered lengthwise
1/2 of a medium onion, chopped
1 clove garlic, chopped
1/4 pound sliced mushrooms
1/2-3/4 cup beef stock
scant 1/2 cup red wine
1 tablespoon tomato paste
thyme, about 1/2 teaspoon (I used fresh thyme)
marjoram, about 1/2 teaspoon (I used dried)
salt and pepper to taste
1 tablespoon flour
1 tablespoon dry sherry
fresh chopped parsley to taste
Cut the round steak into 2 or 3 equal pieces, then pound with a mallet to 1/4-inch thickness. Roll each piece around a pickle quarter, and tie the center with string.
Heat a (coverable) cooking pot until it feels hot when you hold your hand an inch above it. Add a small amount of olive oil and tilt the pan to spread the oil. Lower the heat to medium, then add the round steak rolls and brown them on all sides. Remove them from the pan and set them aside on a plate.
Add a few more drops of oil to the pan. Add the onions and sweat them with a little salt, cooking until they are soft. Add the garlic and mushrooms; cook and stir until the mushrooms are wet and soft. Add the broth, wine, tomato paste, thyme, and marjoram; stir. Add the beef rolls and any of the pan juices that have collected on the plate.
Cover the pot and lower the heat to maintain a very gentle simmer. Cook for at least an hour and a half, until the meat is nice and tender.
Remove the beef rolls and cut the strings off. Set them aside while you finish the sauce.
To the sauce in the pot, add the 1 tablespoon flour mixed into a little broth (or water) to a smooth paste. Stir until mixed in well; add more broth (or water) if the sauce looks too thick. Add the sherry and chopped parsley. Heat the sauce to a simmer, then add the beef rolls back in and heat it all up. At this point, you can let your dinner "hold" until you are ready to serve.
Serve these dilly beef rolls with any starch, such as mashed potatoes, rice, or pasta.
Comments
I was lucky to find very thin round steak. In the photo below, I have already pounded one of the slices with my ancient mallet.
The focus in the photo below is on my dill pickles. Yes, I canned them myself last summer! They are gorgeous, aren't they?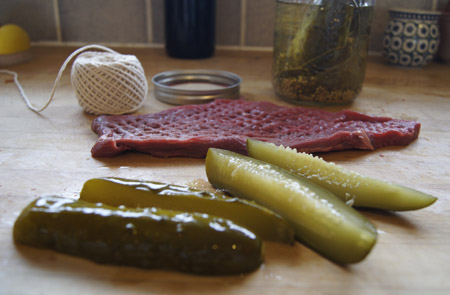 I found that these rolls hold together fine with just one piece of string in the middle. Beef rolls formed around a crumbly stuffing are a lot harder to manage. Note my container of homemade beef stock. (I should talk about how I make and store it sometime.)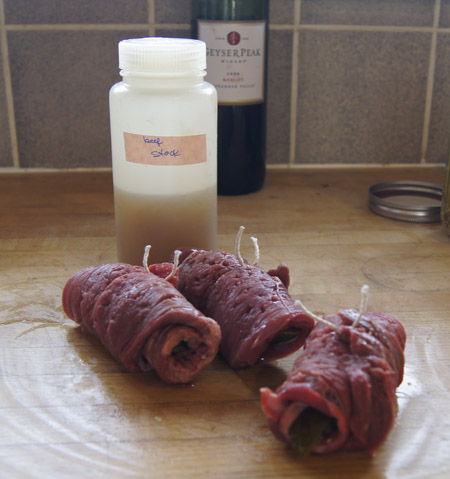 I browned the beef rolls in my heavy cast iron pot. Lately I've been using my LeCreusets a lot, but this old pot with its heavy lid works really well for stove-top braising. Below is the mixture of beef and vegetables and seasonings before the long simmer.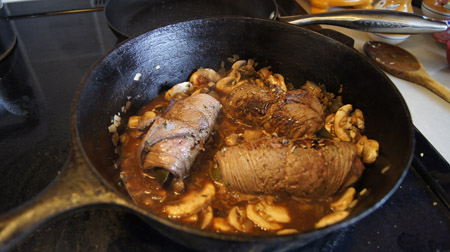 The mixture after cooking looks just a little different, but the meat has changed in character from tough to soft. It smells really good, too.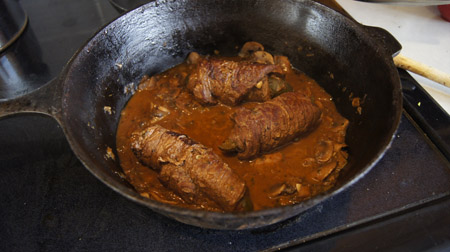 Plated: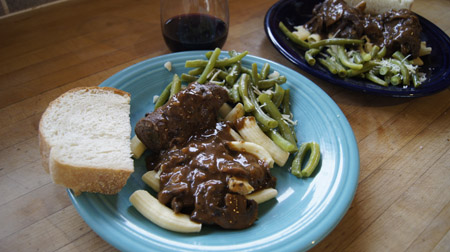 Note the glass of wine! On a weeknight! Just had to go with the advice of The Wine Diet Cookbook. It's a small glass, a measured 4 ounces, not very much.
These beef rolls taste really good. I'll make them again! The dill pickle inside gave them the flavor of a sauerbrauten. The gravy, while low in fat, was very flavorful! And I even forgot the parsley. I did put a little chopped fresh oregano on the green beans, though.
Note the pasta – it is homemade. Last week I got out my old pasta machine and made a big batch of these large macaroni noodles (and froze them in portions). That pasta machine will surely be the focus of a future blog post. The bread is homemade too, a result of my recent acquisition of a new sourdough starter. All is yummy.