Cookbook #87: Pillsbury's 36th Bake-Off, The Pillsbury Company, Minneapolis, MN, 1994.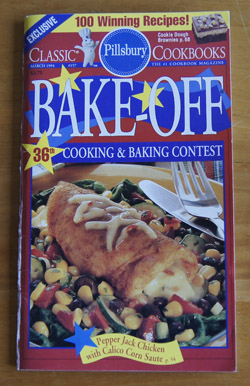 The earliest Bake-Off cookbook I covered in this blog was published in 1959; I discuss these cookbooks/recipe magazines more thoroughly in my blog post covering the 1964 Bake-Off Cookbook.
I recorded in my database that this cookbook was my mother's. She did not mark any of the recipes, but I find some main dishes that sound interesting: Garden Vegetable Feta Pizza, Spicy Broccoli Aioli Pizza, Tuscan Spinach Torta, Confetti Corn and Bulgur Salad, West African Chicken and Groundnut Stew, and Chicken Vegetable Stir-Fry Salad. I am sort of surprised to find this trendy recipes in this old cooking magazine. I didn't discover feta cheese until the late 90s. I learned about aioli in a cooking class sometime in the 2000s. Bulgur? Late 90s too. We had "groundnuts" in Ghana on our first trip to West Africa in 2011. In the US,  groundnuts are called "peanut butter".
The cookbook also has recipes for salads and soups and sandwiches, and of course, cookies and cakes and pies. Only about a quarter of the recipes are for sweets – an unusual stat for Bake-Off Cookbooks – and yes, I would love to make any of them, but I will restrain myself! It's nice that most of the main dishes in this bake-off cookbook dial in at a little under 500 calories.
My only complaint is a general one: many recipes include pre-made doughs, such as pie crusts, refrigerated biscuits or crescent rolls, or mixes, such as corn muffin or yellow cake mix. Pillsbury brand name canned vegetables are always specified but hey, it's their cookbook.
The cover recipe, "Pepper Jack Chicken with Calico Corn Saute", sounds excellent! That's what I will make for this blog. I decide to hang onto this cookbook for awhile and try several of the recipes.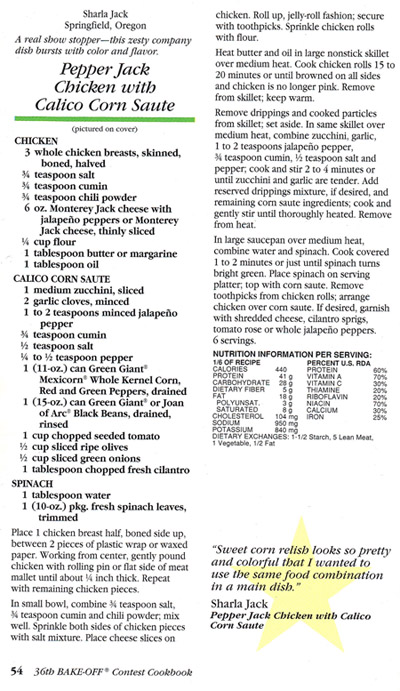 This recipe calls "3 whole chicken breasts" and infers that the cook will bone them. A whole chicken breast is the two halves together. Today boneless chicken breasts are usually sold as half-pieces. And they are fairly cheap, so you don't save a lot by boning them yourself. Since chicken breasts range in size from small to large, I find it best to weigh out 9-10 ounces for a meal for the two of us.
I plan to make this Pepper Jack chicken pretty much as written. I happen to have my own black beans, so I will use them instead of the canned ones. I don't have fresh jalapenos, but I have some great dried ones. I wonder if I will get away with the spinach, plated under the "calico corn saute". My dining partner does not like cooked spinach . . .
Pepper Jack Chicken with Corn Saute
serves about 2, depending on appetites
Feel free to change up the vegetables in this recipe. Or if you like following a recipe, do so. Whatever!
2 boneless chicken breast halves; about 9-10 ounces
1/2 teaspoon cumin
1/2 teaspoon chile powder
salt and pepper
2-3 ounces Jack cheese with jalapenos ("Pepper Jack"), grated
flour (to coat the chicken)
zucchini, about a third of a medium one, sliced or diced
1 garlic clove, minced
jalapeno pepper, about 1 teaspoon fresh or dried
1/2 teaspoon cumin
salt and pepper
1/2 of an 11-ounce can of canned corn, or use fresh or frozen corn, about 1/2 – 1 cup
1/2 of a can of plain or seasoned black beans; about 1/2 – 1 cup
1 medium tomato, chopped
1/2 of a small can of black olives, sliced
1 green onion, chopped
chopped fresh cilantro to taste
5 ounces of fresh spinach (optional)
Pound the chicken until it's thin. I like to put it on a ziplock bag and pound with the flat side of a mallet. Others advise to work from the center and gently press it thin. I like to pound. And it worked.
(One of my chicken breasts was huge, so I cut it in half. I proceeded with three rectangles of flattened chicken breasts.)
Sprinkle both sides of the chicken breasts with the cumin, chile powder, and salt and pepper. Lay them out on your work surface and top with the grated cheese.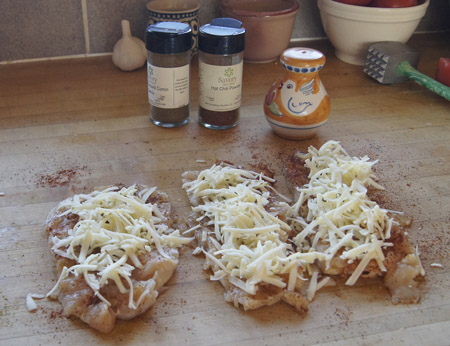 Roll up as tightly as you can and use a couple toothpicks to secure the rolls. Sprinkle with flour on all sides.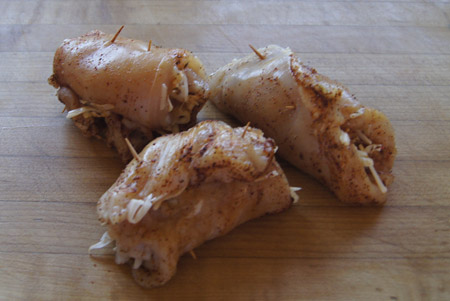 Heat a skillet using medium heat, then add a little oil (and a little butter if you want). Add the chicken rolls and cook until browned on all sides. Continue cooking until they are done. It's hard to tell when these are "no longer pink", but 15-20 minutes is probably how long they will take. You can check the temperature with a thermometer; you can cover them if you think they need more cooking. When cooked, remove the toothpicks.
Meanwhile, make the "corn saute" in another pot or skillet. First, cook the zucchini, garlic, jalapeno pepper, cumin, and salt and pepper in a small amount of olive oil a couple minutes until everything softens. Add the corn, black beans, tomato, olives, green onions, and cilantro and cook a couple minutes until everything is hot. Taste and adjust seasonings if necessary.
If you are using spinach, get it ready too. I usually put the fresh spinach in a big pot, add about a tablespoon of water, cover the pot, and turn to high until it boils. Then I remove it from the heat, allow to cool, and drain. Feel free to cook it using your own favorite method.
Plate the spinach topped with the corn saute, then put the chicken breasts on top.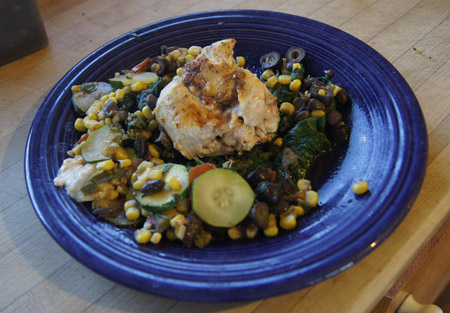 This was soooo good! I love meals with lots of vegetables. It was good and spicy and the cheese melted into the chicken, keeping it moist and giving it a lot of flavor. I think this might become one of our favorites.
And the spinach? Didn't get away with it. It was left behind on my husband's plate. But he liked the rest of it!