Cookbook #88: Bread Machine Recipes, Favorite Brand-Name Recipes, Vol. 6, March 23, 1999, No. 31, © Publications International, Ltd., 1999.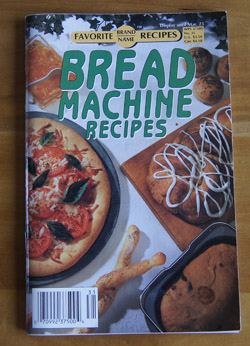 I like this little recipe magazine cookbook! I bought it for myself back in 1999, and I know I have tried at least one recipe from it. Lots of fun ideas. Now that I am retired, I have more time to play with different recipes. In case you are new to my blog, I'll tell you: I love to bake bread! This post explains my history with yeast bread.
There are so many recipes I want to try in this cookbook that I will just keep it next to my bread machine for awhile. All the recipes are from scratch, and very few "brand names" are even mentioned. Rye breads, corn breads, breads with fruits and carrots, breads cooked in muffin pans, cinnamon rolls, chocolate rolls, and pizzas galore. I like the recipe for "Savory Pull-Apart Loaves". You make the dough, then divide it into 16 pieces, flatten them and coat with olive oil and herbs, then layer it all back together into a 9×5-inch loaf pan. Be great with a good soup or stew.
I choose to make "Jamaican Cherry Bread" for this blog. It has fresh limes and fresh ginger and tart cherries (a super food!) and coconut (I love coconut!). I like fruited yeast breads toasted for breakfast or used in peanut butter sandwiches. Here is their recipe: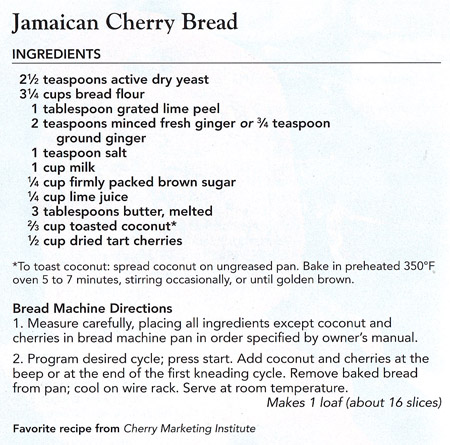 The Cherry Marketing Institute, the brand name noted at the bottom of the above recipe, has more tart cherry recipes on its website.
My version of this recipe is below. I used all-purpose flour and gluten flour instead of bread flour, I used fresh ginger, and I used purchased toasted coconut chips. I baked it in the oven in a loaf pan instead of in the breadmaker.
3 1/4 cups flour (17 ounces): I used 1 1/4 ounce gluten flour and added all-purpose flour to 17 ounces; 17 ounces of bread flour would work well too
2 1/2 teaspoons yeast
1 cup milk
3/4 teaspoon salt
1/4 cup brown sugar
3 tablespoons butter, cut into chunks (substitute vegetable oil if you prefer)
2 teaspoons freshly grated ginger root
grated peel of one lime
juice of one lime
1/2 cup dried tart cherries
2/3 cup coconut (use toasted shredded coconut or coconut chips)
Place all ingredients EXCEPT the cherries and coconut in your breadmaker. Set to a dough cycle, preferably one with a rise cycle. If your breadmaker has an option (a beep or an automatic feeder) to add the cherries and coconut near the end of the kneading cycle, use it. If not, you can add these ingredients at the time you form it into a loaf. Briefly, if you add the cherries and coconut too soon, the breadmaker will grind them up into tiny pieces.
When the dough/rising cycle is complete, remove the dough from the breadmaker. Add the cherries and coconut if you have not already done so. Fold over a few times and form into a loaf then place in a 9×5-inch loaf pan. Bake for 30 minutes at 385˚.
Comments
Great bread!
Below is the bread dough about 10 minutes into the kneading cycle. To me, it looked like it needed a bit more flour, but I let it go and after another 10 minutes the dough was smooth and perfect.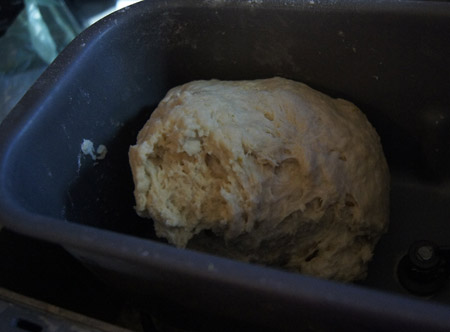 My breadmaker goes "beep" when it's time to add raisins, nuts, cherries, etc. You can see it doesn't do a great job of incorporating all of the cherries. Those ones that are poking out will just burn in the oven. I tried to get them all poked back in but it was impossible.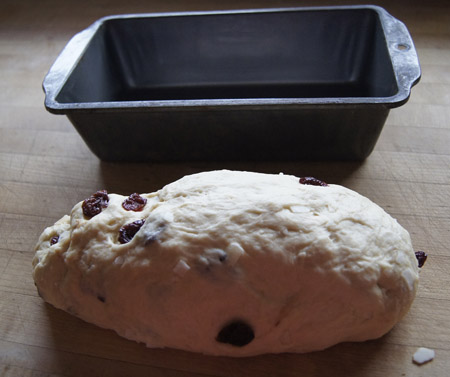 The photo below illustrates when it is time to put the risen loaf into the oven.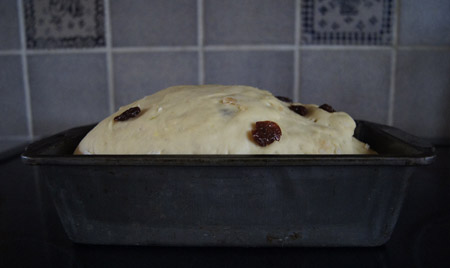 Here is the baked ginger-cherry-coconut bread: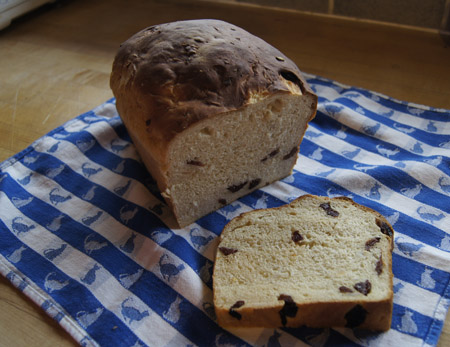 It tastes great. I like it with cream cheese and I like it with peanut butter – as toast and in a sandwich. Butter and jam would be great too. Why just eat boring store-bought toast in the morning, when you can have something really different?!
I'm kind of iffy on the use of coconut chips (big and made for granola or snacking), rather than flakes (the kind sold for baking). The chips gave a subtle crunch to the bread, but their coconut flavor was kind of washed out by the time the bread was baked. Next time I think I'll use coconut flakes. The coconut-toasting step suggested in the original recipe might help bring out their color and flavor.
I plan to make this bread again!