Cookbook #89: Zestful Recipes for Every Meal, Mutual Orange Distributors, Bruce McDaniel, Gen. Mgr., Redlands, CA, 19?? (see below).
A colorful booklet catches my eye. Bright oranges, lemons and grapefruits adorn the cover.
Because California Citrus Fruits are so luscious, so healthful, and so adaptable to all branches of cookery, it is with utmost confidence that we present this little booklet.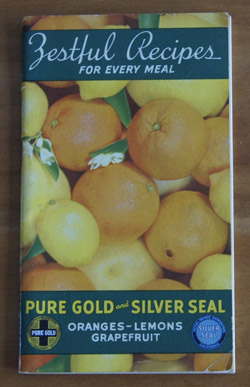 My mind drifts back to the 1950s. A little blond girl runs out to the trees in her backyard and picks a few lemons. Into the kitchen to hand-squeeze them and add sugar and water and ice for the best lemonade ever. Yup, that was me! Both my parents were born in citrus-kissed Southern California, and I was too. My mother grew up on a ranch where my grandfather grew oranges.
You can be refreshed on the hottest summer day with a good, tart, icy drink, and for this purpose California citrus fruits are necessary additions to the larder. With plenty of oranges, lemons and grapefruit on hand, a jar of sugar syrup waiting the the refrigerator, and perhaps half a dozen bottles of carbonated water and ginger ale, stored in a cold place, you're all ready for the mid-afternoon "lift" that comes with a glass of iced citrus beverage. And for those suppers-out-of-doors which every family enjoys, these delicious drinks are important.
I find no handwritten notes in Zestful Recipes, and just a few stains. I noted in my database that it came from my Mother. It's just 3.5×6-inches, and quite obviously it was an advertising-recipe booklet. Shall I just toss it? Explore some more?
I can't find a publication date in Zestful Recipes. I google Amazon and find an entry's photo that looks just like my booklet. It costs $10 and was published in 1940, according to the website (accessed November 2014). Hmmm.
A little more searching. Wow, this is cool. I find the entire Zestful Recipes booklet, scanned to a digital image and available to the public! Check this out on the Hathi Trust website: catalog.hathitrust.org/Record/005601173. Go down to "viewability" and click on "full view". That's exactly the same booklet! Cute, its owner had written a recipe for meat loaf on the first page. My Zestful copy is a lot cleaner.
The Hathi Trust site gives the publication date of Zestful Recipes as probably 1931. That means: This book is a Treasure! It is quite likely that my grandfather's oranges were distributed by "Mutual Orange Distributors" (publishers of Zestful Recipes), way back in the first half of the twentieth century. His ranch was in the vicinity of Covina, near the cities of Glendora, San Dimas, Pomona, Claremont, and not too far from Redlands. That whole area was covered with orange groves when I was a child, and Orange County still had tons of groves when I was in college. I go back now and it's mostly freeways and houses and strip malls.
If you are interested, here are a couple links to more information on Mutual Orange Distributors and the history of the citrus business in Southern California.
So it looks like my copy of Zestful Recipes could once have belonged to my grandparents, acquired somehow through their orange-growing business. My mother kept hold of it for decades, and now it is in my hands. I will keep it.
I decide to make "Citrus Fruit Syrup" on page 3 of Zestful Recipes.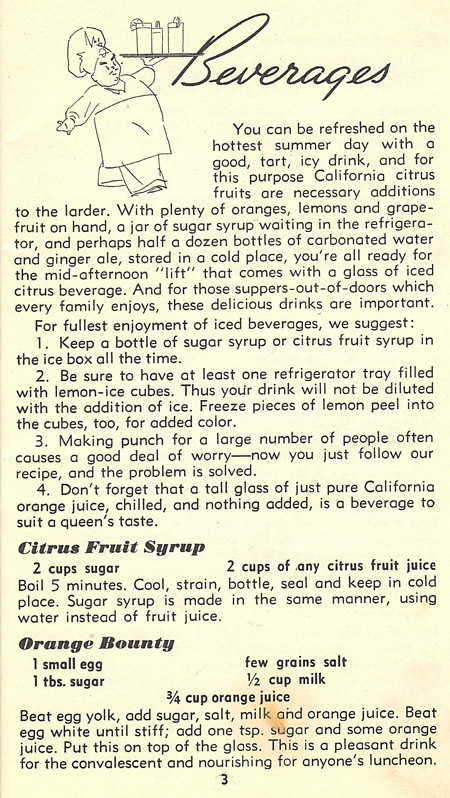 This is just a basic simple syrup, often used in beverages, both alcoholic and non-alcoholic. Like flavored oils and vinegars (see my entry for Michael Chiarello's book), simple syrups are "pantry basics" that you can make for yourself. And if you are an ex-chemist (me!), you just might want to do so!
1 cup sugar
1 cup freshly squeezed lemon juice
Combine the sugar and the juice in a pan on the stove. Bring to a boil and boil for 5 minutes. Watch carefully! Mine foamed up and boiled over when my back was turned. But it still turned out beautifully.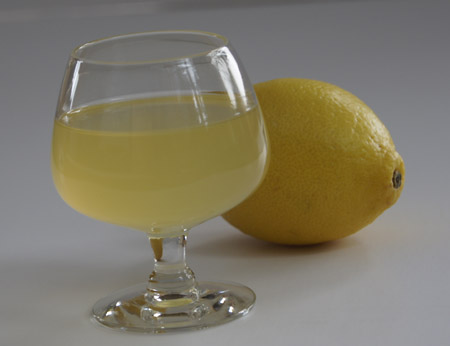 What to do with this syrup? We made some delicious Lemon and Vodka Martinis, recipe courtesy of Giada De Laurentiis. (Oh my, those were too good, made with my lemon sugar syrup and Greygoose.)
Here are some photos taken at Grandpa and Grandma Burch's ranch, from 1947-1950.