Cookbook #231: Complete World Bartender Guide, Bob Sennett, editor, Baronet Publishing Company, NY, 1977.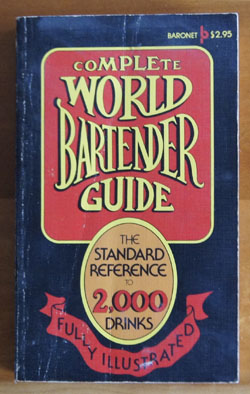 Why did I buy this book? We rarely make "cocktails". Guess I had a moment when I wanted to act "civilized", like my parents' generation, where fancy cocktails were routine at social get-togethers. Whatever the cause, I bought the book. And the result was Complete World Bartender Guide sat my shelf, gathering dust.
I searched online for the title "Complete World Bartender Guide". I was a little surprised that this book is still for sale. Seems it is still an important reference for aspiring bartenders as well as at-home cocktail makers. My 1977 edition is the first, there was a new edition with the same cover in 1987, and a new one with a different cover in 1993. Lots of hits – more than twenty. Amazon sells the Complete World Bartender Guide: The Standard Reference to More than 2,400 Drinks, 1993 edition, for $6.06. I paged through the available online content of this edition and the content looks much like mine. Here are some more copies for sale:
WebRestaurantStore $7.99
DiscoverBooks $3.23
eBay $3.49
AbeBooks $6.66
On occasion, I have poured over the multitude of recipes in the Complete World Bartender Guide. There are 356 recipe pages, and about 5-6 recipes per page. That's about 2000 drink recipes! If I made one drink per day from this book, it would take me five and a half years to make them all!
Hmmm. That might be an interesting topic for a new daily blog: "2000 Cocktails". I'm sure it would lead to some amusing anecdotes. But no, I am not going to do it.
I touched on cocktails in this post: Zestful Recipes for Every Meal. That vintage cookbook had suggestions for using lemons, oranges and grapefruit and was authored by the  orange distributors in Southern California. I made a lemon simple syrup and used it in a martini. What does Complete World Bartender Guide say about sugar syrups? Here, on page 7: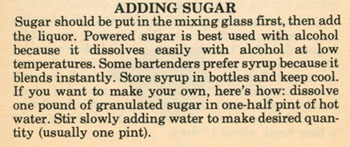 Actually, this page might be useful to me in the future. But I also have another recipe source for simple syrups in my comprehensive reference book, Food Lover's Companion. As well as this simple syrup, Complete World Bartender Guide lists different types of liquors and liquers, such as sloe gin, armagnac, anisette, and dry gin. Is Food Lover's Companion a good reference for these as well? It does lists the first three, but not dry gin. So if I recycle Complete World Bartender Guide, I might lose access to some important printed informaiton.
While in the reference section of the Complete World Bartender Guide, I see the entry "sloe gin". I've bought that before – but what for? Oh, I remember, "Skip and Go Nakeds". Yes, "Skip and Go Nakeds", devilish drinks made for us by my uncle from vodka, beer, lemonade, and as I remember it, sloe gin. He even gave us the glasses to make them in so we could have them properly served at home in Colorado: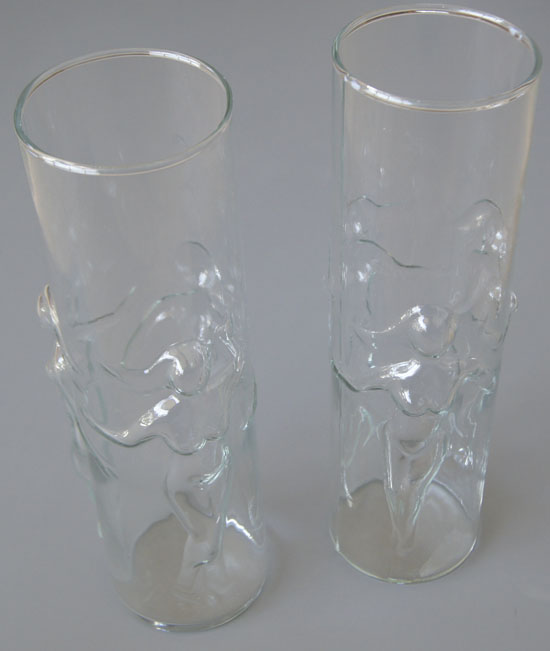 My uncle served in World War II and was for a time a bartender. Spending an evening with my aunt and uncle was always entertaining! We have the best memories of our visits to their home in Southern California.
Back to definitions, like sloe gin. What is it? It's a liqueur made from the berries of the blackthorn bush, called "sloe berries". Sloe gin is red and thickly sweet and sinks to the bottom of the glass, kind of like grenadine. And what is grenadine? It's a flavoring made from pomegranates. Note that the sloe gin is red and has sugar and adds alcohol to the already potent Skip and Go Nakeds.
One drink I am curious about is the "Tom Collins". Decades ago, one could easily find "collins mix" on shelves. That stopped – I remember having a longing for a Tom Collins, but I could not find the mix. What could I have done? Why, simple look in my copy of "Complete World Bartender Guide":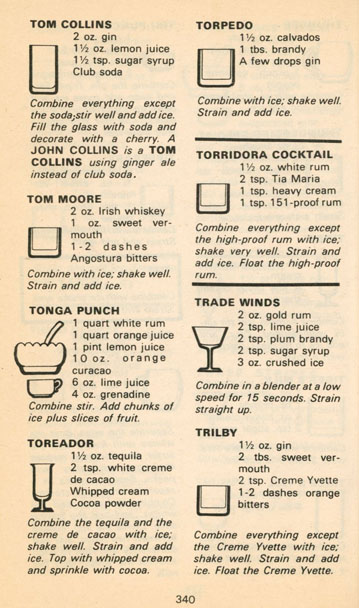 Collins mix is masde with simple syrup, lemon juice, and soda water. I could have used my Lemon Simple Syrup to make a Tom Collins. I should have looked on my own bookshelves for answers long ago.
This list of measurements might come in handy: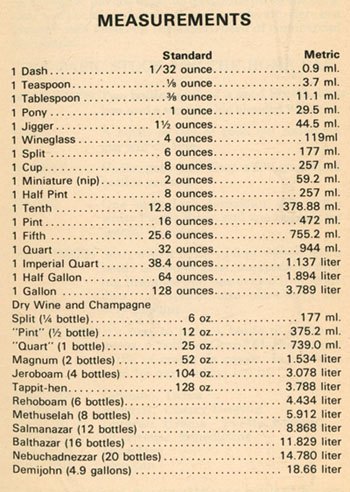 Bar glasses – they don't have my "Skip and Go Nakeds!"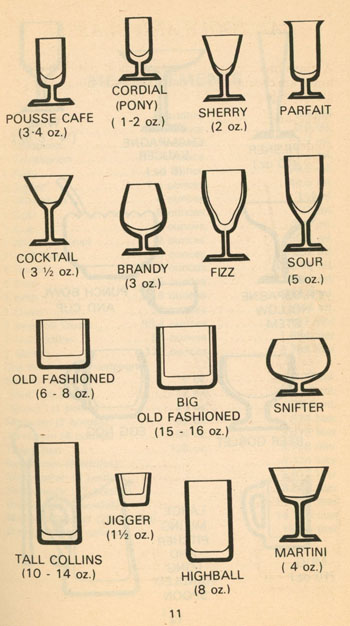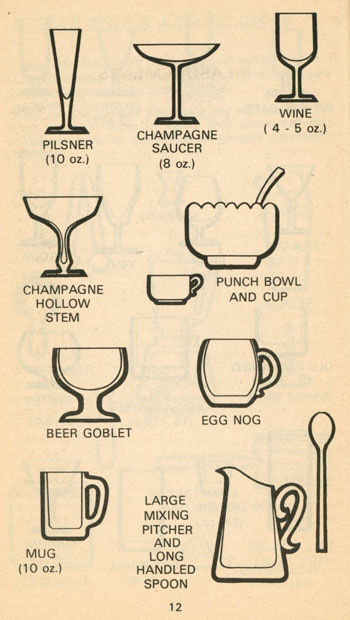 Here is the book open at a typical page of bar drinks: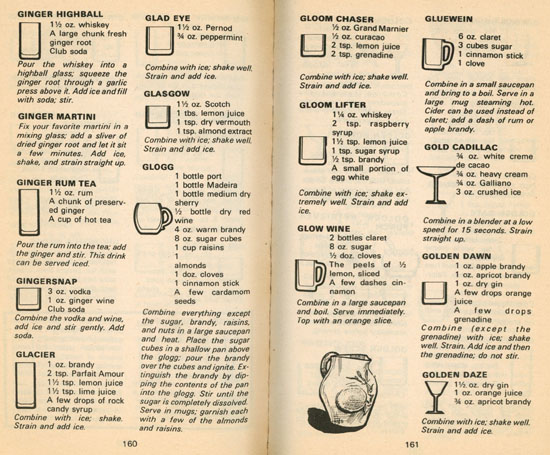 What am I going to make for this blog? We don't really drink cocktails, especially this time of year, largely because we are trying to cut calories. There are a few low-calorie alcoholic drinks . . . and at the very back, a few non-alcoholic drinks. That suits the bill for us this January as we recover from the excesses of last year. I'll try one of the tomato cocktails: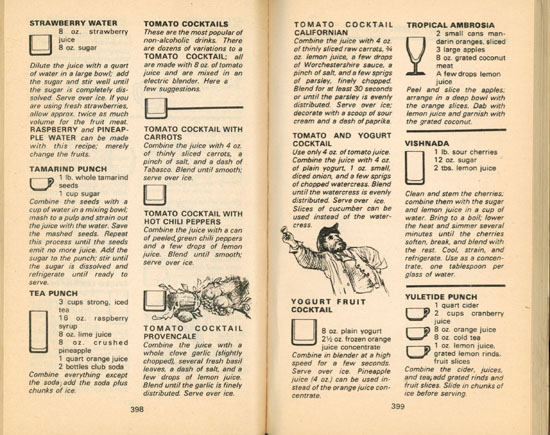 I will make the tomato cocktail with carrots. I keep small cans of tomato sauce in my pantry because I often use them when making marinara sauce. I took out a carrot to use, and wondered how much it weighed. Less than one ounce! This was an averaged-sized carrot. Heavens, I am supposed to use 4 ounces of carrots! That seemed way too much for me, so I only used that one 1-ounce carrot.
Alcohol-free Tomato Cocktail with Carrots
serves 1
1 8-ounce can tomato juice
1 carrot (use more if you want)
a dash of Tobasco
salt to taste
Cut the carrot into very thin slices. Blend until smooth. Serve over ice if you like.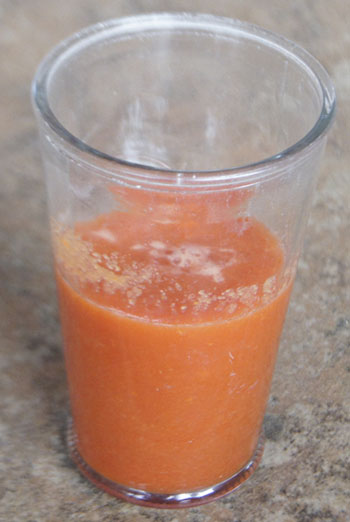 Sure, this was good. The carrots were still a bit crunchy after a minute of blending, though. I didn't mind, but you might use carrot juice instead, or a juicer.
Shall I keep the Complete World Bartender Guide? I haven't really decided. I meant to recycle it when I first picked it up, but I had some fun going through it, and might again in the future. I guess I'll keep it for now!