Cookbook #159: Best in the West Barbecue Recipes, Western Family, Inc., August 1958.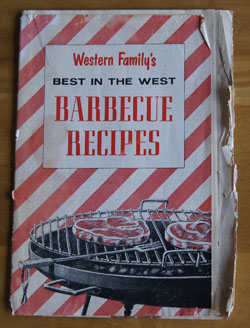 What or who is or was "Western Family", the publisher of this book? I found that it was a 1950s magazine about life in the western US. A few vintage issues are available through eBay and Amazon and other sources. If you google "Western Family Magazine 1958" you will be rewarded with the cover art of several issues – I'd copy some in here but don't feel comfortable because of copyright issues.
Best in the West Barbecue Recipes is a small stapled-together booklet that must have been associated with the August 1958 magazine issue. And I think it was my grandmother's, because there is a smidgeon of writing in it that looks like hers:

I like the introduction page: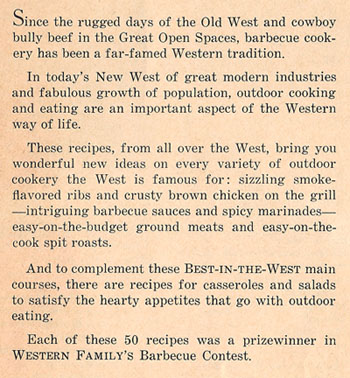 I am surprised how much I like the recipes in this dated booklet! Many of them sound pretty good; albeit the instructions are often quite brief: "Pour the marinade over the ribs and marinate for at least one hour. Grill ribs over charcoal for 45-60 minutes, or until done, turning frequently and brushing with sauce." Each recipe includes the name of the contributor, usually a "Mrs." from a western state.
Note the barbecue grill in the photo of the cover of this cookbook (top of this page). That's the kind of barbecue I grew up with. It was fairly flat and you spread the charcoal in a single layer and cooked on the grill right above the charcoal. I'm not even sure it had a cover. Simple but functional.
This all certainly brings back the sunny times in California in the 1950s: sitting on the wooden table and benches in the tree-shaded patio right off our kitchen, charcoal fire started, family friends gathering for a meal together, adults laughing with their cocktails, us kids being kids. It was a great place to grow up.
I decide to make Just-Right Barbecued Chicken: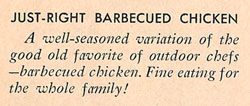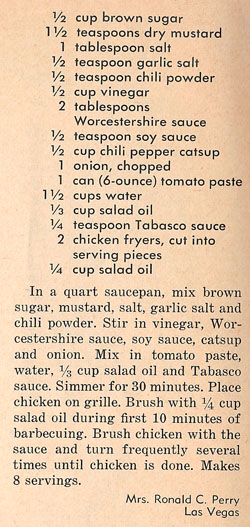 I haven't cooked bone-in chicken pieces on a grill in ages. Below are the instructions given in this booklet for an old-style charcoal grill.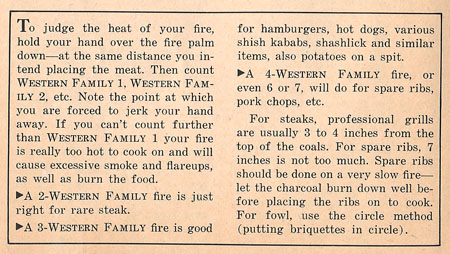 What I like about the recipe for Just Right Barbecue Chicken is the included barbecue sauce. I made a few minor changes in the sauce recipe (more spices, less salt, chile sauce for "chili pepper catsup") and to adapt the grilling instructions for my covered gas grill, I consulted my Weber Real Grilling cookbook. All changes are incorporated below.
Just-Right Barbecued Chicken
serves 2 – with leftovers!
1/2 cup brown sugar
1 1/2 teaspoons dry mustard
1 teaspoon salt
1/2 teaspoon garlic powder
1 teaspoon chili powder
1/2 cup vinegar (I used white vinegar)
2 tablespoons Worcestershire sauce
1 teaspoon soy sauce
1/2 cup chile sauce
1/2 large onion, chopped fine
1 8-ounce can tomato sauce (or use 6-ounce can tomato paste and increase water to 1 1/2 cups)
1 cup water
1/3 cup vegetable oil
cut up frying chicken (I used 2 breasts, 4 legs, 3 thighs)
vegetable or olive oil for brushing chicken
Combine the sauce ingredients (1/2 cup brown sugar through the 1/3 cup vegetable oil) and simmer about 30 minutes. This makes enough for two chickens; I used less chicken so I had leftover sauce. Note: this sauce is not as thick as most modern barbecue sauces, but it works great.
Heat a gas grill on high until it's good and hot, then turn off all but one burner. You want the temperature to be "medium" – I aim for 325-350˚ on the gas grill gauge.
Brush the chicken pieces with oil – I actually just put the chicken in a bowl and poured olive oil over them and rubbed it in. Put the pieces on the grill over indirect heat (and close the lid). Grill about 5 minutes and then turn and grill another 5 minutes until they have nice grill marks. Next, brush with the sauce. For the next 30 minutes or so, keep brushing with sauce and turning every 5-10 minutes, monitoring the grill temperature to keep it at medium. To test for doneness, I used an instant read thermometer, and when the chicken pieces read 150-160˚ I took them off the grill. (Some were done sooner than others.)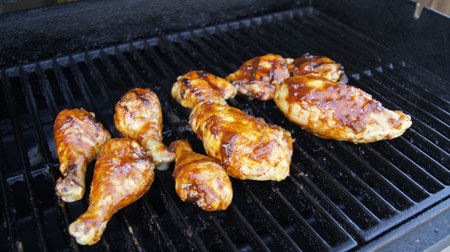 This chicken was really good! I will definitely grill chicken this way again. The sauce was perfect, and the chicken was juicy. It was just as good cold the next day!
To go with the chicken, I made "Western Potato Strip-Teasers".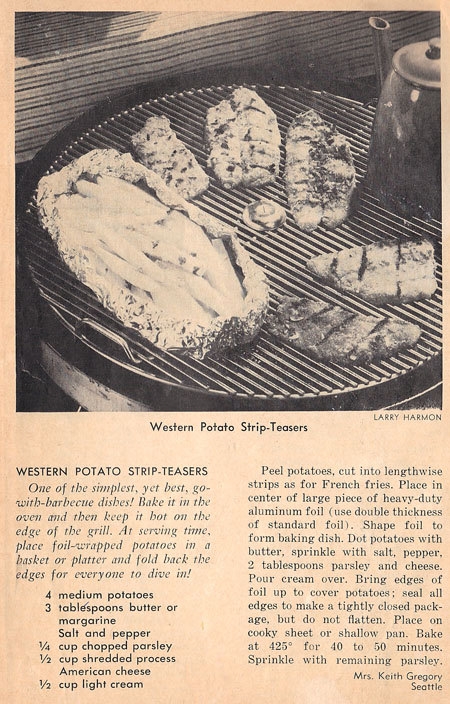 These potatoes are baked in foil the oven, and kept hot on the edge of the grill as the main dish is cooked. I made the potatoes pretty much as they said, except I used milk instead of cream and cheddar cheese instead of process American cheese.
Western Potato Strip-Teasers
serves 2
2 good-sized potatoes (or several small, you need enough for 2 people)
1 tablespoon butter, cut in small chunkl
salt and pepper
2 tablespoons chopped fresh parsley, divided
1/4 cup grated cheddar cheese
1/4 cup milk
Take a piece of heavy-duty aluminum foil and shape it to form a baking dish.
Peel the potatoes and cut lengthwise strips as for French fries. Place in the aluminum foil baking dish. Dot the potatoes with butter, sprinkle with salt and pepper and cheese and 1 tablespoon of the parsley. Pour the milk over the mixture. Bring the edges of the foil up to cover the potatoes; seal alll edges to make a closed package (but do not flatten). Place it on a cookie sheet to make it easier to slip in and out of the oven.
Bake at 425˚ for 40-50 minutes, until the potatoes are done. Sprinkle with remaining parsley. If you like, you can take the foil package outside to your grill and keep the potatoes warm until dinner is ready.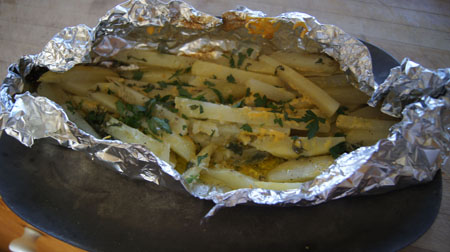 We both really liked these. I wanted "more!" I even ate some of the leftovers cold from the refrigerator the next day. And clean-up was really easy!
And what am I going to do with this little cookbook? I'm going to put it with my "old cookbooks" for the nostalgia. And maybe to cook another good old recipe sometime!