Cookbook #120: Chicken Cookbook, The Pillsbury Company, 1993.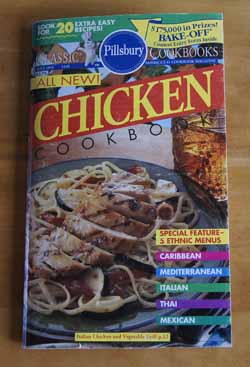 I can see me standing at the check-out counter, flipping through this advertising cookbook, getting  hooked by many chicken-cooking ideas. So I tossed it in my basket along with a pile of groceries (kids at home) and paid the $2.75 (along with a lot for the groceries).
Advertising cookbooks – love 'em and hate 'em. Their history I discussed in a previous post. I haven't bought one in 15 years – probably because I go to the internet these days for new cooking ideas.
Not sure yet if I'll keep this one. I see several interesting ideas for cooking chicken, although I don't like all of the ingredients. Packaged crescent rolls, prepared pie crusts, frozen fruits and vegetables, canned fruits and vegetables, canned soups. I am more of a "from scratch" person. Still, I can use the ideas in this cookbook and substitute fresh ingredients as I like.
I decide to make "Plum Barbecued Chicken Kabobs" for this blog. It's summer, time to use the grill! I like kabobs, although I am not a huge fan of the basic bell pepper and onion and potato and meat skewers. This recipe for chicken kabobs has grapes alternated between the chicken pieces: this should add moisture and some good flavor. I've never used grapes on skewers before – sounds interesting.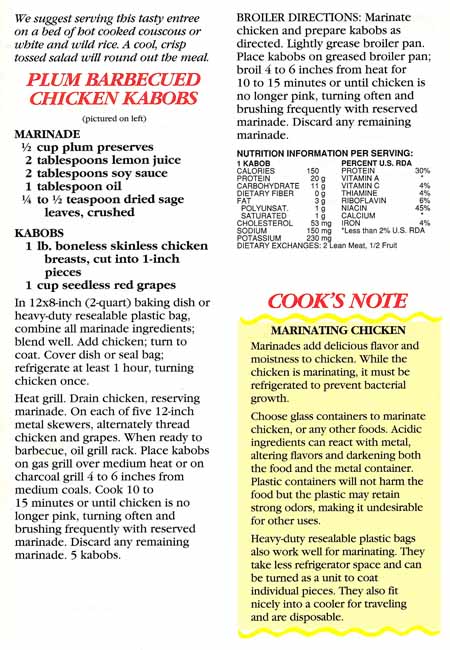 I can't find any plum preserves! I checked several stores. Instead I bring home a jar of apricot preserves and also a jar of "plum sauce", an Asian condiment. (I need the plum sauce anyway for a different recipe I am trying this week, one for grilled pork chops from my Weber's Real Grilling book.) I'll taste each and decide which to use in the Plum Barbecued Chicken Kabobs.
Chicken and Grape Kabobs
makes 4 kabobs, serves 2-3
1/2 cup plum or apricot preserves
2 tablespoons soy sauce
2 tablespoons lemon juice
1 tablespoon oil
1/2 teaspoon dried sage, rubbed or leaves
1 pound boneless skinless chicken breasts
1 cup (about) of large red or black seedless grapes
Combine the preserves, soy sauce, lemon juice, oil and sage in a small bowl – this is the marinade.
Cut the chicken into 1-inch cubes. Combine with the marinade in a baggie and put in the refrigerator at least 1 hour.
Soak 4-5 bamboo skewers (or use metal ones). Remove the chicken from the marinade  – save the marinade for basting. Thread the chicken alternately with the grapes on the skewers.
Heat the grill to medium-high. Cook the kabobs for 10-15 minutes, until the chicken is done. Turn them often and baste several times with the reserved marinade. (Toss the marinade when done.)
Serve. I set out the Asian plum sauce but neither of us used it.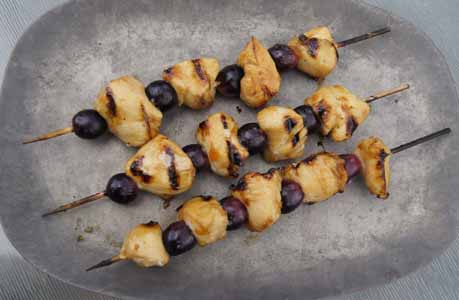 These were great! Tasty and moist with a nice sweetness from the grapes and the marinade. I served them over raisins-mandarin orange-lemon couscous with Parmesan toast. Success!