Cookbook #130: George Foreman Lean Mean Fat Grilling Machine, Salton, Inc., 2000.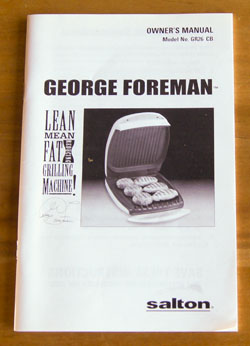 This is the instruction booklet for my George Forman "grilling machine". I re-discovered this appliance in another blog post: George Foreman Lean Mean Fat Reducing Grilling Machine Cookbook. There is a just a handful of recipes in this instruction booklet. But, since it has instructions ffor the grill's use (including a cooking chart), I will keep it as a reference.
I decide to try "Mustard Lemon Chicken Breasts" for this blog.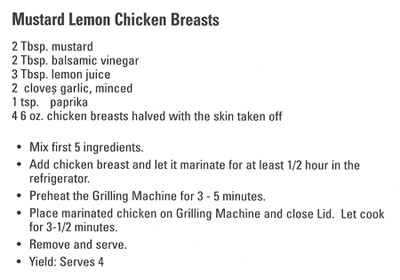 These are really simple! If they work, should be nice for a quick meal.
Mustard Lemon Balsamic Chicen Breasts
serves 2-3
2 tablespoons mustard
2 tablespoons balsamic vinegar
3 tablespoons lemon juice
2 cloves minced garlic
1 teaspoon paprika
12 ounces boneless chicken breast (I used chicken breast cutlets)
Mix the mustard, vinegar, lemon juice, garlic, and paprika. Add the chicken breasts and let marinade at least 30 minutes.
Preheat a Foreman Grill for 5 minutes. Place the marinated chicken on the grill and close the lid. Let cook for 3-4 minutes. (Thick chicken breasts will take a little longer.)
Serve.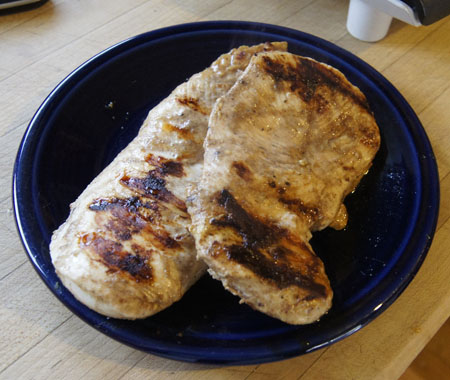 I liked these. I put them inside toasted french rolls and added jack cheese, tomatoes, sliced red onion, lettuce and avocado. The chicken was so tasty on its own that I didn't bother adding mustard or mayonnaise to the rolls. Once again, I am reminded to keep using my Forman Grill!