Cookbook #154: Italian Light Cooking, Elisa Celli, Prentice Hall Press, Ny, Ny, 1987.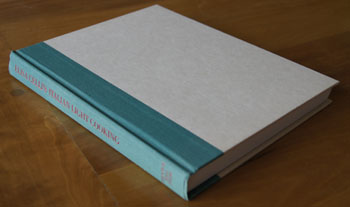 I haven't opened this book in years! I bought it for myself, probably at The Peppercorn. One more venture into finding low-calorie recipes to cook, a common pastime until last year when I read The Big Fat Surprise by Nina Teicholz. (Which may have been a mistake!)
I like this book. Elisa Celli's ideas for lighter cooking are pretty much like the Mediterranean diet of today: lots of fresh vegetables and fish, less red meats and cheeses, lots of "green olive oil". (Green olive oil is extra virgin olive oil.) Celli also advocates for durum wheat pasta, which she claims is lower in calories than white flour pasta. She wrote several cookbooks in the late 1980s, and has a current presence on Facebook and YouTube.
Betsy Balsley wrote a review article of this cookbook in the November 1987 LA Times. It's a good article, and says what I'd like to say – better! Here it is: Remembrance of Things Pasta: Cookbook Writer Elisa Celli Knows What Makes Good–and Bad–Italian Food.
What Celli calls "light" is not necessarily "low-calorie". Celli feels that Americans add too much butter, cream, and cheese to pasta. In Italy, where she grew up, only small amounts of these heavy ingredients are added to the meals – her Italian food is "light" with lots of vegetables and herbs and fish and small amounts of lean meat. For the dieter, calorie values are clearly listed with each recipe.
(Some recipes do excede the allowance on a low-calorie diet.)
I chose three recipes to try: fettucini, a fish dish, and a dessert. The fettucini recipe comes from the introductory pages of this book and illustrates the Italian light way of cooking: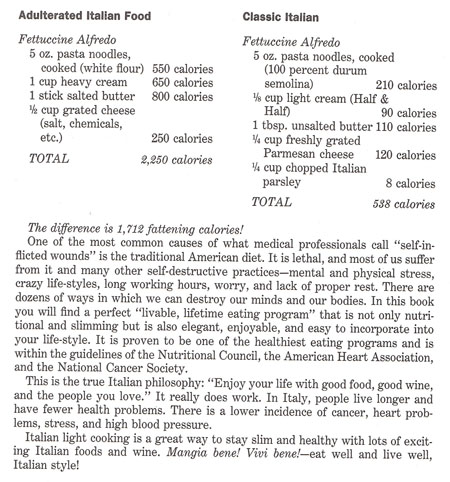 The fish is Pesce Positano, or Grilled or Baked Fish with Wine, Herb, and Garlic Sauce: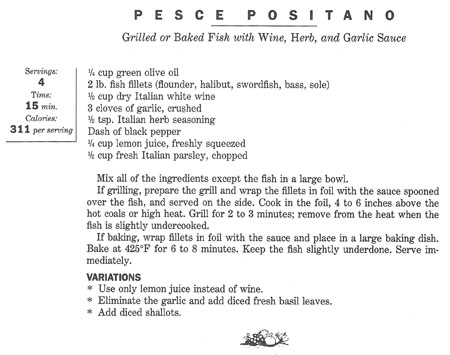 The dessert is Chocolate Raspberry Crema Alla Lynn. I chose this because I like chocolate had some leftover ricotta cheese in the refrigerator!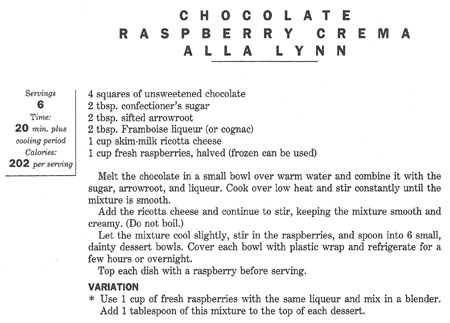 Comments
The fettucini was delicious. It's a simple recipe: cook the noodles and toss with a small amount of butter, half and half (you could use cream), Parmesan cheese, and parsley. However, I was not able to find a "durum semolina" pasta that had only 210 calories in 5 ounces. I stood in Whole Foods for a long time reading labels. I found several that were "100% durum", but the lowest calorie value I could find was 500 calories in in 5 ounces. My fettucini dish was good, but not as low calorie as specified in Italian Light Cooking. (Online research reveals: both semolina and durum flours are made from durum wheat; semolina is the milled inner kernel of the wheat – endosperm – and it is a coarse-grind flour; durum is the milled grain, I think it's everything except the endosperm but I'm not positive.)
*Note: A few weeks after I wrote this post, I found Paccheri at Whole Foods, made from "durum wheat semolina". The calorie value is 150 calories per 56 grams, so about 375 calories in 5 ounces. Lower, but not as low as Italian Light Cooking specified.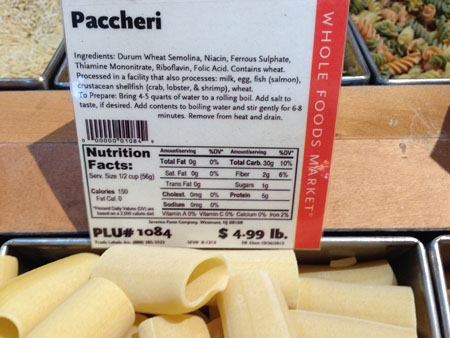 The chocolate dessert tasted "almost good" – we both said that! This is probably due to my mis-interpretation of the measurement of chocolate. The recipe calls for "4 squares of unsweetened chocolate". What's in a "square"? My package of Baker's unsweetened chocolate claims that 2 of the squares in their package (1 ounce) equals 1 square of past-packaging. I do not know what type of packaging Celli's book meant, so I assumed it was "past-packaging" and I used 4 ounces, or 8 squares, of Baker's chocolate. It was waaaayy too much chocolate. The dessert hardened quickly into a mass like a pile of hard and cold cookie. It tasted good but a little too bitter, and the mouth-feel was not good. (If I made this again, I would use 2 ounces of bittersweet chocolate.)
The fish was very good and the recipe as I prepared it is below. The drawback to this recipe is that we live in Colorado. Miles from any ocean. I only like fish purchased very fresh and that means very expensive. Wild caught fresh halibut was $27.99 per pound at Whole Foods. I do buy fish this expensive on occasion, since we rarely eat out (and usually save money by eating at home). But it's really a ridiculous price.
Grilled Fish with Wine-Garlic Sauce
serves 2
3/4 pound fish fillets (flounder, halibut, swordfish, bass, sole)
2 tablespoons extra virgin olive oil
1/4 cup dry white wine
2 tablespoons freshly squeezed lemon juice
1-2 cloves garlic, crushed
1/2 teaspoon dry Italian seasoning (I added a little fresh basil too)
black pepper to taste
1/4 cup chopped fresh Italian parsley
To make the sauce, whisk together all of the ingredients except the fish.
Put the fish on a piece of foil. Since you will be pouring the sauce over it, you need to make the foil boat-like. Pour most of the sauce on the fish and wrap the foil around it tightly. Save the rest of the sauce to pass at the table or to pour over the cooked fish before you serve it.
Prepare a hot grill (I use a gas grill). Put the foil-wrapped fish on the grill and cook on high direct meat for 3-4 minutes. Peek at the fish to see if it looks nearly cooked through; if it isn't, cook a few minutes longer. Keep the fish very slightly underdone.
Serve immediately.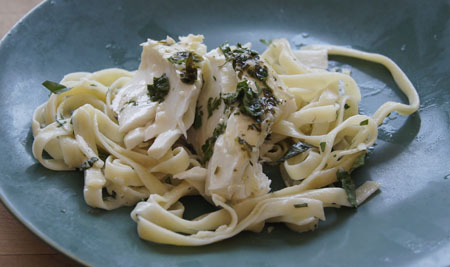 I put my fish on top of the fettucini. It was very good! Well seasoned, and the halibut I used was yummy. My dining partner said it was almost "too healthy" tasting. I scarfed it up because I was starving. This is a nice way to cook fish on the grill, since you don't have to worry about it burning, nor was there any mess to clean up.