Cookbook #203: Natural Cooking, Barbara Farr, Potpourri Press, Greensboro, NC, 1971.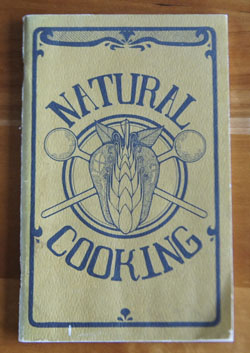 The title page of this booklet is marked "$1.50" in very neat handwriting. My guess is that I bought it in a Boulder bookstore, way back when. Today I could buy it for $3.95 on Amazon.
The Owl & Company Bookshop comments that Natural Cooking is a "scarce and relatively early natural food cook-book", referring to the natural food movement that the "hippie" generation took on as its own. Barbara Farr's Natural Cooking defines natural foods as minimally processed foods, for example, whole grains instead of white flour, foods grown without pesticides, and produce brought from farm to table as soon as possible.
There was a time when all grains and produce were grown without synthetic pesticides, and produce had to be eaten (or home-canned) quickly or it would spoil. In the early twentieth century the "food industry" grew fast, offering food processed to lengthen its shelf life. Home cooks were able to buy canned and packaged foods, and wanted more. Chemists  in the same era discovered and manufactured pesticides for greater crop yield, as well as food preservatives (additives) to give processed foods a longer shelf life. Home cooks of the 40s to 50s latched on to these convenient products.
Then came the "hippie" generation, a sub-set of the "baby boom" generation. Many hippies, children of the 1940s to the 1960s, wanted to go back to nature, and eliminate pesticides and food additives from their foods, as well as eat whole grains and freshly harvested foods (preferrably home grown). (Joni Mitchell: "Give me spots on my apples but throw away the DDT".)
The hippie generation did not invent the movement for all natural foods. My edition of the Boston Cooking-School Cook Book, published in 1906, recommends whole grains and a balanced diet including fruits and vegetables.
I found Natural Cooking in the bibliography of this book, Secret Ingredients: Race, Gender, and Class at the Dinner Table, by S. Inness. It's in the chapter "Recipes for Revolution".


The trend for whole grains continues today (2017). I like them because they have much more flavor than plain white bread, or white rice. Whole grains have a low glycemic index, touted in The Glucose Revolution Pocket Guide to Losing Weight as being important both for dieters and diabetics. Today, I see "low glycemic index" bars and foods advertised for fitness affectionados and dieters alike.
I sit down with Natural Cooking and slowly page through. On page 4, "Introduction", is the quote from the inset (above), "A steaming bowl of soup, a ripe tomato still warm from the heat of the sun, and a loaf of crusty whole-grain bread; all of these are natural foods. On the other hand, a T.V. dinner is unnatural in its concept, unsatisfying in its flavor and unbeautiful to behold!". I scanned in page 5, below, because it exemplifies the tone of Barbara Farr's book: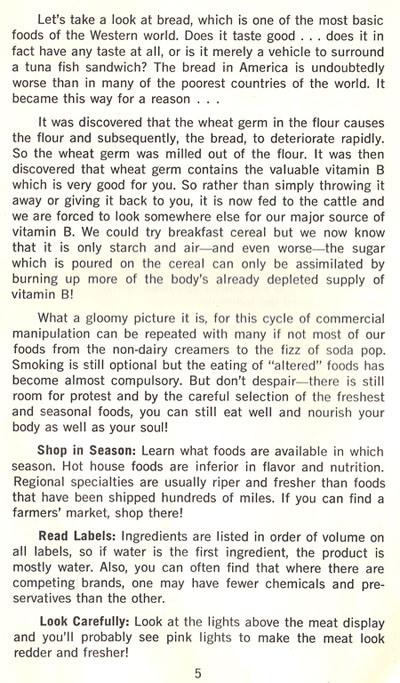 Here is an excerpt from page 6, Barbara Farr's take on food faddists: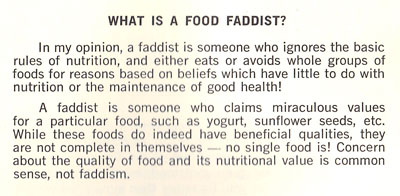 Even though this is a small collection of recipes, it is quite varied. The recipes in this book are not vegetarian and some include cuts of meat that we less commonly use today, such as oxtails, kidneys, liver, and smoked tongue. Hummus, eggplant, stuffed grape leaves, gazpacho, quiche, and bean soups show the variety of choices. I easily find three recipes I'd like to try: Swedish Limpa, a yeast bread made with beer and a larger proportion of rye flour; Turkish Swedish Meatballs made with lots of yogurt; and Apple Krisp, with raw sugar (Turbinado sugar, like I use for Creme Brulee), honey, apples, and wheat germ.
An aside: I like Barbara Farr's paragraph on "Sweets":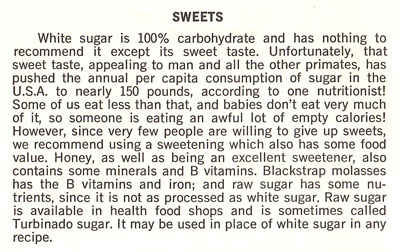 For this blog, I decide to make the Turkish Swedish Meatballs.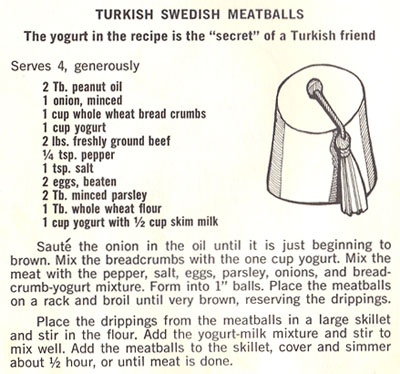 I cut the recipe in half for the two of us. I found the meatballs too sloppy as I formed them, so I added more breadcrumbs. I found it very hard to stir the whole wheat flour into the drippings, so next time I'd use white (AP) flour. (Not worth the trouble using whole grains for this small amount of flour, if it doesn't work.) Below is my version of this recipe.
Turkish Swedish Meatballs
serves 2-3
1 pound freshly ground beef; I used 90% lean beef from Whole Foods
1/2 onion, chopped fine
3/4 cup whole wheat bread crumbs (I used my homemade whole wheat bread)
1/2 cup yogurt (I used organic, full fat plain yogurt)
pepper to taste
1/2 teaspoon salt
1 egg, beaten
1 tablespoon minced fresh parsley
1 tablespoon AP flour
1/4 cup milk
1/2 cup yogurt
Saute the onion in a little oil until it is just beginning to brown. Mix the breadcrumbs with the 1/2 cup yogurt. Mix the meat with the pepper, salt, parsley, onions; add the bread-crumb-yogurt mixture. Form into 1-inch balls. They will not form easily, as this mixture is pretty, well, sloppy: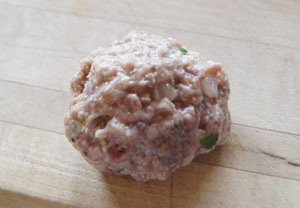 Set the meatballs to rest on a plate or breadboard. Heat your oven to broil. Find a clean broiler pan, or use a rack set over a pan to catch the drippings. Lightly oil the broiler pan or the rack, then place the meatballs on it. Broil the meatballs until they are very brown. This took me 5-10 minutes; I rotated the pan often and turned the oven to low-broil about halfway through.
Take the pan out of the oven and let it cool. Reserve any drippings for the sauce.
Transfer the drippings to a large frying pan pan and stir in the flour (I had so few drippings that I added a bit of olive oil too). Add the milk and stir until smooth. Add the 1/2 cup yogurt. Add the meatballs to the skillet, mix it all together carefully (the meatballs are delicate), then cover and simmer about 1/2 hour, or until the meat is done.
Serve over noodles, rice, or mashed potatoes, or maybe a grain like farro, freekeh, bulgur, or cracked wheat. I used whole wheat linguine.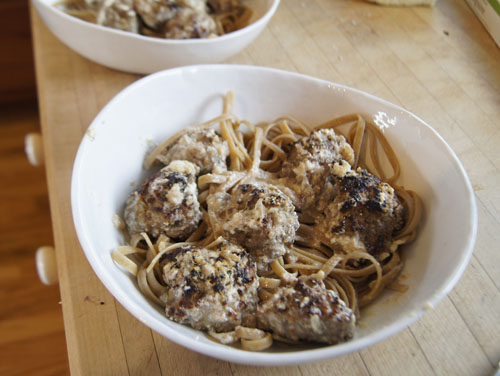 I was surprised at how well these went over! The first comment from my dining-partner was "ummmm, these are good!" I too liked them. Full of flavor and nice and moist.
Next time I might use a frying pan that goes from oven to stove top. Using the broiler was kind of useless, since very little fat came off these meatballs. But the step of browning under a broiler was nice, because it got these delicate meatballs nice and brown without causing them to fall apart. It kept the moisture of the meatballs inside, and after a good simmer in the yogurt sauce, they were absolutely delicious.
I will definitely keep this cookbook!