Cookbook #204: Hershey's Chocolate Cookbook, Ideals Publishing Corp., Nashville, Tennessee, 1982.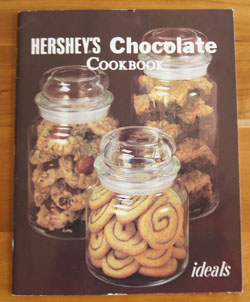 This is one of four Hershey's cookbooks in my cookbook database. I can't find the publication date anywhere in my copy, but online photos and details of the same book on Amazon claim "1982" as the date.
This Hershey's cookbook was a gift to my mother from my aunt in 1993.

Mother did not mark any of the recipes! This is unusual for her, especially for cookie, pie, and cake recipes, which include all of the recipes in this cookbook.
Many recipes in this cookbook include Reese's® peanut butter chips. Kind of odd, for a "chocolate" cookbook. Maybe this product was newly on the market in 1982? Because of this ingredient, not every recipe in this cookbook has chocolate in it, which is disappointing! I find that "Reese's" is (to this day) one of the Hershey brand names. Hmm. This make this a "brand name" cookbook.
As I page through this book today, I find a favorite old cookie recipe: Peanut Blossoms. Chocolate Drop Cookies sound good, but I have a similar recipe. I might like Macaroon Kiss Cookies, Crunchy Oatmeal Peanut Butter Chip Cookies, and Chewy Chocolate Wafers.
The pie and cake recipes all look good. Cocoa Chiffon-Cloud Pie is one I'll save, since I once had a yearning for a chocolate chiffon pie and couldn't find a recipe. Chocolate-Butterscotch Pie with Macaroon Nut Crust and Chocolate Banana Cream Pie, yum. I find "Red Velvet Cocoa Cake", a recipe I once searched for ( I ended up developing my own recipe for this cake, baked at high altitude). Chocolate Fudge Cake? Who wouldn't want that? Orange-Kissed Chocolate Cupcakes, where you take a section out of the top of a chocolate cupcake, fill it with orange cream, and top with a Hershey's Kiss, yum again. In a perfect world, I'd be making and eating desserts like this every night of the week. But alas, it's not a perfect world.
Since Mother didn't mark any recipes and I simply don't need more rich dessert recipes, I'll scan in a few recipes, and then recycle the cookbook. I have kept Hershey's 1934 Cookbook and Hershey's Cocoa Cookbook for references to basic chocolate recipes, like brownies, fudge, homemade chocolate syrup, and hot fudge sauce.
I decide to make Cherry Chocolate Chip Cookies for this blog. Cookies are always nice for our two-person household because the dough and/or cookies can be frozen so the we don't have to eat them all up at once. This recipe includes a shortcut for the home cook: you can make up "Basic Cookie Mix" and then use it to make five different kinds of cookies. (Later on in this chapter, there is a Chocolate Cookie Mix to compliment the Basic Cookie Mix.)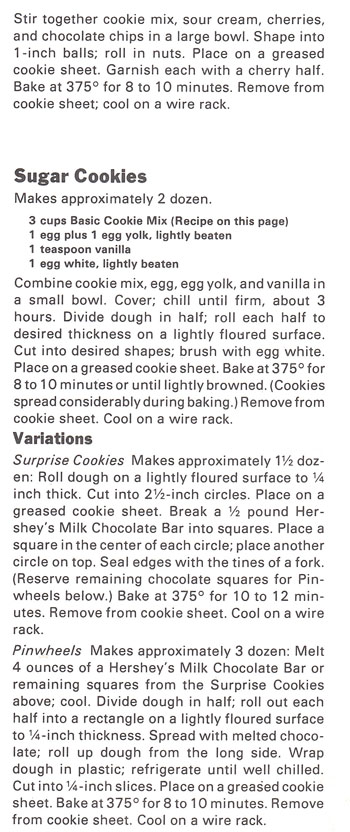 I'm not sure I'll always want to make "cookie mix" and then the cookies, so I made a half recipe of the mix, then measured it. It made enough for two different types (or batches) of cookies.
Basic Cookie Mix
makes 5 cups of cookie mix, if lightly patted down

2 1/2 cups flour
1 cup sugar
1/2 cup brown sugar
1 tablespoon baking powder
1 teaspoons salt
1/2 cup shortening
1/4 cup butter
Place the flour, the two sugars, baking powder and salt in a food processor. Pulse a few times. Divide the shortening and butter into chunks and scatter across the dry mixture. Cover the processor and pulse 10-20 times, until the mixture looks like coarse crumbs.
Store in an airtight container in the refrigerator.
2 1/2 cups basic cookie mix, lightly patted into the measuring cups
1/4 cup sour cream (or a bit more if needed; I think I used about 1/2 cup)
1/4 cup finely chopped, well-drained maraschino cherries
1 cup chocolate chips (semi-sweet)
1 cup finely chopped walnuts
15 halved maraschino cherries, well drained
Stir the basic cookie mix whit the sour cream, cherries, and chocolate chips. Shape into 1-inch balls, then roll in the nuts.
Place on a parchment-lined cookie sheet. Garnish each cookie with a cherry half. Bake at 375˚ for 12-15 minutes.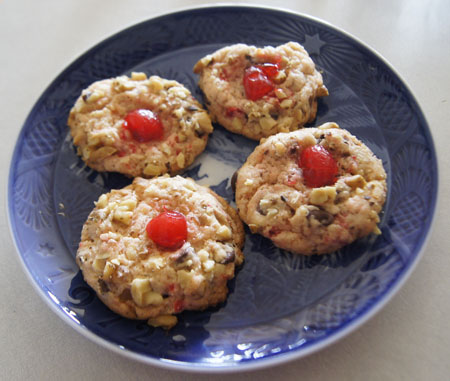 Wow, were these ever good! Very, very tender. I realized as I made the dough that this is how I make pie crust, by first combining the flour-sugar and shortening, then blending in the wet ingredients. Usually cookies are made by combining the sugar and shortening and any wet ingredients, then adding the dry ingredients. The result of the "Basic Cookie Dough" method is that the cookies taste tender, like pie crust.
I learned how to make a very good cookie! There is always something new to learn.