Cookbook #229: Five Hundred ways to prepare California Sea Foods, Compiled by State Fish Exchange, California State Printing Office, Harry Hammond, State Printer, Sacramento, CA, 1934.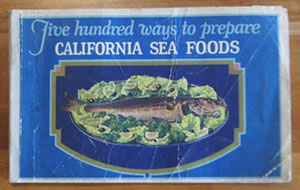 The sheer abundance of fish covered in this book is amazing – about 60 species! The table below shows the types, poundage, and total amount of fish produced in 1933 in California.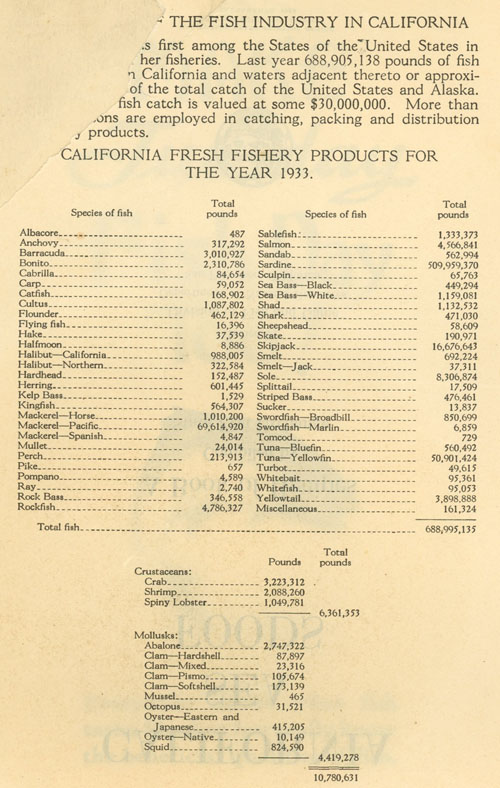 How does this compare with California's fishery products today? On the California Department of Fish and Wildlife site, I found this document: California Department of Fish and Wildlife, Table 7 – Origin and Poundage of Commercia Fish Landings Into California During 2016. Here is a summary of a comparison of totals in 1933 and 2016:
1933: 669,775,413 pounds of commercial fish and crustaceans/mollusks
2016: 165,184,101 pounds of commercial fish and mollusks
Over 4 times as much was produced in 1933 than in 2016 – that is impressive. And below is my rough summary comparing the most fished types of fish 1933 and of the most fished types of fish in2016, in poundage per year ("m" is "million"):
1933: sardines (510 m), mackerel (69 m), yellowfin tuna (51 m), , skipjack (16.5 m), sole (8 m), rockfish, salmon, anchovies, abalone, shrimp, crab (these last all 2-5 m)
2016: squid (82 m), crab (dungess, 26.5 m), anchovies (18 m), sea urchin (6 m), mackerel (4 m), sole (4 m), shrimp, rockfish, hagfish, sablefish (these last all 2-3 m)
Fish tales abound in this data! Sardines were a huge industry in California until the 1940s. Sardine canneries abounded in the San Fransisco area – Cannery Row in Monterey was made famous by the book of the same name by John Steinbeck. Overfishing forced the canneries to close. Yellowfin tuna populations have dropped since the thirties – overfishing has declined the tuna population. Mackerel was heavily fished and canned in California, depleting the populations, but they came back by the 1970s. The higher proportion of dungess crabs today surprised me, until I learned that until 1938, it was illegal to can crabs. Why is squid such a huge proportion of the California fisheries in 2016? Because it is the popular "calamari". But that's not the whole story. According to a 2016 NPR aritcle, "More than 80 percent of U.S. squid landings are exported — most of it to China. The rare percentage of that catch that stays domestically goes to Asian fresh fish markets or is used as bait. Ironically, the lion's share of the squid consumed in the United States is imported."
California Sea Foods encourages Californians to eat more fish. "Make Tuesday Fish Day Too!" reads the front inside cover.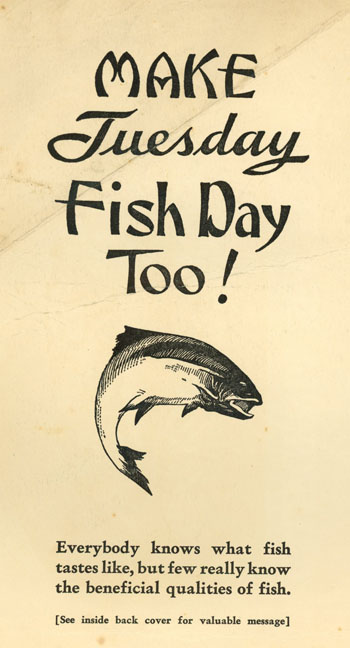 This takes me back: when I was in elementary school, we always had fish on Friday – a tuna fish sandwich in my lunchbox. Fish on Friday was a Catholic practice, and although we were not Catholic, we nevertheless had those tuna sandwiches. Curious about this tradition, I found several interesting articles. In Lust, Lies And Empire: The Fishy Tale Behind Eating Fish On Friday, an npr.org article, I learn that this "no fish" policy was once thought to be because of a medieval pope who was trying to prop up the fishing industry. But instead, according to Christian teaching, abstinence was observed as a penance on Fridays is to commemorate the Friday death of Jesus, who redeemed a sinful world. "Abstinence" in this case refers to refraining from meat (Wikipedia). Why meat? Because it's the flesh of warmblooded mammals, animals that have sacrificed their lives for us. Fish, the flesh of coldblooded animals, is "considered fair game". (Many books have been written on this topic, including Fish on Friday by Leonard Feeney and Why Do Catholics Eat Fish On Friday by Michael Foley.)
Five Hundred ways to prepare California Sea Foods has a very useful table of contents/index, handily referring the reader to recipes for cooking and serving all of the fish in the above table. The fishes can be baked, boiled, cooked in a bouillabaise or cioppino, broiled, made into cakes or croquettes or fritada, fried, jellied (made into a mold), made in a pie, put in a salad or sandwich, put in a souffle or soup, or steamed (and I still haven't listed all the methods!). After the fish recipes are lots of recipes for fish sauces.
As an example, I look up "sole", a fish I cooked for a recent post: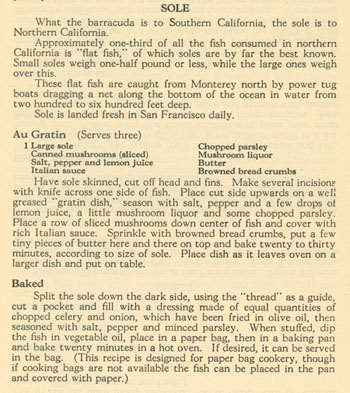 That's not the only page of recipes for sole – they go on for four more pages!
Here's another page from Five Hundred ways to prepare California Sea Foods: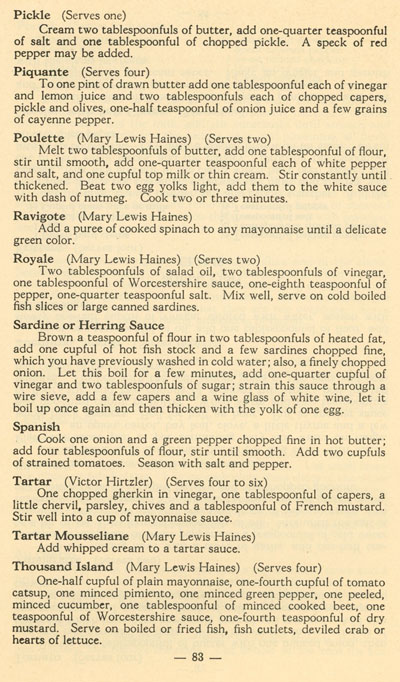 The book ends with "Reasons Why you should make Tuesday Fish Day too!" touts fish as "one of the most heathful and nourishing foods known to science".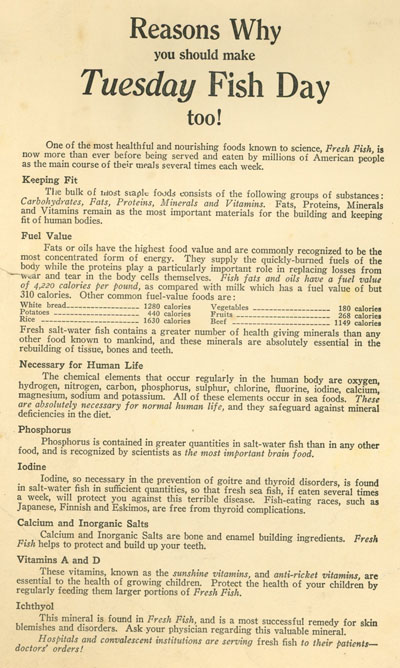 I will make Tartar Sauce for this blog. The original recipe is in one of the scans, above. My version is below. I didn't have chervil
Tartar Sauce
enough for 2-3 people
one dill pickle, chopped (don't use a huge pickle; you want about 1 tablespoon chopped)
2 teaspoons capers
1/2 teaspoon dried tarragon (or use fresh, or use chervil as given in the original recipe)
1 tablespoon chopped fresh parsley
1 green onion, chopped fine
2 teaspoons Dijon mustard
1/2 cup mayonnaise
Mix all of the above together and serve.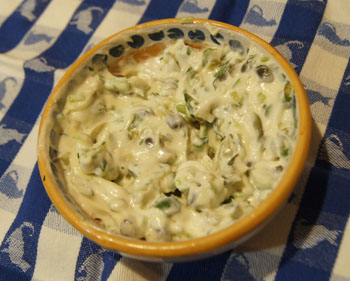 This tartar sauce was amazingly good. Fresh and zingy. I served it with salmon along with wedges of lemon. I usually make "tartar sauce" by mixing together mayo or yogurt with a little pickle relish and tarragon. But this one is a big step up in flavor, and still very easy to make. I am sure I'll use it a lot in the future!
I'll end with the photo on the back of the book. Peace.