Cookbook #245: Cookies, Step-by-Step Techniques, the editors of Sunset Books and Sunset Magazine, Lane Publishing Co., Menlo Park, California, 1985.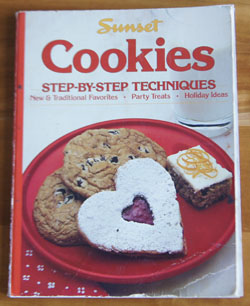 I've saved this book for one of my last entries for this 250 Cookbooks blog because it is special to me. It was my mother's, given to her by my brother and sister in 1986. Her notes are in it, some pages are stained with food, and many pages are falling out of the binding. I just love it!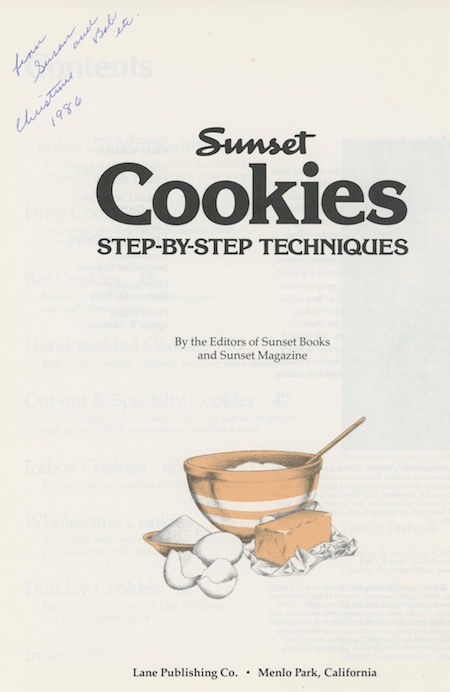 I like cookies, any time of the year. But especially at Christmas: I used to make tons to give away. Of my 250 cookbooks, 8 are specifically "cookies". And if you look at my recipe index, you will see how many favorite cookies I have. Although I only rarely make cookies these days, it doesn't mean I don't like them!
Sunset put together a good collection of cookie recipes in Cookies, Step-by-Step Techniques. I page through carefully, admiring the photographs and looking for the recipes that Mother marked, and looking for ones I'd like to try. Actually, almost all of the recipes sound very good.
The first recipe she marked is "Oatmeal Raisin Cookies" (she marked them "Delicious"). I make a similar oatmeal cookie with chocolate chips instead of raisins, and a combination of brown and white sugar. This recipe has all brown sugar and I'm sure they would be delicious. Note that Mother didn't stop with them "as is", but frosted them with butter-powdered sugar frosting! (And she kept her slim figure somehow!)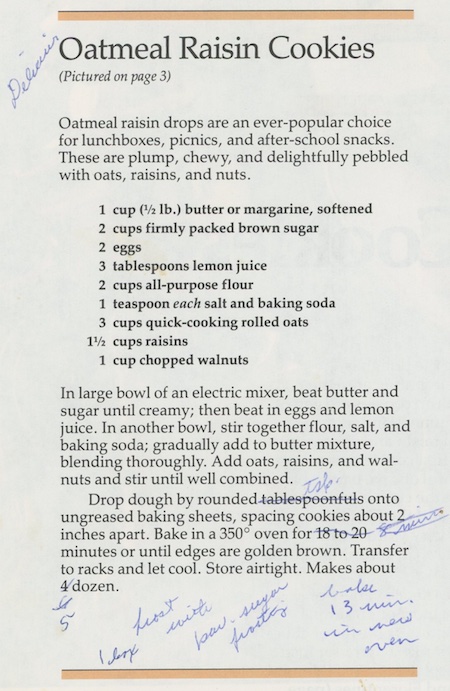 "Brownie Date Drops" are marked "very good".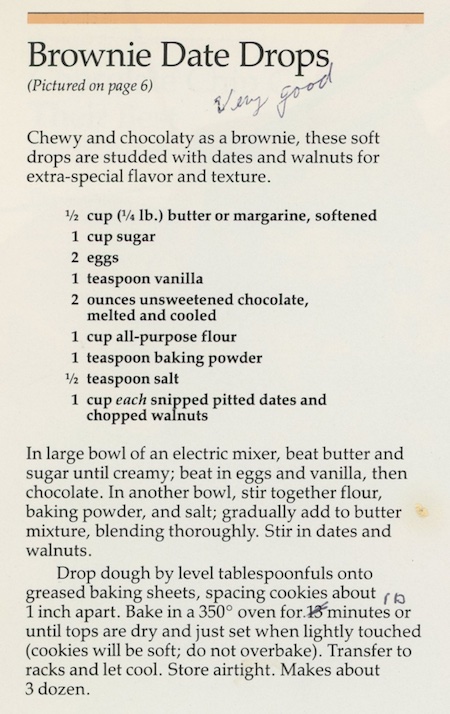 She marked "Coconut Macaroons" as "not special", and "Buttery Lemon Bars" as "Delicious".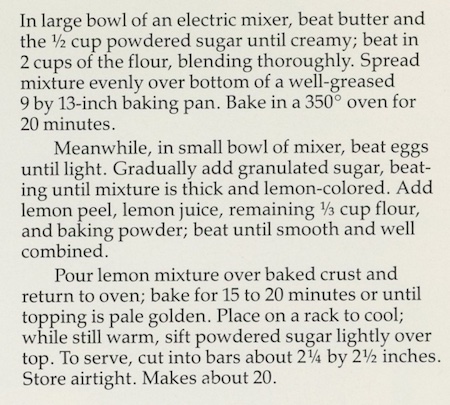 "Dream Bars" were "Delicious". That underline means extra delicious! I smile at all of the food stains on the recipe (below).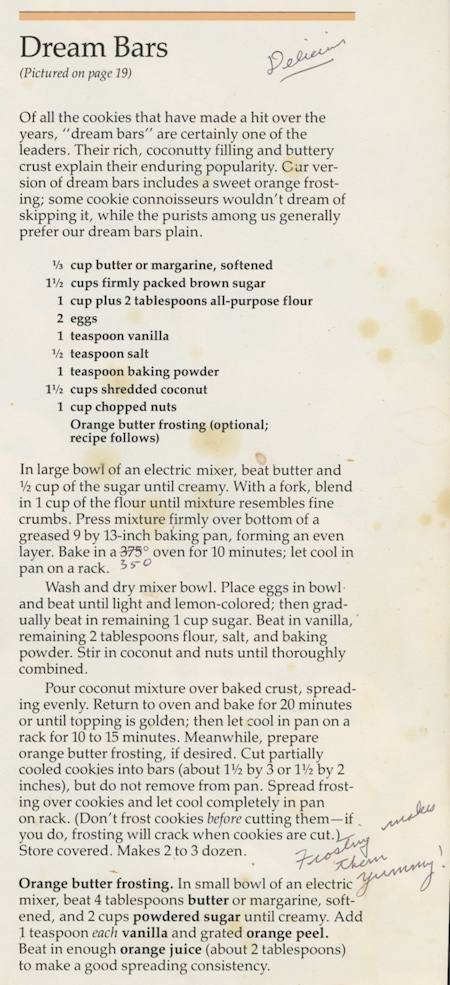 "Peanut Blossom Cookies" are marked "Delicious". It differs from the recipe I already posted for Peanut Blossoms by having a little more peanut butter (1/2 cup) and a little less flour (1 1/3 cups). Peanut Blossoms are also in my Hershey's Chocolate Cookbook, published in 1982, and in A Treasury of Bake Off Favorites, published in 1969.

I note the "Chinese Almond Cookies" to try, as well as "Old-fashioned Molasses Chews". "Date-Oatmeal Cookies" are marked "not great". I'd like to try the recipe for "Fruit Bars", because they look like fig newtons.
The chapter I focus on for a recipe for this blog is "Wholesome Cookies". We try to avoid cookies these days (calories), so if I do make them, I try to use a recipe that contains a lot of nutritious ingredients. I like the "Half-cup Cookies" – they call for 9 ingredients in the half-cup quantity: butter, peanut butter, brown sugar, honey, chocolate chips, nuts, coconut, raisins, and granola. The flour in Half-cup Cookies is whole wheat. Other cookies in this wholesome chapter include many of the half-cup ingredients, plus fructose (sweeter than sucrose, table sugar), bran, carob chips, wheat germ, and tahini.
I am tempted to make Half-cup Cookies right away, but instead I choose the recipe for Graham Crackers. Why? Grandson visiting. He loves to roll out dough, and we all want him to eat foods that are sort of healthy. These graham crackers are made with whole wheat flour and wheat germ and honey, and contain less sugar than most cookies. Plus, I can mix them up the day before, making less work for what will surely be a busy day.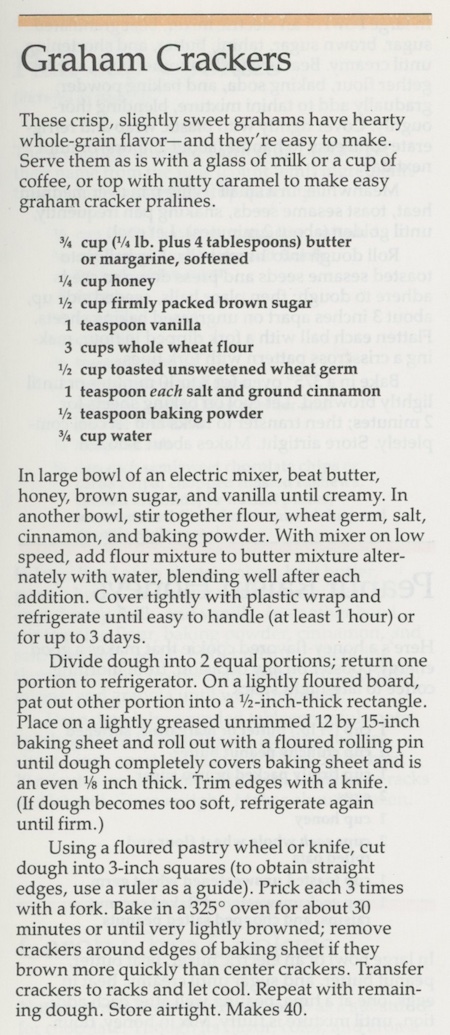 The only change I made to this recipe is how we rolled them out. I like to use half-sheet pans lined with pre-cut parchment paper for baking cookies. So we rolled out the dough directly on to a piece of parchment and then carefully transferred the paper and dough to a half-sheet pan.
Graham Crackers
makes two half-sheet pans, about 40 crackers
3/4 cup butter
1/4 cup honey (85 grams)
1/2 cup brown sugar
1 teaspoon vanilla
3 cups whole wheat flour (I used whole wheat, not white whole wheat)
1/2 cup toasted unsweetened wheat germ
1 teaspoon salt
1 teaspoon cinnamon
1/2 teaspoon baking powder
3/4 cup water
In a mixer, beat together the butter, honey, brown sugar, and vanilla until creamy. Stir together the flour, wheat germ, salt, cinnamon, and baking powder. At low mixer speed, add the flour mixture to the creamed mixture alternately with the water.
Wrap the dough in plastic or put in a sealed storage container and refrigerate at least 1 hour or up to 3 days.
Divide the dough into 2 equal portions. Place one portion of dough on a lightly floured board and press it out as much as you can with your hands. Transfer the dough to a piece of parchment, pre-cut to fit a half-sheet pan (a half-sheet pan is the same size as a cookie sheet). Roll the dough until it goes just past the parchment. (This is tough work! My dough was very stiff. But between the two of us, we got the dough all rolled out.) Trim the dough to match the parchment. It will be about 1/8-inch thick.
Transfer the rolled and trimmed dough and the parchment to a half-sheet pan or to a cookie pan. Cut the dough into 3-inch squares. We used a pizza cutter (a pastry wheel) and my quilter's long straight edge tool. Then, poke each "cracker" 3 times with a fork.
(Note: we cut the dough before transferring to the pan and it was kind of tricky because the individual crackers moved around.)
Note: Easier way to roll out dough! I baked the second half of the dough a week after the first batch. The dough was very, very stiff, so I heated it in the microwave. It rolled a lot easier! I don't think the "refrigerate at least 1 hour" step is necessary. Another trick is using a silicone half-sheet liner (I just bought my first Silpat®). The Silpat® was stiff enough to allow me to transfer the cut crackers easily to the half-sheet pan.
Bake at 325˚ for 20-30 minutes. The cookies are done when lightly browned. You might find the crackers at the edges of the pan getting too brown (mine did), so remove edge crackers when necessary. Start checking and removing browned crackers at 20 minutes.
Here are the crackers, ready to be baked: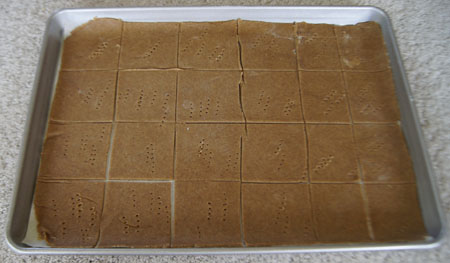 And here is a cooked one on a plate: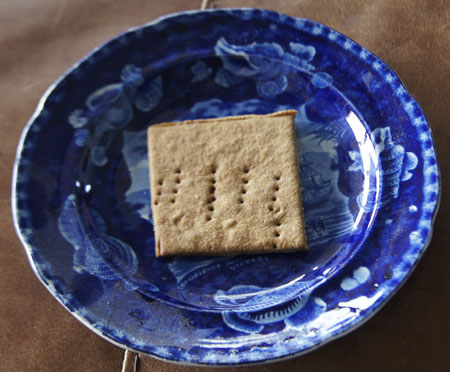 Oh yes, there are not just 3 fork pricks in this cracker! Practicing "one-two-three" with a 4 year old sometimes doesn't work. But who cares? These were actually delicious, although not all the adults liked them. I thought they were even better the next day, but I doubt the rest of the batch lasted that long – my grandson made sure that he put all his crackers in a bag to take home. I saved this one cracker in the photo above to be sure I had one to take of picture of the next day. Then I ate it!
Successful healthy graham crackers! And a lot of fun. I gave Dzo a tiny child's camera (that really works!) and he took a photo of the pan of cookies too.