Cookbook #249: Grilling and Barbecue, Cook's Illustrated Guide, a Best Recipe Classic, by the editors of Cook's Illustrated, Brookline, MA, 2005.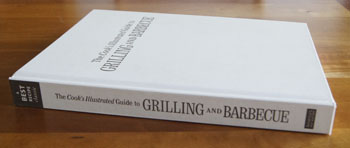 My second-to-last cookbook in this 250 Cookbooks blog! Hard to believe this 5-year project is coming to an end.
Cook's Illustrated guide cookbooks are always among my favorites. Besides Grilling and Barbecue, I also have Cover and Bake and Best International Recipe. I've discussed the style of Cook's Illustrated recipes in my previous posts on those two books. Briefly, you don't just get a recipe, you get pages of discussion about how that recipe was developed – what they tried that did and did not work. Further information about ingredients and techniques is presented in boxes or side notes. I find that a Cook's Illustrated recipe might take a bit more concentration to follow than common recipes, but the recipes always work for me. These guide books are all big, heavy, hardback, white-covered tomes.
I have eight "grilling" cookbooks, but this is one of my two "go-to" books for barbecue – the other is Weber's Real Grilling. Weber's Real Grilling is specific to gas grills, while Cook's Illustrated Grilling and Barbecue gives for each recipe methods for both charcoal grilling and gas grilling. We have a gas grill, and I have no desire to cook with charcoal. The gas grill is just too easy! I'll just say "I'm sorry" to those purists who think charcoal is the only way to grill!
Grilling and Barbecue begins with introductory sections on "Outdoor Cooking 101″ and Equipment and Tools for Outdoor Cooking". They are quite useful and complete.
The first chapter is "Beef". Strip and rib steaks, porterhouse and T-bone steaks, filets mignons, steak tips, flank steaks, London broil, hamburgers, prime rib, beef tenderloin, veal chops, beef ribs, and beef brisket are each discussed in detail, describing how to get the most out of each cut of beef. Specific recipes, sauces, salsas, marinades, and rubs are suggested, some of which appear in later chapters in the book.
The section on in the Beef chapter on "Does Branding Matter?" catches my eye. It begins: "To guarantee quality, more and more people are looking beyond the confines of their local supermarket butcher case and buying their steaks through mail order sources. These outlets promise all-star beef with a price tag to match". I read on with interest, since I have tried mail order steaks in the past. The folks at Cook's Illustrated did a thorough study of both local supermarket and mail order steaks. The steak that won first place in their taste tests is a mail order brand that cost $68/pound (Lobel's Wagyu, or Kobe-style steak from Oakleigh Ranch in Australia). "We found that money can buy you happiness, if happiness for you is the best steak you ever ate". But the "good news" is that you don't have to spend a small fortune "or pay for shipping" to get a great steak. Coleman Natural steak, available at some supermarkets, is only $14 a pound and came in second in their taste tests. (Note the publication date of this book: 2005. We know prices have changed since then.)
Pork, lamb, chicken, turkey and other birds, fish, shellfish, vegetables, and pizza and bruschetta chapters follow in the same detail and style as the beef chapter. Sides and salads, rubs and sauces round out the book.
I think a study "kebabs" would be a good illustration of "Grilling and Barbecue, Cook's Illustrated Guide". Sure, I've made pork, beef, and chicken kebabs so often I rarely use a recipe, but the meat often comes out dry and chewy, or under-cooked, or unflavorful, and the onions and peppers and other vegetables burned or falling apart. I usually make kebabs the same way, no matter what type of meat I use. Just load up the skewers, brush with a sauce, and put them on the grill – that's my method. But I decide to use this blog as an opportunity to study how to make really good kebabs. So I turn to the pages and lengthy kebab discussions in this tome – about 4 big pages on average for each type of kebab. Below is what I learn.
First, pork. The problem with pork kebabs is that the pork tastes bland and often dries out on the grill. Cook's Illustrated tried different cuts of pork, and chose pork loin because it has a full flavor, is tender, and an "appealing resistance when you bite into it". On their early tries, the pork loin dried out on the grill. To overcome this, they tried both brining and marinating, and chose the marinade method because it not only kept the meat "moist and juicy", but it added "richness of flavor that was lacking in the lean pork loin". Also, the oil in the marinade improved the pork's texture and added other flavors to the meat. Not only that, but cutting the pork loin into 1 1/4 inch cubes and "butterflying" them improved the flavor of this rather neutral meat. To butterfly, each cube is cut almost through at the center before marinating, and then folded back together to skewer as a whole cube. On the gas grill, these cubes cooked best over a "more moderate level of heat" than beef, the grill is covered, and the kebabs are turned a quarter-turn every 2 1/2 minutes for about 9-10 minutes total. Cooking the pork to 145˚ was found to be ideal. A study of fruits and vegetables to accompany the pork on the skewers led them to recommend fresh pineapple in 1-inch chunks, bell peppers in 1-inch pieces, and red onion in 3/4-inch pieces.
Beef kebabs went through a similar study. Results: use top blade (flatiron) steaks or sirloin.  Butterfly 1 1/4-inch beef cubes and marinate in a non-acidic olive oil based herb mixture, use the same vegetable and fruits as in pork cubes, grill over direct high heat, cover down, turning one-quarter turn every 1 3/4 minutes, until meat is browned, about 7-8 minutes total.
Finally, chicken kebabs. Use chicken thighs cut into 1 1/2-inch chunks and marinate in a olive oil and salt, non-acidic marinade. Cook's Illustrated found "early on" that it was clear that cooking chicken and vegetables together on kebabs "enhances the flavor of both". After a lengthy study, they chose zucchini, eggplant, mushrooms, bell peppers, onions, bell peppers, small shallots, apples, peaches, pears, and fresh pineapple as appropriate for chicken kebabs. (Cook's Illustrated doesn't deem potatoes good for kebabs because they require pre-cooking.) They have a handy table that designates the size to cut each recommended fruit and vegetable and whether or not that fruit or vegetable should be marinated. For grilling, they recommend two skewers per kebab, to facilitate turning them without the chicken and vegetables spinning. Grilling should be done on medium high, uncovered, turning one-quarter turn every 2 minutes, until lightly browned, about 9 minutes total.
I am inspired! I'll carefully follow their instructions and make all these different types of kebabs this summer. Then I can expand to their recipes for fish and shrimp kebabs.
Am I going to make kabobs for this blog? No! Instead, I want to cook a pork tenderloin for the two of us. This is a cut of pork that I use a lot – it's tender, lean, often on sale, and a perfect portion for two people (with a little left over for the next day's lunch). I usually simply sprinkle with salt and pepper and cook over direct medium high heat, turning about four times. Grilling and Barbecue says to brine the pork tenderloin, use a wet rub, and cook over high heat 3 minutes per side.
For copyright protection, I am not scanning in this recipe. Below is my adaptation of the original in Grilling and Barbecue, Cook's Illustrated Guide.
Grilled Pork Tenderloin with Orange, Sage, and Garlic
serves 2
Pork tenderloin and brine
1 pork tenderloin, about 1 pound
1/3 cup sugar
1 1/2 tablespoons salt
water
Wet spice rub
2 cloves garlic, minced fine
1 tablespoon grated orange zest
1 tablespoon chopped fresh sage leaves
1 tablespoon olive oil
fresh ground pepper to taste
salt to taste
Remove the "silver skin" from the pork tenderloin: simply slide a sharp knife under this thin piece of tendon on the outside of the tenderloin.
Dissolve the sugar and salt in several cups of water in a shallow bowl. Add the tenderloin and refrigerate about 1 hour. While the pork brines, prepare the wet spice rub – simply mix all the ingredients in a bowl.
Remove the tenderloin from the brining solution, rinse, and dry with paper towels. Rub the wet spice rub into the tenderloin.
Heat a gas grill by turning all the burners to high and with the grill covered. Then, open the gas grill and scrape the cooking grate clean with a grill brush. With the burners still on high, lay the wet-rub-coated pork tenderloin carefully on the grill. Close the cover. Turn about every three minutes so that all four "sides" of the tenderloin are browned. Using a quick-read thermometer, check that the meat is at 145˚. If not, cook until it is.
Serve!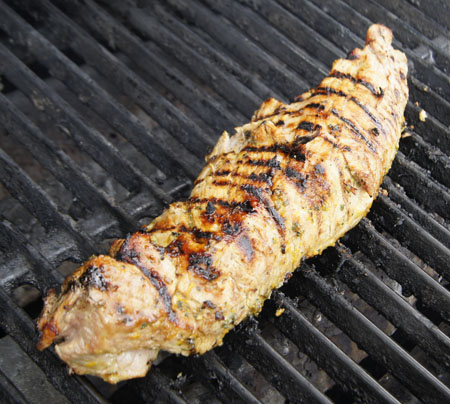 Yum! This was perfect! Moist and flavorful with great grill marks. I served it with a green salad and corn on the cob for a light, healthy, tasty meal.
Thank you, Cook's Illustrated, for another great recipe.