Cookbook #15: Baking Without Fat. George Mateljan, Health Valley Foods, Inc., Villard, NY, 1996.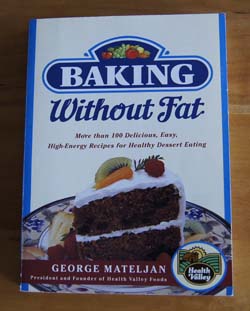 I like cakes and muffins and quick breads. In order to fit these treats into a healthy eating plan, I always keep my eye out for recipes that are low calorie or low fat, and that add nutritional punch. Hence I picked up Baking Without Fat in the late 1990s. I think I found it on a cold and hungry January day, near the check-out counter at McGuckins in Boulder. (I am always watching calories in January!)
The author of this book is George Mateljan, founder of Health Valley Foods. A Google search reveals that he sold that company and now runs a not-for-profit called The George Mateljan Foundation for the World's Healthiest Foods. He is the author of a book titled "The World's Healthiest Foods" (2006).
I admit, I don't remember cooking any recipe from Baking Without Fat. The recipes call for ingredients I do not keep on hand – for instance, frozen concentrated apple juice, and baby food jars of carrots, sweet potatoes, or prunes. Reading the recipes now, I know I am going to have to go to the store to make any of the recipes in the book.
I take some time to read the introductory chapters. Matelian explains some of the functions of fat in baking. Fat adds a creamy texture and pleasing mouth feel, acts as a carrier for flavor, and can alter the way the flavor is perceived. Fat makes baked goods moist and tender. To make baked goods taste good without fat, the author and others at Health Valley Foods spent "hundreds of hours" in the kitchen to develop a "whole new method" of baking. Here is the basic plan:
use nonfat dairy products instead of full-fat ones
substitute pureed fruit for fat
use egg whites instead of whole eggs
highlight natural flavors to make up for the lack of fat
Well, it's worth a try. I'm a bit hesitant because I've clipped and tried a few recipes employing these same strategies over the years, and usually have not been happy with the results. I do like my my Irresistable Low-Fat Brownies but those use non-fat sweetened condensed milk – not pureed fruit – to provide a good mouth feel. Pureed fruit would be a healthier choice because it will add nutritional punch.
The baby food purees called for in the recipes do not appeal to me. I was pleasantly surprised to find that Mateljan gives instructions for making your own purees from apples, apricots, carrots, prunes, pumpkins, and sweet potatoes. This will add more cooking time, but I'm retired! Instead of sugar, the recipes are sweetened with fruit juice concentrates, honey, maple syrup, and molasses. Whole grain flours are advised. Cheesecakes and frostings employ non-fat yogurt and/or yogurt cheese. Fruit crisps are topped with non-fat granola. This all sounds great to my healthy-food conscience, but do these recipes have a chance of tasting good?
For this blog, I chose the recipe "Coco Garden Cake", which includes chocolate, carrots, zucchini, applesauce, honey, and spices. Mateljan states that pan size is important for good baking results, so I go ahead and make a full recipe for the just two of us. I might have to waste some, but heck, this is like a chemistry experiment! So I gathered the many, many ingredients for this recipe (including a huge jug of honey) and went for it.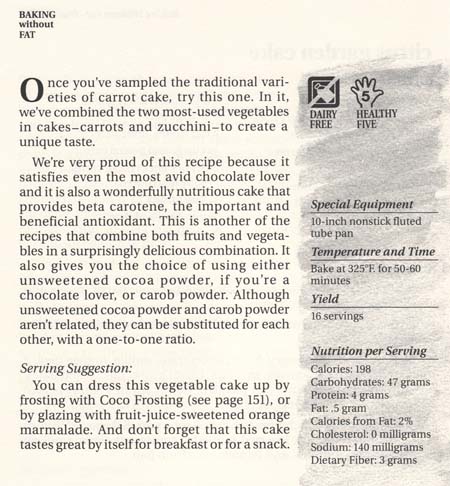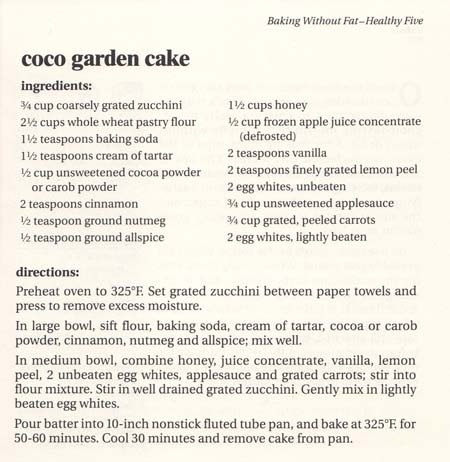 Note the two book excerpts (above). For each recipe in this book, the recipe is on the right page, and a discussion of the recipe, including nutritive information, is on the left. This makes the book feel friendly and personal, like the author really cares that each recipe is well-received.
Coco Garden Cake
 3/4 cup coarsely grated zucchini
2 1/2 cups whole wheat pastry flour
1 1/2 teaspoons baking soda
1 1/2 teaspoons cream of tartar
1/2 cup unsweetened cocoa powder
2 teaspoons cinnamon
1/2 teaspoon nutmeg
1/2 teaspoon allspice
1 1/2 cups honey
1/2 cup frozen apple juice concentrate (defrosted)
2 teaspoons vanilla
2 teaspoons finely grated lemon peel (the rind from one lemon)
2 egg whites, unbeaten
3/4 cup unsweetened applesauce
3/4 cup grated, peeled carrots
2 egg whites, beaten to soft peaks
Preheat the oven to 325˚. Set the grated zucchini between paper towels and press to remove excess moisture.
Stir together the flour, baking soda, cream of tartar, cocoa powder, cinnamon, nutmeg, and allspice.
In another bowl, combine the honey, juice concentrate, vanilla, lemon peel, 2 unbeaten egg whites, applesauce, and grated carrots. Stir this mixture to combine (I used the hand mixer to beat the other 2 egg whites, then used the same beaters to combine the honey mixture). Combine the honey mixture with the flour mixture and the drained zucchini and the beaten egg whites. Gently but thoroughly fold the mixtures together; be careful not to over mix.
Pour batter into a 10-inch nonstick fluted tube pan and bake at 325˚ for 55-60 minutes. Cool at least 30 minutes before removing from the pan.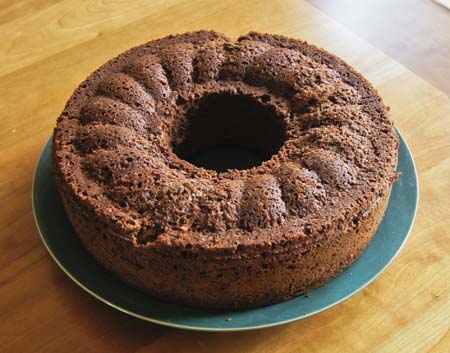 Comments
The above photo is not too impressive; I had a little trouble with the cake sticking to my non-stick pan. Honestly, when I took my first bite of this cake, served as our dessert after a Saturday night dinner, I thought it was a failure. Neither of us commented on it at the time, either favorably or non-favorably. But the next day, I took a little bite mid-day and then had to have another bite. The texture is moist and tender, it's sweet but not too sweet, and the flavors of chocolate and spices are wonderful. When dessert time rolled around again, my dining partner opted for the cake instead of a low-fat yogurt ice cream cone. I did too. Hmm, this cake is really good! I think it's better the second day.
And even better the third day, when I decided to take more photos, to show the good texture of the cake. The slice below is 1/16 of the cake, so about 200 calories; it's a nice hefty chunk of cake for that many calories. (I should have this for breakfast!) I kept grabbing cake crumbs as I was trying to make the "perfect" slice for my photo. That's when I decided to enter this recipe officially in this blog. It is good! And I'll try more recipes from this book in the future.