Cookbook #16: Eating Light. Better Homes and Gardens, Meredith Corporation, Des Moines, Iowa, 1985.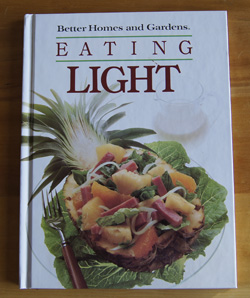 This is another low-calorie cookbook that I picked up in the 1980s. I remember that I frequently bought the "women's magazines" like Better Homes and Gardens during that time, so it doesn't surprise me that I purchased a book with the same name.
This cookbook is similar to the magazine: glossy, and produced by a company rather than an individual. The recipes have long names and pretty pictures, but not many tempt me to try them. Years ago, I probably picked up some ideas on low-calorie cooking from this book, but today, I find it "old hat". Not very interesting. Also, they put the nutrition information in the appendix, rather than with each recipe, which I find inconvenient.
I decided to try "Pork Pinwheels with Apricot Stuffing". I like pork tenderloin, and I like apricots. It's a new idea (to me) to use dried apricots in a stuffing for pork. And I think the pinwheels might look pretty, and hopefully I'll be able to add another pork tenderloin recipe to my repertoire.
There is only one other recipe in this book that looks interesting, so I'll copy that recipe and give this cookbook away.
Comments
These turned out pretty good, at least when I made some changes. I'll type in the recipe below. But first I'll rant, with a what's wrong with this recipe discussion.
This recipe makes "6 servings". Those are dang small servings. Each person would only get about 2 1/2 ounces of pork. Generally a serving of pork is 4 ounces. For the two of us, I weigh out 9-10 ounces of pork for a meal. (The nutrition information on the package of pork tenderloin that I bought states that 4 ounces has 130 calories and 23 grams of protein!)
The nutrition information (at the back of the book) states "191 calories" per serving. Using the information on the packaging of the ingredients, I come up with more like 160 calories per 1/6 of the recipe. And note that I don't use too many significant figures: it's silly to say "191 calories" when there so many variables when one actually prepares the recipe. Bread, for instance, has a quite variable calorie content. (I used My Daily Bread so I know exactly how many calories it has.)
The recipe slips in unnecessary calories by employing both butter and apricot nectar. Butter has 100 calories per tablespoon (Nutrient Facts) and can be eliminated by using a non-stick pan (and a tiny amount of olive oil) to wilt the onion and celery. Surprisingly, a can of apricot nectar has 200 calories. And it contains "high fructose corn syrup, apricot juice concentrate, apple juice concentrate". If/when I make this again, I'll try to find a better juice choice at Whole Foods.
The recipe calls for "1 pound" of pork tenderloin. Ground meat might be sold in exact 1 pound packages, but the same is not true for pork tenderloin. The one I used weighed 14 3/4 ounces. I went ahead and used it (even though I aim at 9-10 ounces) because to roll up the meat, a certain mass is required. I had leftovers, but the dogs didn't mind. Be aware, though, that this recipe does not scale down well to only two people.
Broiling is called for in this recipe. But, it does not state whether to set the broiler to high or low. I tried 5 inches from the broiler and the low setting; the pinwheels were burning within 2 minutes. Luckily I checked! I don't know what kind of broiler they used but mine simply did not work. I changed my oven to "bake", as reflected in my typed recipe below. I don't think that using a broiler rack is necessary. The book states that broiling with a rack is a great method because it allows the fat to drip off; my opinion is that pork tenderloin has very little fat in it to drip off. I'd skip it next time.
All that said, the meal was a success. The pinwheels were pretty and the cinnamon was a nice addition. If you want to try these, use my recipe below.
Pork Pinwheels with Apricot Stuffing

With one pound of pork tenderloin, this would serve about 3 people. Adjust the amounts of all ingredients according to the number of people you are feeding and the weight of the purchased pork tenderloin.
1 pound pork tenderloin
2/3 cup chicken broth
1/3 cup finely chopped dried apricots
2 tablespoons chopped onion
2 tablespoons chopped celery
1/8 teaspoon cinnamon
salt and pepper to taste
2 cups dry whole wheat bread cubes (about 1/4-inch cubes)
1 1/2 teaspoons cornstarch
dash nutmeg
1 cup apricot nectar (try to find one that does not have high fructose corn syrup; perhaps you can find fresh apricot juice)
Heat the broth to almost boiling. Pour it over the apricots and let stand for at least 5 minutes while you prepare the vegetables.
Cook the onion and celery in a tiny amount of olive oil in a non-stick pan until the onion wilts; salt to taste and to sweat the onion. Add the cinnamon and pepper, then add this and the apricot mixture to the bread cubes.
Split the tenderloin lengthwise, cutting to, but not through, the opposite side. Open it out and pound it lightly with a meat mallet until it is about 10 inches by 6 inches. Spread the stuffing evenly over the tenderloin. Roll up jelly-roll style, starting from one of the short (6-inch) sides.
Secure the meat roll with toothpicks or tie with string at 1-inch intervals. Then, cut the meat roll into six 1-inch slices.
Carefully place the meat slices in a lightly greased or Pam-sprayed baking pan. ["Cut side down"? For four of the slices, both sides are cut. Another recipe-rant.]
Baking: I suggest a quick broil on low for a minute or two to brown the tops of the pinwheels. Then, bake these at 400˚ for about 20 minutes. Check with an instant-read thermometer; about 150˚ internal temperature is good. I served these with sides of double-stuffed potatoes and vegetables.
Below is a photo of the pork roll. It's so bulbous! Toothpicks might work better, since the string kind of squished it and left a mark on the pinwheels after they were cooked.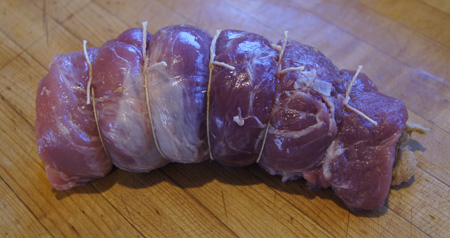 Here it is after I cut two pinwheels. I only cut five in all because I started with a little less than a pound of tenderloin.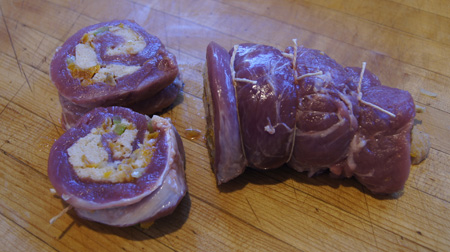 The pinwheels, cooked and plated: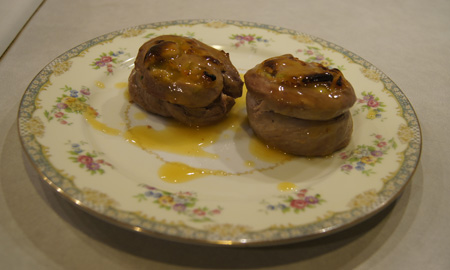 Pretty good!