I found this recipe somewhere in a magazine or newspaper way back when: meaning, before I started writing down where and when I got a recipe. It has stood the test of time; I still make it today and I made it when the kids were here too. This recipe is for four people, although now I halve the recipe for just the two of us.
If you can't find thin turkey breast cutlets, slice a whole breast horizontally. These are best when the crunch-to-juicy-turkey ratio is large.
Today, I generally chop a fresh tomato or two for this dish, since I halve the recipe and who wants half a can of tomatoes leftover. I also use fresh thyme and basil to taste. If you keep the amount of frying oil low and don't add more mozzarella cheese, this is a great low calorie meal.
Italian-Style Turkey Cutlets
4 turkey breast cutlets or fillets (about 1 1/4 pound for 4 people)
1 egg white
1 tablespoon Dijon-style mustard
1 cup bread crumbs (you will have some leftover)
1/4 cup chopped onions or shallots
1 clove garlic, chopped fine
fresh or canned tomatoes (about 2 cups)
herbs to taste (thyme, basil, oregano, or an Italian mix)
1/4 cup grated mozzarella cheese
Cook the onion in a saucepan until it wilts, then add garlic and cook 30 seconds. Add the tomatoes and fresh or dried herbs to taste. Salt and pepper to taste. Let this mixture simmer at least twenty minutes while you prepare the turkey cutlets.
Pound turkey cutlets to about 1/4″. If they spread out into huge pieces, cut them into smaller ones. Beat the egg white in one shallow bowl and put the bread crumbs in another shallow bowl. Shake some dry Italian seasoning mix and salt and pepper onto the bread crumbs and mix in.
Slather the Dijon mustard over the pounded turkey cutlets. Then dip them in the egg white, then roll in the bread crumbs.
Heat a non-stick pan until it feels nice and hot when you hold your hand an inch above it. Then drop in a little oil (olive oil is great) and spread it around. Add the breaded cutlets and cook 4-5 minutes on each side until golden. As they cook, heat the broiler in your oven.
Remove the cutlets from the pan and place them on a baking sheet or broiler pan. Divide the grated mozzarella cheese among them, then put them under the broiler and watch carefully until the cheese melts.
Plate the finished cutlets and spoon on some of the sauce. Cooked noodles are a great accompaniment, and a little fresh Parmesan doesn't hurt!
Here's a photo of the tomato sauce simmering and the cutlets frying. I use the pan in the back for the broiling step. This whole meal goes together in about 30 minutes. It's a great meal for a workday. (Or a busy retirement day.)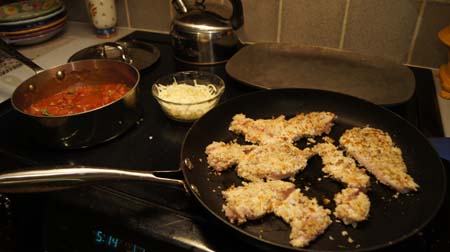 Here is the plated meal. I used my own homemade noodles, prepared in a big batch the week before and stored in the freezer. Making the agnolotti from the New Pasta Cookbook a few weeks ago really inspired me to get out my manual pasta maker more often and make my own noodles. Something good has come from my travel through my 250 cookbooks!