Cookbook #55: Woman's Day Encyclopedia of Cookery, Vol. 3, Bea-Cas. Woman's Day, Fawcett Publications, NY, 1968.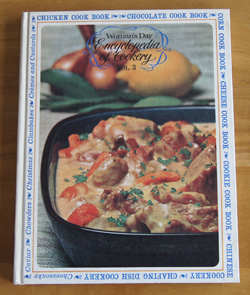 This is the third in a series of 12 food encyclopedia volumes. I discussed the first two volumes here: Volume 1 and Volume 2. I pick this volume from the shelf and settle into a cozy chair and start reading.
Catfish, a Mississippi Valley favorite, is the first entry. The oldest records for cauliflower date to the 6th century BC, from the area around the Mediterranean, near where we visited Turkey last spring. Cheese was made and eaten in Biblical times, and when the Pilgrims set sail for the new continent, they took round Dutch cheeses with them. This encyclopedia includes a useful chart of different cheeses and a "Cheese Cook Book" with recipes ranging from soups with cheese to creamy macaroni and cheese to Swiss fondue to desserts.
Cheesecakes. I am halfway through a good article on the history of cheesecakes when I think to look back to see who wrote it: James A. Beard! I have two of his cookbooks and have always enjoyed his writing (Beard on Bread was my 5th entry in this series). The article begins:
"If you're as fond of cheesecake as I am, you might like to join me in honoring its inventor. It seems to me that anyone who could think up such a fantastically wonderful concoction deserves a statue in his memory. The only difficulty in memorializing cheesecake's originator is that no one has the faintest idea who he, or she, was. It might have been an ancient Greek, for they made cheesecakes of a simple kind.
Cheesecake isn't at all new. Its' a rediscovery. When I was twenty years younger, cheesecake wasn't so widely known as it is today, and the art of making it was pretty much of a specialty in restaurants serving German, Austria, or French cuisine. Nowadays, it has grown so popular that it rivals apple pie as an American favorite."
And I come to the entry for "chef". "In French, the word means 'chief', but in both French and English it has become a culinary term for a superior male cook, head of his kitchen." The article continues with the emphasis on "he" and discusses several famous male chefs. It ends with "As for trying to explain why great, creative cooks have practically always been men and not women, prudence dictates an unbreakable silence."
That was 1968. We've come a long way, ladies!!
On to cherries (I learn the origin of maraschino cherries), chicken (a section called a "Chicken Cookbook"), and Chinese food. My mother marked several recipes, and I found some recipes I'd like to try in the Chinese section.
Chocolate and Christmas cookbooks, citrus and clams, coconut and coffee. Cookies! The section on corn reminded me that I should make double corn sticks in my cast-iron corn stick pan. Crabs and cranberries. The final entry is crême brûlée.
I marked several sections and recipes for my personal notes.
My mother's note of "don't panic!" on the black bottom pie recipe made me smile: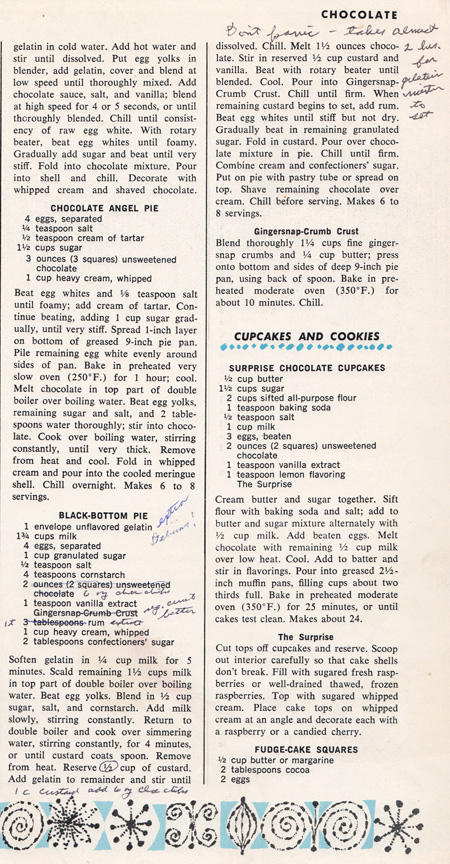 I remember this pie from childhood, so I checked my recipe index card box. Yes, I was right! When I moved out from my childhood home, this is one of the recipes I copied and took with me. It is slightly different from the above recipe, so my guess is that Mother included improvements in her version.
For this blog, I decide to try a dessert cake using sour cherries. Why? I bought a jar from Whole Foods quite a few months ago (forget why) and they need to be used.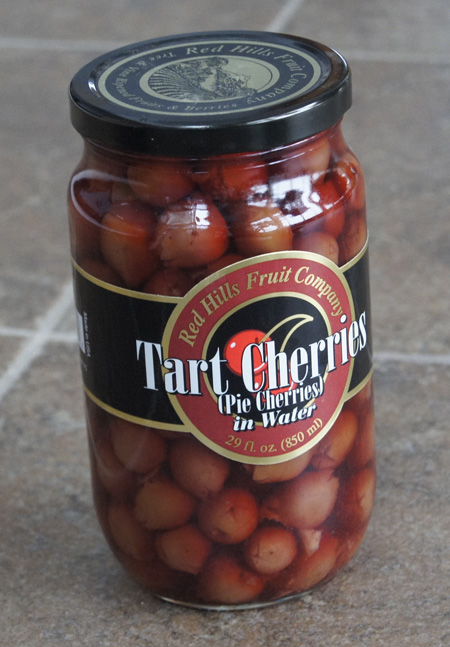 Here is the scan of the recipe for Cherry Upside-Down Cake: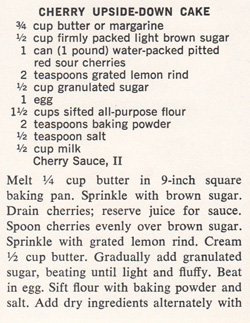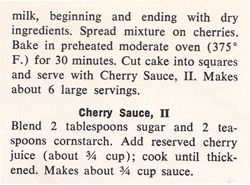 This recipe is a bit high in calories, but we usually treat ourselves to something special on Saturday nights. I recall that sour/tart cherries are supposed to be good for you. I googled and found this 2013 article in Medical Daily that touts tart (sour) cherries as "America's super food", reporting that they are beneficial for: arthritis, blood sugar levels, lowering risk of heart disease and colon cancer, and improving memory. And, they help you get a good night's sleep!
I made a few changes in the recipe as I went along. I was taking the photo of the jar of cherries and the bottle of vanilla that my daughter-in-law brought me from Mexico caught my eye: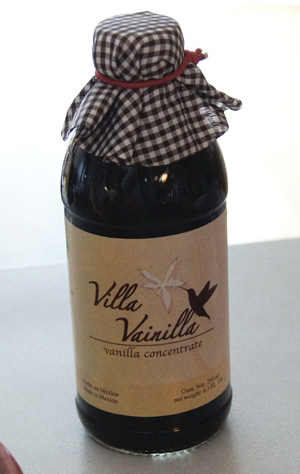 Hmmm, I think I'll add some vanilla to the batter! And then I thought of cinnamon – yes, I'll add cinnamon too. For the cherry sauce, I decided to reduce the cherry juice before I added the sugar and cornstarch. This should deepen both the flavor and the color of the sauce.
The following is my version of Cherry Upside-Down Cake.
Cherry Upside-Down Cake
serves 6, generously
3/4 cup butter, divided (1/4 cup and 1/2 cup)
1/2 cup brown sugar
16 ounces water-packed pitted red sour (tart) cherries
lemon rind, grated (from 1 lemon)
1 teaspoon cinnamon
1/2 cup sugar
1 egg
1 teaspoon vanilla
1 1/2 cups flour
2 teaspoons baking powder
1/2 teaspoon salt
1/2 cup milk
Cherry Sauce
Melt 1/4 cup butter in a 9-inch square baking pan. (I used a metal pan and did this on the stove top; you could use a glass pan and melt the butter in it in a microwave oven.) Sprinkle the brown sugar over the melted butter in the pan.
Drain the cherries, saving the juice for the sauce. Spoon the cherries evenly over the brown sugar, then top with the lemon rind and cinnamon.
Cream the 1/2 cup butter, gradually add the sugar, beating until light and fluffy. Beat in the egg and vanilla. Combine the flour, baking powder, and salt, then add these dry ingredients alternately with the milk. Spread the batter on the cherries. (The batter is thick; I put big dollops of batter on the cherries and used my fingers to spread the batter to cover the cherries.)
Bake at 375˚ for 30 minutes. Top with Cherry Sauce.
Cherry Sauce
3/4 cup reserved cherry juice
2 tablespoons sugar
2 teaspoons cornstarch
Boil the cherry juice until the volume is reduced by about a third and the color is a rich red. Cool. Mix the sugar and cornstarch, then add this mixture to the reduced cherry juice. Put back on the stove and heat until it boils and thickens.
Here are the cherries in the pan: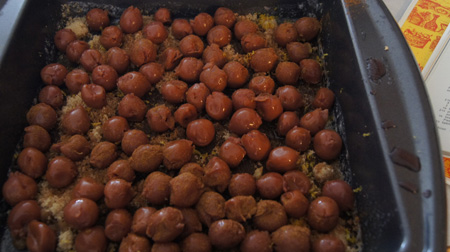 The cake, baked: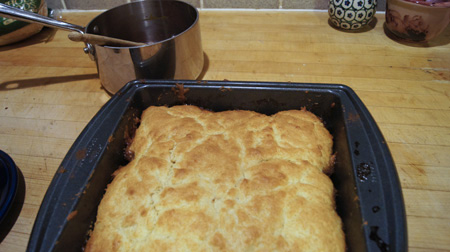 And our one-sixth portions (they are big!):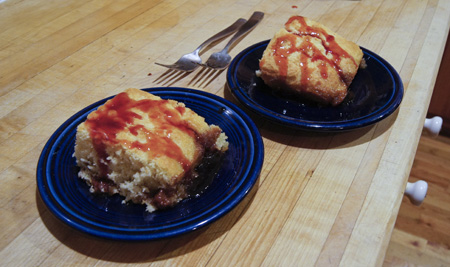 Yum yum yum! This dessert is way too good. The tart and flavorful cherries under the brown sugar and cinnamon and vanilla-laced cake – perfect. A homey dessert that I would love to have a lot if it weren't for the calories.
I slept really well after eating this dessert, though! Cherries, the perfect sleep aid.