Cookbook #187: KitchenAid, KitchenAid Portable Appliances, MI, circa 1991.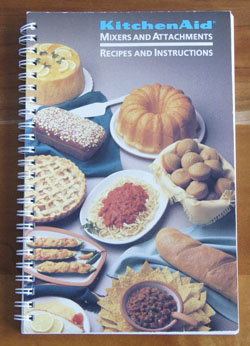 My KitchenAid mixer was a gift from my husband, and wow, have I ever used (and loved) this mixer! I call it "Big Bertha" everytime I lift it out of the lower cabinet below my work surface. I have considered replacing it with a new model, but dang, I have no complaints with how this one works. It's about 25 years old (I wrote "Model KSM90, 12/91" on the inside cover of my KitchenAid booklet). The only part I've replaced is one of the beaters (our water ate through the inside metal). Sometime last year, my handy husband took the mixer apart and fixed a broken cross shank in the drive shaft (he made the replacement part himself).
This KitchenAid replaced my Sunbeam Mixer, which I wrote about in this post. Before I got a bread machine, I used the KitchenAid with the dough hook attachment to knead yeast dough. Currently, I use this mixer for cookies, cakes, muffins, quick breads, and other general mixing tasks.
The KitchenAid booklet has maybe 100 recipes in recipes 5 chapters. I start with the first, "Appetizers, Entrees, and Vegetables", but none of the recipes entice me or offer anything not already in my repertoire. In the "Cakes, Frostings, and Candies" chapter, I might like the Double Chocolate Pound Cake if I ever want a very chocolatey cake baked in my (new) bundt pan. I have used the Angel Food Cake recipe quite a bit – often when I have egg whites leftover from making custard ice cream. I know I'd like the Divinity, a candy my mother used to make. The fudge recipe is interesting because it is made from a cooked sugar mixture that is beat for 8 minutes, like a true candy.
For me, the "Cookies and Quick Breads" chapter repeats recipes I already have. One note: I'd like the Vanilla Custard Filling that is included with the cream puffs recipe. In "Pies and Pastries", I find a recipe I'd like to try: Country Pear Pie.
Now we come to the "Yeast Bread" chapter. The mixer-kneading techniques dilineated helped me develop my current breadmaking skills, as discussed in My Daily Bread. I have notes throughout this chapter! I do remember the French Bread recipe – I tried to duplicate store bought baguettes with only so-so results for many years, until I discovered the no-knead method (see also Artisan Bread). The recipe for Basic Sweet Dough is a good one to have in my repertoire; I have used it to make Cinnamon Swirl Rounds in muffin tins. I have made (and should make again!) the Honey Oatmeal Bread. I'd like to try the Dutch Apple Bread because it uses fresh apple in a dough that is rolled around a cinnamon sugar filling. Orange Breakfast Bread is rich, but interesting to me because it is filled with an orange marmalade-ricotta cheese mixture and baked in a bundt pan.
I decide to make Sixty-Minute Rolls for this blog. These are basic yeast dinner rolls that are ready in 60 minutes, with only 2 15-minute rises and then a 12 minute bake. Might be nice to have such a quick recipe in my repertoire.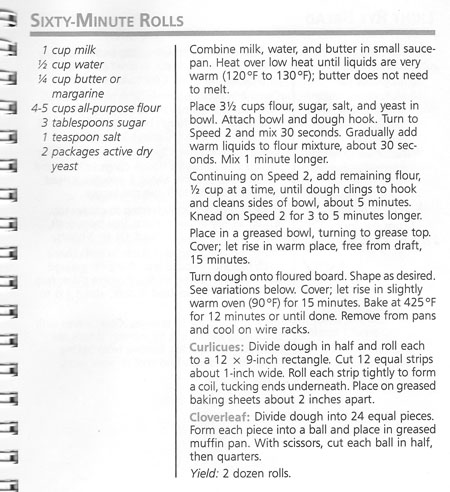 How long will it really take me to make these? I'll check the clock when I start!
Sixty-Minute Rolls
makes 1 dozen
1/2 cup milk
1/4 cup water
2 tablespoons butter
2-2 1/2 cups flour
1 1/2 tablespoons sugar
1/2 teaspoon salt
1 scant tablespoon yeast
Combine the milk, water, and butter in a small sauce pan (or microwave) and heat until warm (the butter does not need to melt).
Stir together 1 3/4 cups of the flour with the sugar, salt, and yeast in the big bowl of a mixer. Using a dough hook (if possible) or the regular beater, add the milk mixture to the flour mixture and beat on low speed about a minute.
Continue beating on low speed while adding enough of the remaining flour (1/4 – 3/4 cup flour) so that the dough clings to the beater and cleans the sides of the bowl, about 5 minutes. Then, mix on low speed about 3-5 minutes.
Cover the bowl and let rise in a warm place for 15 minutes. Grease or Pam-spray a muffin pan.
Turn the dough onto a floured board and fold over several times. Divide the dough into 12 equal sized pieces (I used the scale to help). Roll each into a smooth ball and place in the muffin tin. Slice an "X" across the top of each bun. (Or, make cloverleaf or curlicue shapes as in the original recipe in the above scan.)
Let rise in a warm place for 15 minutes. (Cover if possible.) Bake at 425˚ for 12 minutes.
Here is my KitchenAid, mixing the dough: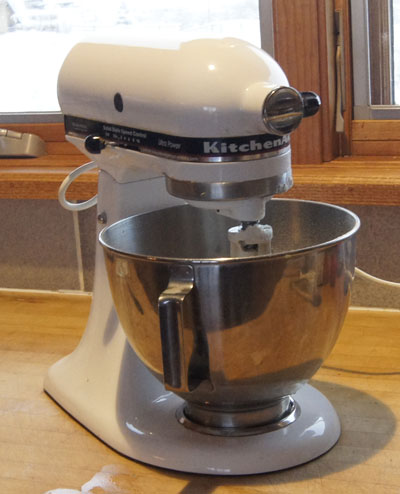 Here are the rolls, ready for the oven after the first rise. They rose to just above the top of the muffin tin.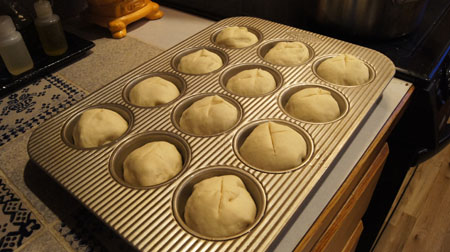 And here are the golden brown rolls, baked: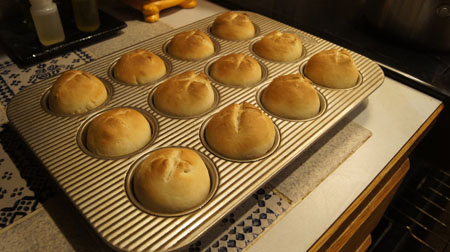 Comments
How long did these take from start to finish? 65 minutes. But about 5 minutes of that time was me looking for my dough hook. Never found it! It's gotta be somewhere. I used the regular beater instead and it worked fine.
The dough mixed about 8 minutes in the KitchenAid. It was noisy! I am so used to my breadmachine doing a quiet kneading.
I did not cover the rolls during the rising step. In my experience, both plastic wrap and towels stick to rising dough. Even though the dough dried out a bit, they turned out fine.
I am not satisfied with the KitchenAid method for the second 15 minute rise in a "slightly warm 90˚ oven". My oven does have a very low setting, 100˚, but I only have one oven and needed to be heating it to 425˚ for the baking step. I set them in the 100˚ oven for 15 minutes, then took them out and heated the oven to 425˚ and popped the rolls into the oven as soon as it reached temperature, about 5 minutes. I re-wrote the instructions to just have the second rise "in a warm place". Like, on top of the oven that is heating to 425˚. I am sure it will work.
Taste? These rolls are good, especially hot out of the oven. With butter melting into them. I will keep this recipe in my repertoire for those times I have not planned ahead and need dinner rolls in 60 minutes!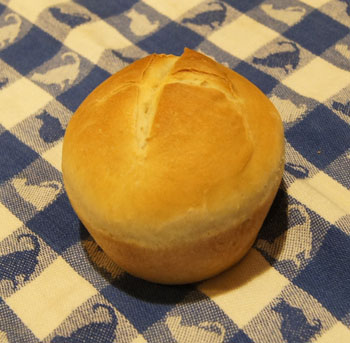 Note: I put the extra rolls in the freezer. A week later, I need bread for a dinner, so I popped three in the microwave on high for 60 seconds. Perfect! Now these are "60 second 60 minute rolls".