Cookbook #191: Electric Fondue Cook Book, Oster Corporation, Milwaukee, WI, 1976.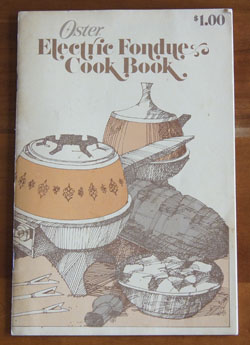 That lovely decade when my husband and I were in our twenties . . . many memories. Among those memories are certain yummy and often fattening foods. Like fondues. Our party friends with us, the fondue pot filled with a beer-cheese-spice mixture, big, slurpy, cheesy mouthfuls scooped up by homemade tortilla chips. Back in the day. It was fun.
That's when the Electric Fondue Cook Book came into my collection. Our electric fondue pot – and we still have it! – was a gift from a friends-couple. The cover says the book cost $1.00, but actually it came with the appliance.
From the introduction: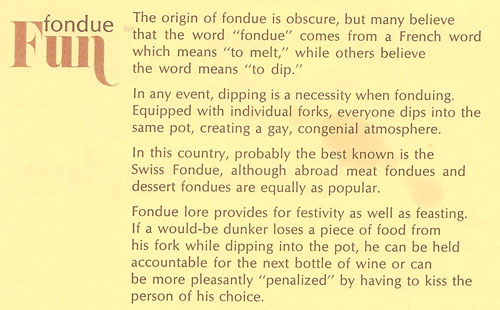 I've made cheese fondues, and maybe Oriental hot pot fondues. I like dessert fondues, but only when other people make them (!). Beef fondue? Made it zillions of times. That's the kind where diners cook their own beef cubes in hot oil in the fondue pot and dip the cooked meat in sauces. To this day, it's still one of our favorite meals. It makes us take more time at dinner, eat slowly, enjoy the food and each others company.
The Electric Fondue Cook Book is short, but has useful, relevant instructions and recipes. The first chapter covers Classic Swiss fondue. Cheese fondue ingredients are garlic, white wine, kirsch, and Swiss cheese; dippers can be bread chunks, meats (ham, meat balls, shrimp), or vegetables (potato cubes, celery, green peppers, cherry tomatoes). Chili con queso, American, and pizza fondue recipes are variations on the cheese fondue theme.
Meat fondues "make cooking as much fun as eating". The cooking liquid is either oil (Fondue Bourguignonne) or a broth (Fondue Orientale). Since hot oil presents special cautions, I appreciate re-reading the instructions in the Electric Fondue Cook Book. The cooking oil can be strained and saved for re-use; to clarify re-used oil, put a few pieces of raw, peeled potato into the heating oil. One of the most important things to remember with hot oil fondues is the safety of the guests, especially when serving directly on the dinner table. Since the pot is electric, there is a cord running to an outlet (and perhaps also an extension cord). We always wrap an extension cord around the leg of the table and even secure it under the leg, then attach the fondue pot. That way, if someone trips over the extension cord, it won't also knock over the very hot oil in the pot. Gotta watch out for those rowdy little kids around the table.
The next chapter is "Sauces", a good collection of dipping sauces for both hot oil and hot broth fondues. Dessert fondues include chocolate (bittersweeet, sweet, chocolate chip, mocha), butterscotch, and caramel-rum. Dippers can be fruits (pineapple, strawberries, apples, dates, etc.), marshmallows, angel food cake, cream puffs, doughnuts, or large types of nuts.
(I have a couple other books that also cover fondues: Encyclopedia of Cooking Vol. 5 and Encyclopedia of Cooking Vol. 3.)
I decide to make Bearnaise Sauce for beef fondue for this blog. I scanned in the whole page that has this recipe to show you how well-used it is!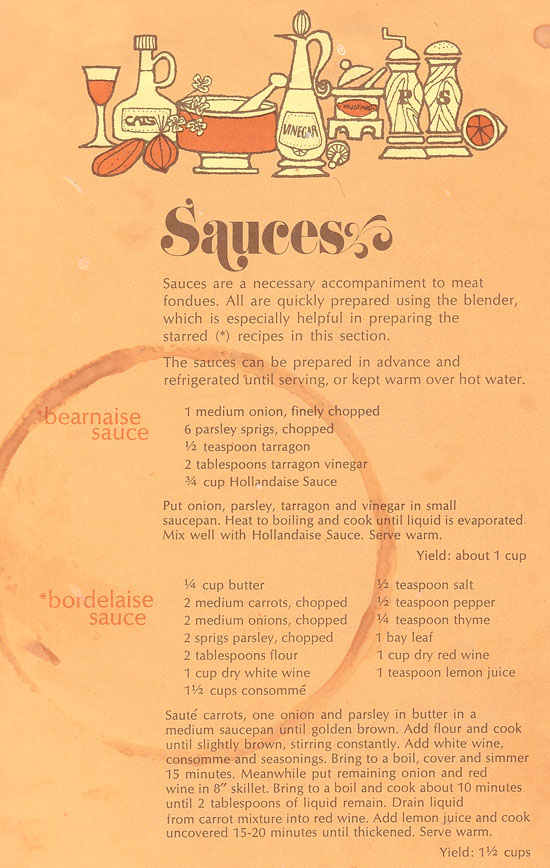 This recipe calls for "hollandaise sauce". Most of us know that this is a classic sauce made by skillfully emusifying melted butter, egg yolks, and lemon juice. The problems are, the sauce has to be made just before use – it does not hold together long. For instance, you can't make eggs benedict by preparing the sauce the night before. (I can make hollandaise – I became extra good at it when I took a class on "Sauces" at Escoffier Boulder.) The other problem is that recipes for hollandaise make a lot of sauce because you need enough hot butter to cook the egg yolks. I only need a small amount of hollandaise, as I only need enough bernaise sauce for two people.
Hollandaise sauce in a jar is available (as per a google search), but I could not find it in any of my local markets. So, I default to my old quick and easy (cheater's?) recipe for "blender hollandaise" from the Joy of Cooking. The authors claim that this hollandaise can be held in the refrigerator or even frozen and then warmed up in a bowl of hot water just before use.
The bearnaise sauce calls for "tarragon vinegar". In the past, I know I never looked for this specific vinegar in a market (and I'm not sure how available these oils were in the 1970s). Luckily, I learned how to make herbal vinegars when I covered Michael Chiarello's Flavored Oils and Vinegars. Briefly, you put in a blender equal amounts of herb and vinegar, and then strain. It's ready to use right away.
Results
I made this recipe (full recipe hollandaise, half recipe bearnaise) but it did not turn out good enough to re-copy into this blog.
Issues:
I made the tarragon vinegar, and while it's a petty color, it really isn't worth the extra effort when I only need 2 tablespoons for this recipe. Instead, I highly advise fresh tarragon in the onion mixture if you want to make bernaise sauce.
I used 1/2 onion for my half-recipe, but this is still too much onion. I advise a couple tablespoons of chopped onion, or use a shallot instead.
My hollandaise was okay, but I used unsalted butter and I should have added a lot more salt.
When I added the hollandaise to the onion mixture directly in the hot onion cooking pan, the eggs "cooked" and the sauce lost its velvetiness.
Suggestion: Next time I make bernaise sauce, I'll use my tried and true bernaise sauce recipe instead of trying to shortcut! I doubt I'll make it for fondue though (unless we have guests).
Note: For beef fondue, we usually dip our cooked beef chunks in a simple homemade sauce, like a red sauce (tomato sauce, horseradish, worcestershire) or a creamy sauce (sour cream, worcestershire, ketchup).
Photos
We did enjoy our meal, inspite of the less-than-perfect bernaise sauce. Here is our forty year old fondue pot: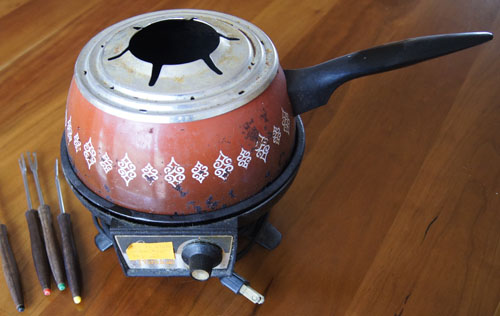 Here is my chunky bernaise sauce: