Cookbook #104: Woman's Day Encyclopedia of Cookery, Vol. 5, Fin-Gum. Woman's Day, Fawcett Publications, NY, 1966.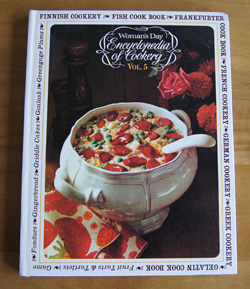 This is the fifth in a series of 12 food encyclopedia volumes. I discussed the first four volumes here: Volume 1, Volume 2,  Volume 3, and Volume 4.
"Finland is a land where the seasons and seasonal foods are savored. The winter is long, dark, and quiet, and people stay at home, with good music, and good books. . . . Finnish cookery is Scandinavian, but simpler and more austere."
So begins Volume 5 of the Woman's Day Encyclopedia of Cookery. Finnish cookery is followed by a complete section on fish, which includes great photos, a fish cook book, and forty fish sauces. James Beard contributed an article to this useful fish reference. Next comes flageolet (a small green bean), flake (a small, flat, thin loose piece of food which looks like a scale"), flan, flapjack, florentine ("a cooking method which uses spinach as its base), fluke (a fish), and flummery (a dessert). Fondue! Fondues are fun. They were very popular in the seventies and eighties, and we had beef fondue just a couple weeks ago.
Forks? In the 11th century, aristocrats used the fork more as a lark than as a method of serious eating. Frankfurters? An 8-page cookbook, including a photo of frankfurters swimming in a corn-cream sauce. The "Freeze" section includes basic rules for successful home freezing.
French cookery begins with a cute illustration and an article by James Beard. Fritters, frog's legs ("if it is necessary to dress them, cut off the hind legs close to the body and wash them well in cold water – remove feet"). Fruits, including a good section on fruit tarts. Fudge, gallantine (boned cooked meat covered with aspic, as in "gallantine of eel"), game (bear chops, roast haunch of beaver, roast coot, Maryland muskrat, woodchuck in cream). Garnishes, German cookery, ginger, ginger beer, goulash, Greek cookery (especially, baklava), greens (kale is listed as a green to cook), guinea fowl ("the habits of guinea fowl are not always admirable, they are gregarious and polygamous, they make a lot of noise and lay their eggs in a casual and haphazard manner on the ground, they resist regimentation"), and lastly, gumdrop.
What to make for this blog? Hmmm. Under German cookery, my eyes fall on "kuchen". Oh, that's it! The word "kuchen" is a happy one for me. I always think first of a creamy and sweet noodle kuchen, full of eggs and cinnamon. In college a Jewish friend brought this kuchen to a party. After all these years, I still remember it with longing. (Today I can find sweet noodle kuchen recipes online, and yes, they are a traditional Jewish dish.)
The kuchen in the Encyclopedia of Cookery is not made with noodles, but I am trusting my favor with the word kuchen to draw me to a good recipe. According to this encyclopedia, kuchen means "cake" in German, and to "millions of Americans, kuchen, or coffeecake, is the basis for a typical Sunday morning breakfast. Kuchen dough is not too sweet or rich; it is rather the foil for luscious toppings."
Here is the recipe from the book: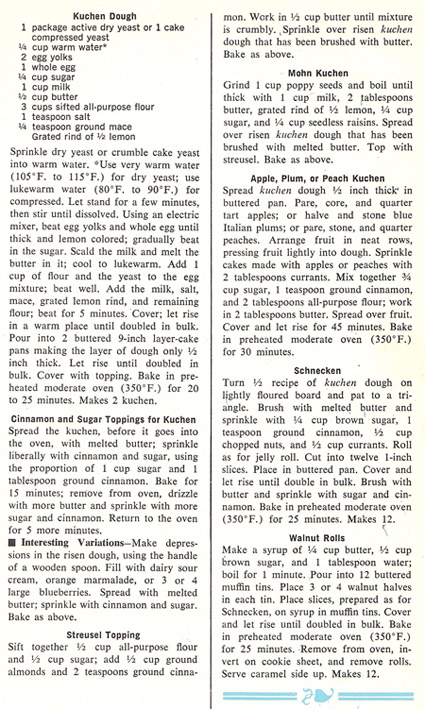 This kuchen dough recipe has eggs and butter, but not a whole lot of sugar. I agree with the Encyclopedia: it is neither too sweet nor rich.
I decide to cut the recipe in half, and I choose the apple topping variation. Then as I made the dough, I totally goofed. I read "yeast dough" and got it in my head that I would make this in my breadmaker. I had already thrown all the dough ingredients into my breadmaker before I realized my mistake. The dough was thin! Oops. I was supposed to scald the milk and use a mixer. What the heck, I'll go for it, and see if it works. My breadmaker has a great dough cycle where it heats all the ingredients before beginning the kneading and rising cycles. Should work.
Apple Kuchen Coffeecake
makes one 9-inch cake
5/8 cup milk
1/4 cup melted butter
1 egg yolk
1/2 egg (I whisked one egg in a glass measuring cup and used half of it)
2 tablespoons sugar
1/2 teaspoon salt
1 1/2 cups all purpose flour
a pinch of mace or cinnamon
grated rind of 1/4 lemon (approximate)
1 1/2 teaspoons yeast
Add all of the ingredients to the bowl of a breadmaker. Set the cycle to "dough" with "pre-heat" and "rise". This dough is runny: it will not form a big ball of dough.
(Non-breadmaker instructions: Heat the milk and cold butter until the butter melts, cool to lukewarm. Pour into a mixer bowl and add the rest of the ingredients. Beat for 5 minutes. Cover and let rise in a warm place for about an hour.)
Pour the dough into a buttered 9-inch cake pan. Let rise for about 30-45 minutes. (It should "double in bulk" but this is kind of hard to tell.)
Top with the topping:
1 apple, peeled and thinly sliced
3/8 cup sugar
1 tablespoon flour
1 teaspoon cinnamon
1 tablespoon butter
Arrange the apple slices neatly on top of the risen dough.  Mix together the sugar, flour, and cinnamon and spread over the fruit.
Bake at 350˚ for 35 minutes.
Here is my kuchen after the second rising step, just before I put it in the oven: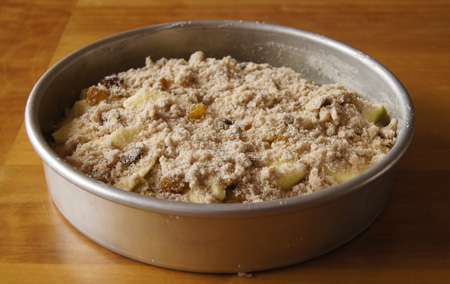 And here it is, hot out of the oven: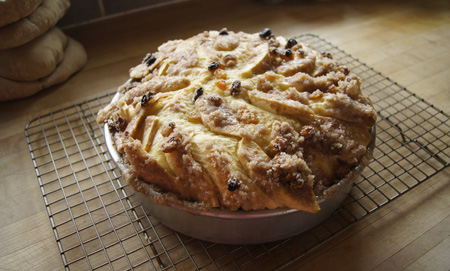 This was delicious! It was good as-is, but if you like more apples on top, go for it. The original recipe says to leave the apples in quarter-apple chunks; this might be good too.
I took the above photo as soon as the kuchen came out of the oven. The real story is that as it cooled, it fell. And the falling made it even better: it had a creamy, eggy feel and sweet spicy flavor, reminding me of that noodle kuchen I had back in college.
Yum.