Cookbook #207: Foods of the World Supplement Number One, Time-Life Books, NY, 1968, revised 1974.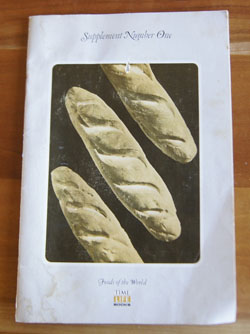 I own 5 of the 27 Foods of the World volumes produced by Time-Life Books, and have covered 4 of them so far: Cooking of Provinvial France, Cooking of China, Cooking of Vienna's Empire, and Cooking of Japan. I subscribed to the series for a time – they came in the mail. The Foods of the World Supplement Number One was a "bonus", according to the "memo to the subscriber" in the preface. I find today that the Foods of the World cookbook series is important enough to have its own Wikipedia entry. And a few online sellers offer the entire set for about $200. Although there are 27 volumes in the entire series, there are only 2 supplements: the one I have and one on deep frying.
Foods of the World Supplement Number One is 25 pages long, and "bound" with two big staples. (The Foods of the World series each came as one traditionally bound book and a spiral bound recipe booklet.) Each page of this supplement is marked with cutting lines, so that "the recipe pages may be clipped for insertion in your Recipe Booklets".
Here is the list of contents:
A Primer on Rice
Menu Suggestions
An American Approach to French Bread
Tomato-Cheese Pie
Casserole-Roasted Chicken with Vegetables
Cheese Pie (Crostata di Ricotta)
Rabbit Stewed in White Wine Sauce
A Shopper's Guide to Foods and Utensils
The "Primer on Rice" discusses rice around the world, rice in the US, a diagram of a kernel of rice and how it is milled into different products, and ways of cooking rice. Since I almost always cook rice in my electric steamer, I really don't need this information. But, I think I'll clip out these pages and put them in the extensive rice section in my Encyclopedia of Cookery Volume 10.
"Menu Suggestions" is a two-page list of menus combined from 4 volumes of the Foods of the World series. Since I don't own all of those 4 volumes, it isn't very useful to me.
"An American Approach to French Bread" discusses the difficulties of making good French bread in home kitchens: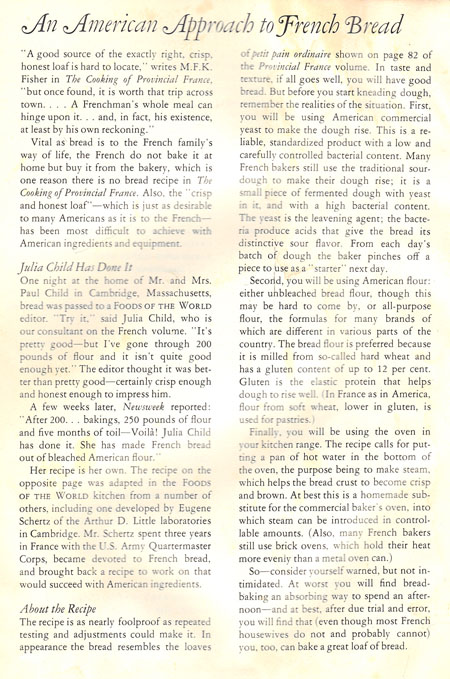 Note in the above discussion that in France, most people buy their bread fresh daily in the bakeries, or boulangerie. (We saw the truth of this when we visited Paris.) So why even try baking French bread in America? I think because good French bread might have been hard to find here, even in bakeries. Or, unbleached bread flour was hard to find in the U.S. Or, Julia Child and others saw a challenge and rose to it! The recipe for French on the page following the above excerpt was adapted in the Foods of the World Kitchens from a combination of a number of recipes other than Julia Child's.
I'll get to that recipe later, since I too wanted to make good French bread at home. I studied the recipe in Foods of the World Supplement Number One a lot! The pages around this discussion and recipe are obviously well-used. Over a period of years, I made my own changes and baked a lot of these French loaves. I will make French bread for this blog and share my discoveries.
"Tomato-Cheese Pie" (Tarte à la Tomate) is a main dish pie using pâte brisée, or pie crust. Their crust recipe calls for flour, chilled butter, chilled shortening, and water, but not any of my beloved vodka, so if I decide to make this pie I would use my own recipe. The pie filling is Gruyère chese slices topped with drained tomato slices, salt and pepper, fresh basil, a little Parmesan cheese, and melted butter. Sounds like a very rich meatless pizza! Yes, I'm sure Tarte à la Tomate would be good, but dang rich.
"Casserole-Roasted Chicken with Vegetables" (Poulet en Cocotte Bonne Femme) is a lovely roasted chicken, prepared in a stove top to oven casserole, such as a LeCreuset. The chicken is first seasoned with garlic, thyme, salt pork, and browned, and then baked with small white onions, carrots, potatoes cut in 2-inch olive shapes, and a Bouquet garnie. The sauce is finished on stove top. Like Tomato-Cheese Pie, this recipe sounds very good.
"Cheese Pie" (Crostata di Ricotta) begins with a pasta frolla, a pastry crust made with flour, butter or lard, egg yolks, sugar, Marsala, lemon peel and salt. This crust is put in a spring form pan, then topped with a filling of ricotta cheese, sugar, flour, salt, vanilla, orange peel, egg yolks, white raisins, candied orange peel, candied citron, and slivered almonds or pine nuts. This is a "dessert" pie, and I doubt I'll ever make it.
"Rabbit Stewed in White Wine Sauce" (Sauté de Lapin au Vin Blanc) is a dish I'll never make! I am too used to watching bunny babies and bunny adults scampering around my yard. They are cute to look at, and they are not for dinner, in my opinion.
"A Shopper's Guide to Foods and Utensils" lists, by state, about 80-100 firms that accept mail orders. Addresses are given, but not phone numbers. And of course no web sites, since this is a 1974 publication. There are several listed in Denver, Colorado:
American Tea, Coffee and Spice Co. on Champa Street is no longer in business.
Cassidy's Delicatessen on East Third Avenue is no longer in business.
May D&F Gourmet shop on 16th and Tremont Place. May D&F has changed to Macy's bu there is a May D&F museum in Denver.
Denver Dry Goods Co. on 16th and California. Denver Dry goods has a Wikipedia entry only as a "historical" store.
So "A Shopper's Guide to Foods and Utensils" is not very helpful to me any more!
Okay, I am to the end of this booklet. At first, I think to cut out and save the bread recipe and notes, and the tomato cheese pie and the roasted chicken recipe. But then, well heck, might as well keep the whole booklet!!
I will make French bread for this blog: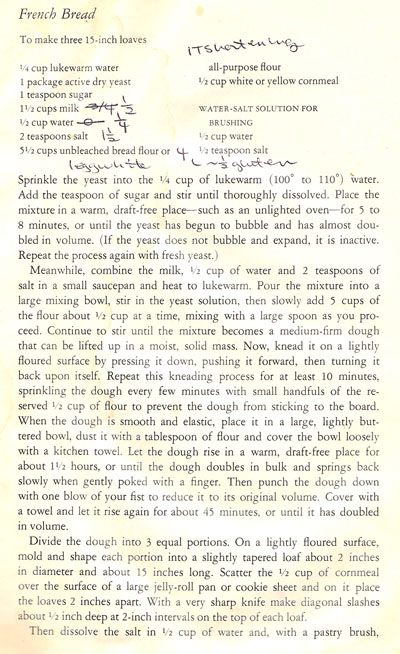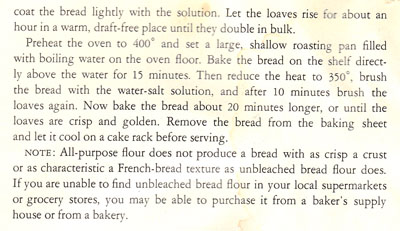 Seeing this recipe again, I realize how familiar it is to me. Ages ago, before I even had a breadmaker or access to unbleached bread flour, when I was supplementing all-purpose flour with gluten flour, I worked again and again to make a great loaf of French bread. Since that period of time my breadmaking has gone through a couple of evolutions, first using a KitchenAid mixer to knead the dough, then a breadmaker to knead and rise the dough, then to no-knead breads as well as breadmaker breads. I haven't returned to this old recipe in years. This should be fun!
To start, I will incorporate my own suggestions when I make it in my kitchen today in 2017. Note that I two-thirds the recipe and made two baguettes instead of three. This is because I had purchased this two-loaf baguette pan: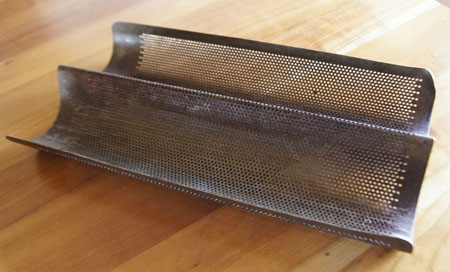 I also added 1 egg white to the dough. I forget where I got that idea, but I found it essential for making a good loaf. I also added 1 tablespoon shortening – I forget why. I discovered early on the advantage of adding vital wheat gluten flour to my loaves, so the changes I made to the recipe include using 1/2 cup gluten flour in the total 4 cups of flour, (the rest was all-purpose flour).
Today, I am able to buy unbleached bread flour, a flour that Julia Child said was not available in America in the 1970s. This type of flour has a high gluten content, so I will not add additional gluten flour. Since th 1990s, I have used a breadmachine to knead and rise my kneaded breads, so I will do so with this recipe too. I like butter better than shortening, so will make that substition. I know my Red Star Active Dry Yeast very well, since I buy it in bulk and store it in my freezer. I never pre-proof this yeast, I just toss it in the breadmaker and I know my breadmaker and that it rises bread at a consistent temperature. I will eliminate the second rise. After I form the loaves, I will let it rise only 20-30 minutes before baking – as I said, I know my yeast, and this shorter time should work.
French Bread
makes 2 baguettes
3/4 cup water
1/2 cup milk
2 1/4 teaspoons active dry yeast (this is equivalent to one small package)
1 teaspoon sugar
1 1/2 teaspoons salt
1 tablespoon butter (preferrably unsalted)
4 cups unbleached bread flour (King Arthur flour brand)
some cornmeal or semolina for the baking pan
a mixture of 1/2 teaspoon salt in 1/2 cup water for brushing the bread.
Put the water, milk, yeast, sugar, salt, butter, and unbleached bread flour in a bread machine. Set the cycle to a dough cycle that includes a pre-warm step, a kneading step, and a rising step. At the end of the cycle, take the dough out of the machine and set in on a bread board.
Form the dough into two long loaves, about 15 inches long (I used a tape measure!) and about 2 inches in diameter. I set the loaves in my two-baguette pan that I had lightly greased and shaken with cornmeal. You can also use a half-sheet pan lined with parchment paper and sprinkled with cornmeal or semolinal.
Preheat the oven to 400˚.
Let the dough rise 20-30 minutes, or until it has just crested the top of the pan. Next, you need to slash the tops of the loaves. (I had to take them out of the pan to do this.) With a very sharp knife, make diagonal slashes on the tops of the loaves, about 1/2 inch deep at 2-inch intervals.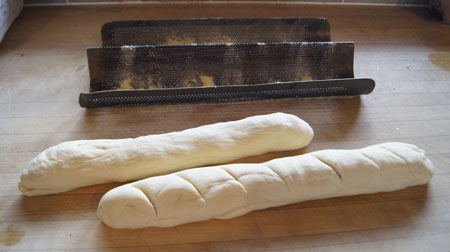 (Put the slashed bread back in the pan if necessary.)
Brush the tops of the loaves with the salt water mixture.
Bake the loaves in a 400˚ oven for 15 minutes. Open the oven and again brush the tops of the loaves with the salt water mixture. Lower the oven temperature to 350˚ and bake for 10 minutes. Again brush with salt water, then bake another 20 minutes at 350˚.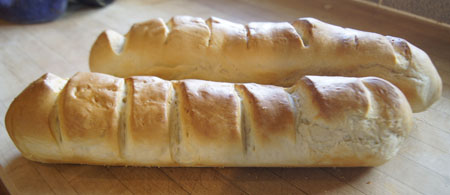 I am very pleased with the results. Granted, I made some of the slashes too deep so it may not look perfect, but the crust is golden brown and good and crunchy. The inside has a good "crumb", sort of halfway between kneaded breads and no-knead breads. (No-knead breads are more like the artisan loaves we buy locally.) I like the flavor, too. Some chefs argue that true French bread has no milk or butter in it, but I like it this way.
Success! I am glad I re-found and updated this French bread recipe. I will definitely make it again.
Note: I have the cookbook From Julia Child's Kitchen and will cover it sometime in the near future. I've been putting it off since I know it will be a project! But I will look to see if she includes a French bread recipe and if so, what that recipe is.