Cookbook #171: Southwestern Grill, Michael McLaughlin, the Harvard Common Press, Boston, MA, 2000.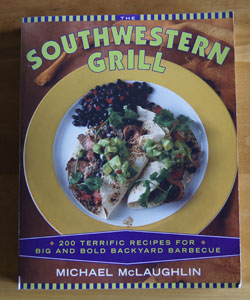 I bought this cookbook for myself and have always enjoyed it. Such refreshing ideas! Grilling with spices and fresh ingredients. A pleasure after some of my aged cookbooks.
I grew up in the Southwest (southern California), and tacos and enchiladas were part of our everyday meals, especially from the time I was a teen. How did this author develop his own interest in southwestern-style foods? On Wikipedia, I learn that Michael McLaughlin was born the same year I was, in Wray, Colorado. He moved to New York and became a chef. There he met Julee Rosso and Sheila Lukins, and helped them publish The Silver Palate Cookbook in 1983. This cookbook encourages homecooking with fresh ingredients, and has sold in excess of 2 million copies. (Why have I never heard of it? Sounds right up my alley.)
McLaughlin moved to Santa Fe, New Mexico, where he owned a restaurant for a time. His interest and expertise in fresh foods and grilling expanded to include bright, spicy Southwestern flavors. He became a food writer for Gourmet, Bon Appetit, and Food & Wine magazines. McLaughlin authored (or co-authored) over 20 cookbooks. I was sad to learn he passed away in 2002.
McLaughlin writes about two "very good things" that happened in the 1980s-2000. First, grilling, "formerly a casual backyard art form, evolved into an accepted and respected cooking method." And "second, the food of the Southwest escaped from its regional confines and swept like a mesquite brushfire across the country." The two combined and now both chefs and home cooks grill southwestern dishes, full of heat, spice and savory smoke. "Grilling has grown up . . . liberally seasoned with a dose of the special magic that is the unique culinary contribution of the American Southwest."
Here is a sampling of recipe titles, to give you an idea of the variety in this cookbook: Steak and Grilled Green Onion Quesadilla, Cafe Pasqual's Grilled Salmon Burritos with Cucumber Salsa, Grilled Chicken Totopo Salad, Warmed Grilled Chile-Lime Beef Salad, Arracheras with Crunchy Vegetable Garnish, Heirloom Bean Salad, and Grilled Tequila-Cured Salmon with Mango Pico de Gallo.
Some recipes are a bit "out-there" for my own cooking, partly because I'm not sure I could get some members of my family to eat them, for instance: grilled cactus, grilled eggplant dip, and portobello mushroom burgers.
I like the Salsas, Sauces, and Condiments chapter a lot. For one, many of the recipes in this cookbook refer to this chapter for sauce/salsa/rubs recipes (for example, see the scan of the Grilled Fish Tacos recipe). And too, it allows the cook (me!) to be creative, adding a fresh salsa to "same old" tacos, for instance.
I am going to share a couple recipes that I love from this cookbook. I know, I usually try something new from a cookbook, but the rules are mine, and I can bend them! I have made the "Grilled Fish Tacos with Citrus Slaw" many times.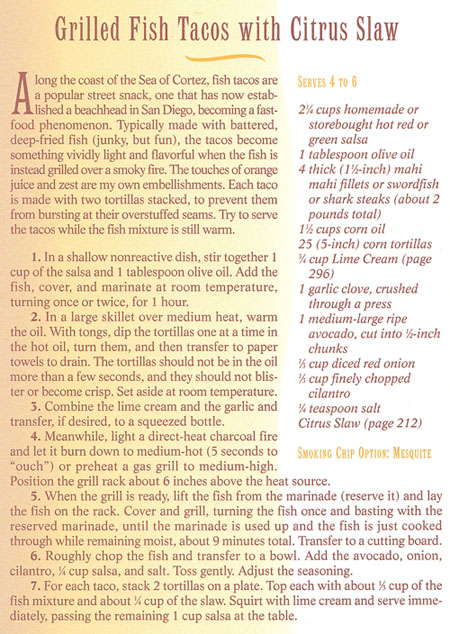 Citrus Slaw is a separate entry.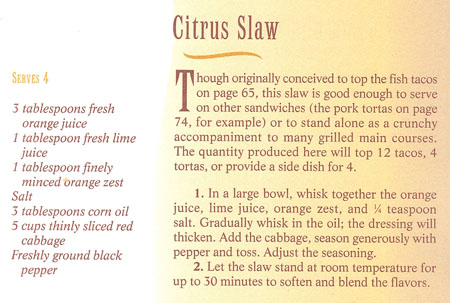 And so is the Lime Cream.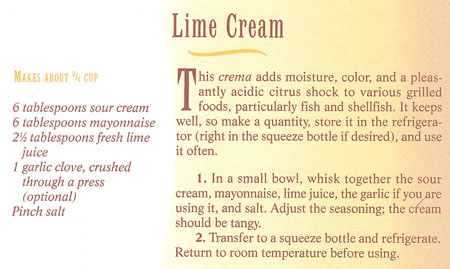 I made these exactly according to the above recipes. And they were good, as always!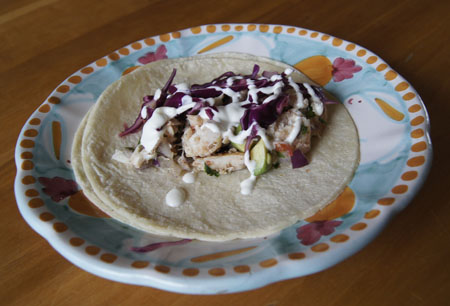 Thank you Michael McLaughlin for this wonderful recipe! If you want to make them for yourself, pick up a copy of his book, or use my scans, above.