Cookbook #34: Quick and Easy Recipes. California Home Economics Teachers, California Cookbook Company, Orange, California, 1986.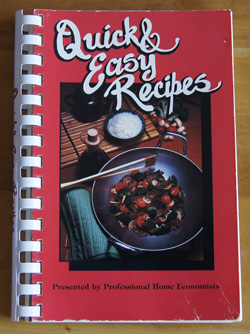 This spiral-bound book is a collection of recipes contributed by home economic teachers in California in the 1980s. It's a notched-up version of a "community" cookbook, as it is professionally published (it has an ISBN) and has good color photos contributed by several food companies.
My sister sent me this cookbook for Christmas in 1986. She was a teacher in the California school system and that's probably how she came across this book. She notes three recipes – layered spinach salad, orange bread, and spinach dip – as being really good. Layered spinach salad was a classic back then, a great dish for bringing to a party. You make it the day before so the flavors can meld. This version has spinach, bacon, frozen peas, Romano cheese, fresh mushrooms, red onions, mayonnaise and sour cream. I have made and liked the orange bread (you blend a whole orange!) and the spinach dip, served with fresh vegetables, could be made low-cal by using Greek yogurt.
Like the spinach salad, the recipes in this book are a very good reflection of American family cooking in the 1980s. Classic recipes include artichoke dip, clam dip, cheese rolls, molded salads, tuna casseroles, hamburger stroganoff, and chicken rice casserole. The recipes are not always from scratch, but they are still home-cooked. Examples of typical 80s ingredients are Bisquick, frozen dinner rolls, crescent rolls, packaged pudding, canned soups, cake mixes, dried onion soup mix, tater tots, canned tuna, canned clams, and canned French fried onions. These ingredients may not be the best for us, but they aren't terrible and they bring both ease of cooking and (to me) a sense of comfort food. And on the healthier side, many of this book's recipes do include only non-packaged and fresh ingredients, and several recipes are labeled "low-fat".
I will go back to this cookbook for some of the classics I remember from that time. If I ever want to make artichoke dip or layered salad, now I know where to find a recipe without going online. Plus the cookbook has a note from my sister, so I definitely will keep it!
But what to cook for this blog? As usual, I'm looking for something low-fat that uses ingredients I have on hand, and that will add to my cooking repertoire. This cookbook has a chapter titled "Stir Fry Cookery"; sounds right up my alley. I chose to try the "Shredded Beef with Green Peppers" because (1) I have a flank steak in the freezer and (2) flank steaks are a lean meat and (3) I like the tablespoon of fresh ginger it includes and (4) it calls for very thin slicing and then marinating of the flank steak before cooking. I'm usually pretty impatient when preparing meat for stir fries, tending to cut it into large slices. That works for chicken or pork tenderloin, but not for beef (too tough). I think the very thin slicing – shredding – will get me out of my usual rut.
I plan to modify the recipe (surprise!). My dining partner doesn't like green peppers, so I'll tone them down and add some other vegetables that I have on hand.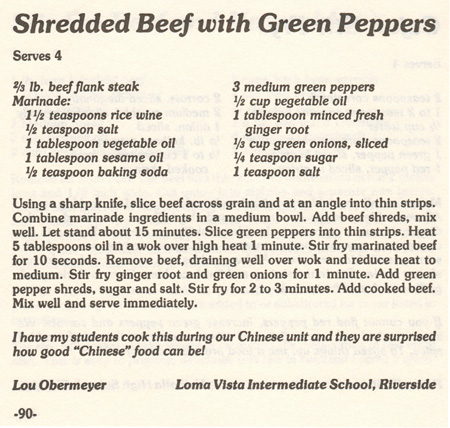 Looking carefully at the above recipe, I see a mistake: It calls for 1 tablespoon of vegetable oil in the marinade and 1/2 cup for cooking. But in the directions, it says to put 5 tablespoons of oil in the wok, and never says what to do with the other 3 tablespoons. And half a cup of oil is way too much oil anyway – that's almost 1000 calories!
Another issue: it has way too little meat, at least for our tastes. Two-thirds of a pound of meat is about 10 ounces; I use about 9 ounces for 2 people, and this recipe claims to feed 4.
I don't like sesame oil very much, and I think it needs soy sauce, so in my version I will put 1 tablespoon soy sauce in the marinade and then taste to decide if it needs more after it cooks. I'll also up the vinegar (and use rice wine vinegar, not "rice wine"). Why baking soda? That's a strange ingredient for a stir fry; I'll leave it out. I also think it needs thickening, so I'll add a touch of cornstarch.
Guess I pretty much mangled the original recipe, even before I started! And then I began cooking … oooh, more changes are needed. I got the wok nice and hot with a little oil in it, then added the finely shredded beef. No way was it done cooking in 10 seconds. After about 30 seconds there were still a lot of raw pieces of meat, but then the meat released a bunch of juice into the pan. I probably cooked the meat 5 minutes before it was all cooked, and then I had quite a bit of juices in the pan. The juices are sure to add to the flavor – I decided to take it off the heat and keep the juices. (Maybe it would have been done in 10 seconds if I had used 5 tablespoons of oil, but heck, it would have splattered all over the place.)
Whew, lots of changes. The recipe below is how I actually cooked this dish.
Shredded Beef with Vegetables
serves about 2 people
I served this over rice.
Steak and marinade:
 9 ounces flank steak, sliced across the grain, at an angle, as thinly as you can – you want it "shredded"
1 tablespoon rice wine vinegar
1 tablespoon soy sauce
1 tablespoon vegetable oil
sesame seed oil to taste (I used a few drops)
Vegetables:
1 tablespoon freshly grated ginger root
a mixture of thinly sliced vegetables, such as green peppers, green onions, carrots, baby bok choy, cabbage, mushrooms, and/or celery
1/4 teaspoon sugar
soy sauce to taste: I used about 2 tablespoons reduced-sodium soy sauce
Combine the sliced beef with the marinade ingredients and let stand about 15 minutes. While it marinades, prepare your vegetables. I used shitake mushrooms, baby bok choy, carrots, green peppers, and green onions. Aim for about the same amount of total sliced vegetables as you have sliced beef.
Heat a tablespoon or two of vegetable oil in a wok (or any fry pan) over high heat for 1 minute. Add the beef and stir fry until all the meat looks cooked but not so long that the juices that come out of the meat evaporate away. Remove the cooked beef (and its juices) from the wok and put in a bowl.
Return the wok to medium high heat. You can add a few drops of oil, if you wish. Add the vegetables (don't forget the ginger) and stir fry for 2-3 minutes. Add the cooked beef and its juices back to the pan. Add:
1 teaspoon cornstarch dissolved in a couple tablespoons water
soy sauce to taste (1-2 tablespoons)
Heat through and serve over rice.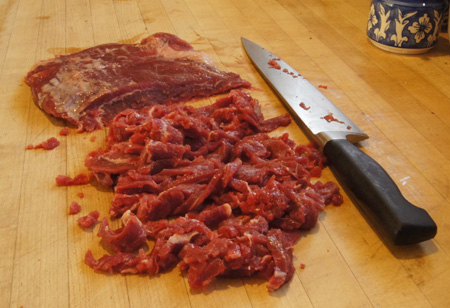 I sharpened my knife and took some time to "shred" the beef. The pile of sliced beef is about 9 ounces; the rest went back into the freezer for another meal.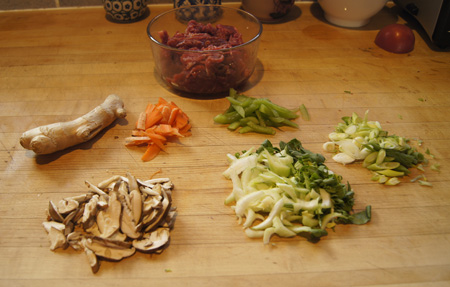 Above are the sliced vegetables (and a hunk of ginger root) that I used in the dish.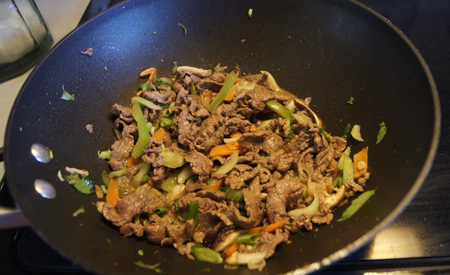 And above is the cooked dish. We liked it a lot! Some red peppers might have been nice for color. It had just enough sauce to serve over rice. Taking the time to carefully shred the flank steak before cooking is really worth the while.
I now have a new stir fry recipe in my repertoire! Hmm, this would be good with hoisin sauce in a flour tortilla. Moo shoo beef. Stay creative!