Cookbook #108: Sunbeam Deluxe Mixmaster Mixer, Instruction and Recipe Book, Sunbeam Appliance Company, 1983.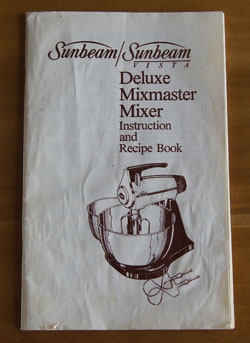 I dug this little book out of the "instruction booklet" pile because . . . well, because I am organizing my kitchen storage area in our basement and found my old Sunbeam mixer. But, it's missing both of the bowls that came with it. Shall I toss the mixer? Can I still find replacement bowls for this old appliance? Maybe I can find the model number in this instruction booklet to help me locate the bowls.
First: Does this mixer still work? I plug it in and – yes! The motor whirs!
I search the Internet for "Sunbeam Mixmaster". I soon realize that my mixer is not "old", it is "vintage"! I place a bid on eBay for a replacement bowl, and then follow some links on the history of Sunbeam Mixmasters.
The first electric mixers were introduced to the American public in 1915-1920. Sunbeam mixers were introduced in the early 1930s, after Ivar Jepson joined the Chicago Flexible Shaft Company. Jepson was a prolific inventor, and thanks to his inventions, the company did well even during the great depression. He was with the company – which changed its name to "Sunbeam" – until 1967. He is known as "Mr. Sunbeam".
(There is a Yahoo group called "We Actually Collect Electric Mixers", or WACEM.)
Here is an article on the vintage history of Sunbeam Mixmasters, written by a collector. Retro Kitchen Mixers is another good read. This one helps mixer-owners determine which model from 1930-1967 they own.
My mixer, alas, is from the 1980s and I can't find the model number anywhere, it is neither in the instruction book, on the mixer, nor online. Luckily I only need a bowl, and the one I got through eBay fits my mixer. (I won the bidding! The used bowl cost $10 plus shipping.)
So my old Sunbeam is up and running again. I don't really know why I replaced it with a new KitchenAid. Perhaps I was using it for kneading bread and it just wasn't powerful enough for thick doughs. I remember one of the Sunbeam beaters collapsed while making Turtle Brownies and I had to order a new one.
I have decided to keep this 1980s mixer because it is: Vintage!
Since I have the Sunbeam Deluxe Mixmaster Mixer recipe booklet in my hand, and since it is entered in my database of 250 cookbooks, I decide to cook one of the recipes for this blog. There are only about 40 recipes in this cookbook, most of them are good old American basics. I decide to make Banana Nut Bread, partly because I have plenty of ripe bananas on hand. This Sunbeam version of banana bread is different from my usual recipe in that it has butter in it and a lot of brown sugar. Perhaps the extra sugar is not great for our health, but it sounds yummy!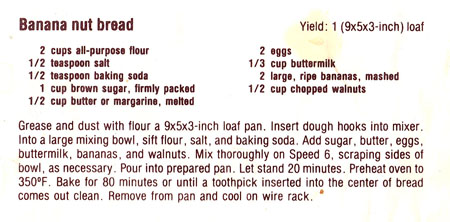 Banana Bread (from Sunbeam)
makes one 9x5x3-inch loaf
2 cups flour
1/2 teaspoon salt
1/2 teaspoon baking soda
1 cup brown sugar
1/2 cup butter, melted
2 eggs
1/3 cup buttermilk
2 large, ripe bananas, mashed
1/2 cup chopped walnuts
Put the flour, salt, and baking soda in the large bowl of an electric stand mixer and mix on low for a few seconds to combine. Add the sugar, butter, eggs, buttermilk, bananas, and walnuts. Mix on medium to medium high speed until thoroughly mixed, scraping sides of the bowl as necessary.
Pour the batter into a 9x5x3-inch loaf pan. If your pan is non-stick, you probably don't have to grease it. If not, grease and flour the pan.
Let stand 20 minutes. (This is an unusual step; I did let it stand but I don't think it's necessary.)
Bake at 350˚ for 60-80 minutes, until it tests done with a toothpick.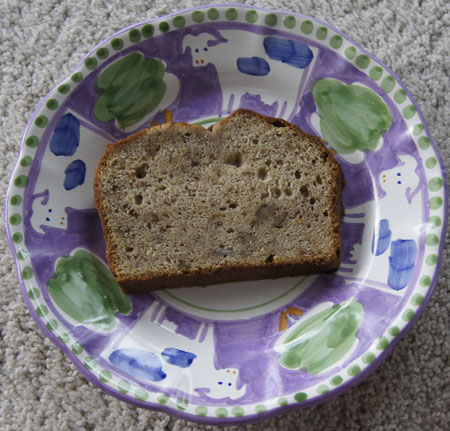 This was excellent banana bread. Nice and sweet!