Cookbook #137: 101 Perfect Chocolate Chip Cookies, Gwen Steege, Storey Communications, Inc., Pownal, Vermont, 2000.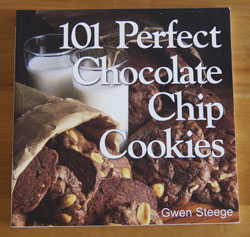 I must have purchased this cookbook in a weak moment! The recipes are great, all of them. But calorie-laden. If you like chocolate chip cookies but are in a cookie-rut, it's time to open this book and make a slightly different batch of these delights. Me? I love chocolate chip cookies, but I've only tried one so far from this cookbook: "Joyous Chocolate Chip Cookies".
Who contributed the cookie recipes to this book? Well, they are the best recipes from entries to a contest in 1987 sponsored by The Orchards, an inn in western Massachusetts. Entries came from "almost every state, as well as from Italy, Canada, and Mexico". So, the recipes were contributed by people like you and me. Each recipe has a note written by the person who sent it in. It's a very friendly book.
And how can there be so many chocolate chip cookie variations? The chips can be chunks and can be of differents sizes or different chocolates (milk, semi-sweet, or bittersweet), or non-chocolate chips can be added to the mix. Flour can be white or whole wheat; a grain like oatmeal can be added. Butter, margarine, vegetable shortening or oil can be used. Different sweeteners are employed: brown or white sugar, honey, corn syrup, molasses. Peanut butter and nuts, fruits and vegetables are nutritious additions.
The first chapter of this book is a great reference for the effects of different oils and sugars on the texture of cookies. For beginners, it's also a great reference for basic cookie mixing and baking techniques.
Gwen Steege published this and one other cookie book, and a book on gardening. She's published lots of stuff on knitting.
I decide to make Apple Orchard Chocolate Chippers.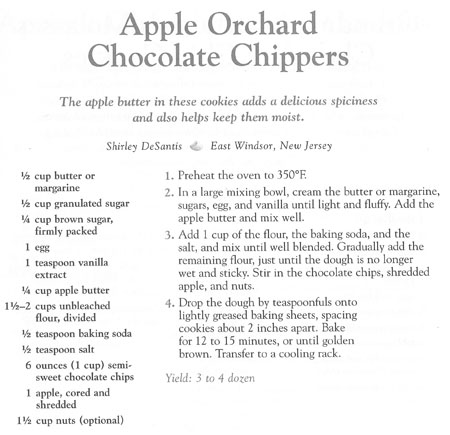 I used the maximum amount of flour and I did add nuts, and I changed the cooking temperature. I had my own apple butter to use in this recipe. Below is my version.
Apple Chocolate Chip Cookies
makes about 3 dozen
1/2 cup butter (preferrably unsalted)
1/2 cup sugar
1/4 cup brown sugar
1 egg
1 teaspoon vanilla
1/4 cup apple butter
2 cups flour
1/2 teaspoon baking soda
1/2 teaspoon salt (use less if your butter is salted)
6 ounces semi-sweet chocolate chips (1 cup)
1 medium apple, cored and grated
1 cup chopped walnuts
Cream the butter and sugars, then add the egg and vanilla and beat until light and fluffy. Add the apple butter and mix well.
Stir together the flour, baking soda, and salt. Gradually add this mixture to the creamed mixture. Stir in the chocolate chips, apple, and walnuts.
Drop by teaspoonfuls onto lightly greased or parchment lined baking sheets. Bake at 375˚ for about 12 minutes, or until they are beginning to brown.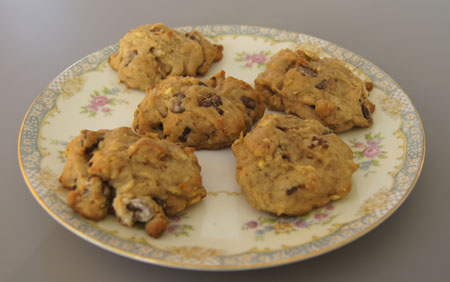 These are great! They are kind of cake-like, some said they even are like "muffin tops". They definitely satisfy (or encourage) my sweet tooth.