Cookbook #179: Elena's Famous Mexican and Spanish Recipes, Elena Zelayeta, Dettners Printing House, San Franscisco.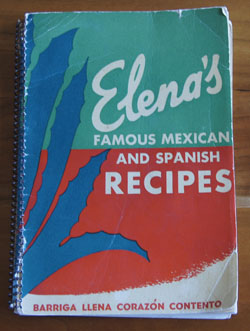 Driving out of Boulder last week, I noticed a new Mexican grocery store. I wanted to go in! I love discovering small stores with interesting ethnic products. I used to get the best corn tortillas from a store in almost the same location. Makes me hungry for Mexican food. Time to pull another Mexican cookbook off my shelf!
And I have only one that I have not yet covered: Elena's Famous Mexican and Spanish Recipes. I covered another of her cookbooks, Elena's Secrets of Mexican Cooking, in one of my earliest posts. That book was published in 1958, and this one in 1944. Inside the back cover is the price it originally sold for: $1.50 from May Co. I think I bought it from a used book or junk store, way back when we lived in Boulder. But I am not sure. It could have been my mother-in-law's – there is some writing in this book that might be hers.
The introduction to Elena's Famous Mexican and Spanish Recipes is written by Elena's friend Katherine Kerry, while the introduction to the (later) 1958 book is written by Helen Evans Brown. Her friends just loved her! If you read my other blog entry, you will learn that Elena lost her sight as an adult, but blindness didn't stop her from cooking. That amazes me so much! Katherine Kerry writes of her friend's book:
"This book of her own much-used recipes is just one expression of Elena's love of people, her knowledge of how to make them happy. Each recipe is a shining star of courage, faith and hope, plus a full measure of gastronomic enjoyment for you who use them."
"Elena is a bouncing ball of pep, gaiety, kindliness and heart – a heart so big it encompasses all she meets."
Some of the recipes in Elena's 1944 book were carried through to the later book – "because no book on Mexican cuisine could possibly be without them".
The first chapter of Elena's Famous Mexican and Spanish Recipes is "Sopas – Soups". I learn that there are two types of soup in Mexico: wet and dry. Wet soups are liquid (plus meats and vegetables) and served at the beginning of the meal, dry soups are served next. Dry soups are rice or vermicelli cooked in soup stock, the stock being entirely absorbed in cooking, in effect making them more like our idea of seasoned cooked rice.
"Eggs, Glorified ways of serving them", the next chapter, has at least one recipe I'd like to try: "Rice Nests with Egg". In this recipe, bacon is wrapped around a small pile of cooked rice and secured with a toothpick, then topped with a raw egg and baked in the oven. I like this recipe for a couple reasons. One, it sounds good! And two, it illustrates Elena's Mexican dishes. They are often simple home cooking, and barely our typical ideas of "Mexican" cooking.
Some of the salad recipes look very good, like an avocado salad with pineapple, oranges, fresh mint, lettuce and French dressing. Chiles Rellenos – green chiles stuffed with cheese, dipped in egg batter, deep fried, and served in a spiced tomato sauce – are in the vegetable chapter. I have made them Elena's way for years! She suggests frying them the day before serving, an idea that might me prepare these delights more often. (Much easier than frying while your guests are there.) Fish, poultry, meats and beans each has its own chapter. (Some of the meats, like tripe, kidneys, rabbit, and pigs feet, I guarantee I'll never cook.)
"Tortillas, Tacos, Tostadas, Enchiladas and other things made with masa" is the title of another chapter. Elena talks about treating a pan with "hydrated lime" when one makes homemade tortillas. Hydrated lime is not made from limes, instead, it is calcium hydroxide, and is used to help the masa bind together. All of her recipes that include masa (a type of cornmeal) call for purchasing it fresh from a Mexican store. I'm not sure this type of masa is still available, and I ran into problems when I tried making a tamale casserole using the bagged masa that is currently sold in US supermarkets. But in general, her recipes call for store bought tortillas, so it's not a huge problem. She also mentions an item I'd like to find called "raspadas", thin tortillas specially made for tostadas.
And last but not least, desserts! Flan, rum and macaroon pudding, Mexican bread and rice puddings, banana pudding, cookies (Little Drunkards sound interesting!), and turnovers are among the sweet recipes in this chapter.
Elena's Famous Mexican and Spanish Recipes includes several pages of menus for Mexican meals. Below is a great example: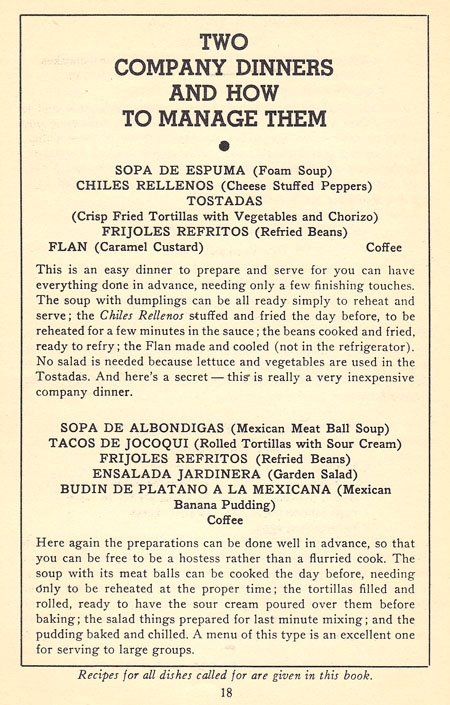 I do like this cookbook and definitely will keep it. Lots of good recipes, information on historical Mexican cooking, and written by an interesting woman.
For this blog, I decide to make Carne Deshebrada, or Shredded Skirt Steak, Mexican Style: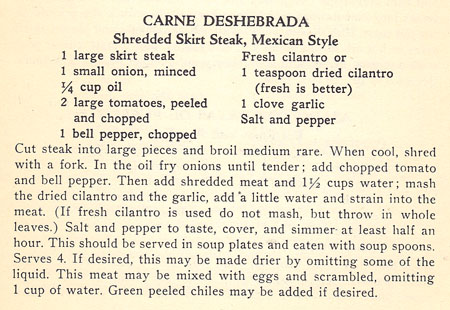 Usually when I make "shredded beef", I braise a roast for a long time until it falls apart easily when shredded with a fork. In this recipe, the skirt steak is broiled just to medium rare – sounds like an interesting variation. I found it hard to "shred with a fork", so I went back and forth using a fork and a sharp knife to shred/chop instead of following the directions. I couldn't find a green bell pepper, so I used a red one. I like lots of fresh cilantro and garlic so I increased the amounts. And I added the green chiles as suggested. I preferred not to serve this "in soup plates and eaten with soup spoons". Instead, I kept the meat a little drier by adding less water, and served the mixture in a corn tortilla with grated cheese and salsa.
1 skirt steak, about 1 1/2 pounds
1 onion, chopped
2 large tomatoes, peeled and chopped
1 green (or red) bell pepper, chopped
1 teaspoon chile powder (optional)
fresh cilantro, 1/4 cup chopped (or to taste)
2 cloves garlic
1 small can chopped green chiles
Cut the steak into several pieces and broil in an oven just until medium rare. Cool, then shred with a fork and a sharp knife.
Fry the chopped onions in a little oil until tender. Add the tomatoes, bell pepper, chile powder, cilantro, garlic, chiles, the shredded meat, and about 1/2 cup water. Salt and pepper to taste. Simmer about a half hour, adding a bit more water if needed to keep the mixture moist. Serve wrapped in tortillas with cheese and salsa.
Below is a photo of the skirt steak after I cooked and "shredded" it.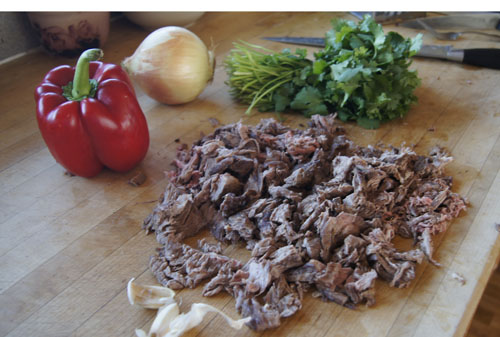 And here is the pan of shredded beef and vegetables, ready to be served.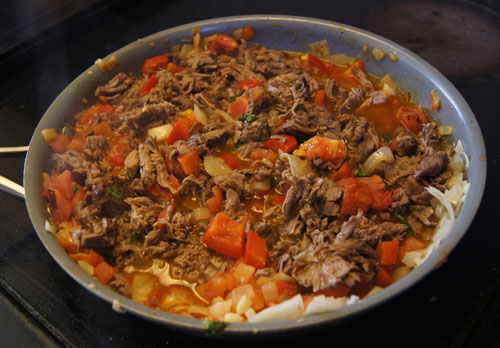 And how did it turn out? Wonderful! The skirt steak was so, so flavorful! A different experience than my braised style shredded beef. I used "Tortillaland" corn tortillas, half-cooked tortillas that heat up on a dry grill into soft but sturdy tacos. These tortillas were strong enough to stay together, even packed with shredded beef and fixings.
I made another meal using the leftovers by mounding the mixture and some grated cheese in thin flour tortillas, rolling them up, then browning in a big fry pan in a little oil just until all sides were browned. Then, I cut into bite-sized pieces and served with salsa and sour cream. Yum again.