Cookbook #192: Chinese Vegetarian Cooking, Kenneth H. C. Lo, Pantheon Books, Random House, NY, 1974.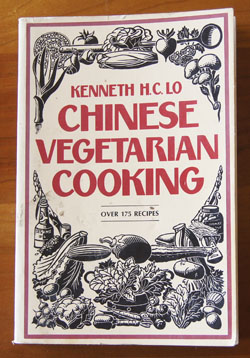 "In spite of the widespread popularity of Chinese food, Chinese cooking is still rather new and strange to the average Western housewife. By concentrating each chapter on one method of cooking, the book should make it much easier for the Westerner to conduct an initial trial, after which the mystique still surrounding Chinese cooking should evaporate. One of the purposes of this book, apart from introducing Chinese vegetable and vegetarian cooking, is to help dispel some of the mystery that still pervades any subject connected with the Chinese."
So reads the introduction to this 1974 book. By 2017, much of the mystery about Chinese cooking has been dispelled, and Americans have adopted many Chinese dishes: stir-fries, steamed and fried dumplings, egg rolls, hot and sour and egg drop soup, fried rice . . .  dishes part of our restaurant and home culinary fair.
Lo wrote over 40 books on Chinese cooking from the 1950s to the 1990s. According to the back cover of Chinese Vegetarian Cooking, he was also a news commentator for the BBC, a diplomat, a fine-arts publisher, a champion tennis player, and a food critic. He certainly knows a lot about Chinese cooking and culture! It's evident in every page of Chinese Vegetarian Cooking.  I search the internet to see if had a web site, and perhaps recipes that are not 40 years old. No such site exists. I did find from a 2015 bibliography entry stating that he has passed away.
(Curious fact: One of his books, Oriental Cooking [1996] is listed for $1141.11 on Amazon in February 2017.)
I especially like reading about the unusual ingredients in Chinese Vegetarian Cooking. For instance, "red-in-snow". I envision a pile of crushed ice with spots of red coloring in it. I search the index, but do not find a description of red-in-snow. But, I found a webpage explanation: "Basically any pickled green vegetables in the mustard family can be called 'red in snow.' The word 'red' in Chinese doesn't literally mean the colour here. Red symbolises spring and livelihood. And because many types of mustard green can still thrive in cold winter with snows, this name was given to it." (Accessed 2017.) And I found this on Google books:

I decide to look for red-in-snow at the Asian Seafood Market on 28th St. in Boulder. Nothing under that name in the store, but I did find pickled mustard greens: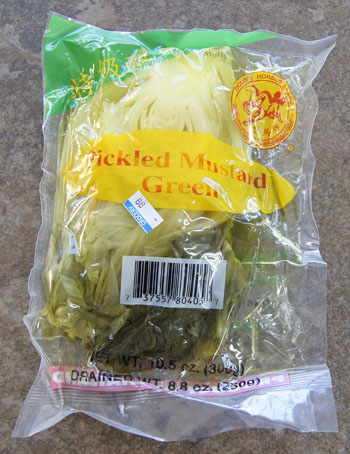 I was pretty proud of myself! I picked up a package just to see what it tastes like. Heck, it only cost 99 cents!
So what shall I make for this blog? As I page through Chinese Vegetarian Cooking, none of the recipes look familiar, and none are marked. I don't think I've ever cooked any recipe from this cook book, although I've owned it for forty years. When I make pot stickers and dumplings and soups and egg rolls, I use recipes from other of my Chinese cookbooks. But I have to find something! After a lot of searching, I choose to make Chinese Salad.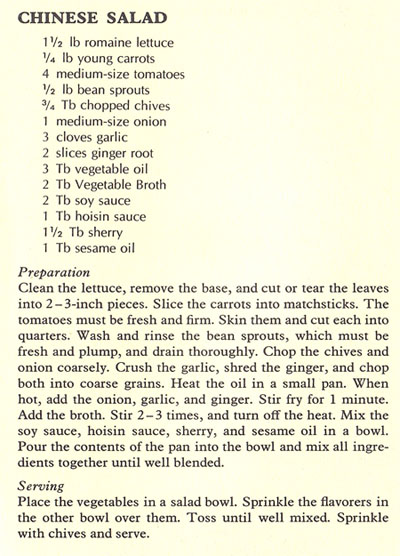 I pick up some bean sprouts for this salad at the Asian Seafood Market. I really like that this market sells bean sprouts in bulk – most stores sell them in packages, and the two of us can never finish them before they go bad. I don't find chives, but pick up a bunch of green onions; these too are always good a the Asian Seafood Market. I get some ginger, and a big baggie of peeled garlic ($1.50!). I decide to put some of the pickled mustard greens in the salad to see what they taste like. I don't have and sherry, but decide to substitute with a little rice wine vinegar. It's not in the salad, but I buy a big bag of bok choy (the storeowner always gives me grief when I just buy a couple bok choys).
romaine, torn or chopped into bite size pieces; enough for 2 people, about 4 ounces
1 carrot, cut into matchsticks
1 tomato, peeled and chopped in chunks
bean sprouts, about 1/2 cup
green tops of 1-2 green onions, chopped
1/2 onion or 1 shallot, diced
1 clove garlic
1 teaspoon fresh garlic, grated or chopped fine
3 tablespoons oil
2 tablespoons water
1 tablespoon hoisin sauce
2 tablespoons soy sauce
1 1/2 tablespoons rice wine vinegar (or use sherry, but it will be a sweeter dressing)
sesame oil to taste (I used about 1/2 teaspoon)
red-in-snow for garnish (totally optional)
fried chow mein noodles (optional)
Place the romaine, carrots, tomato, bean sprouts, and green onion tops in a bowl.
Heat the oil in a pan, then add the onions, garlic, and ginger; stir fry 1 minute. Put the mixture in a small bowl and whisk in the water, hoisin sauce, soy sauce, rice wine vinegar, and sesame oil. Toss the salad, then plate on two dishes. If you like, top each salad with a few crunchy chow mein noodles.
Here are the items I bought at the Asian Seafood Market. Note how fresh the bean sprouts are! I used the bok choy in a stir fry to go along with the salad.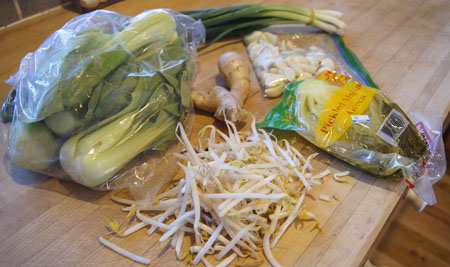 My Chinese Salads: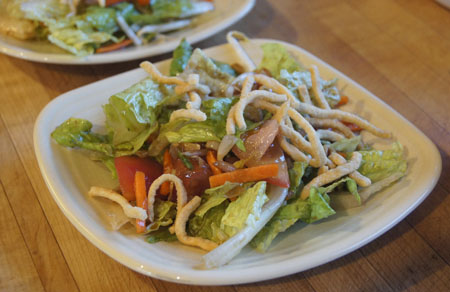 The salads were a success. The dressing is good – probably better than store-bought "Oriental salad dressing". The dressing was also easy to put together and it was quick and convenient to make enough for just two people. Of course, vary the salad ingredients to whatever is on hand!
Although this recipe was a success, I will recyle this cook book. Can't find any other recipe in it I'd like to try, and I have other proven references/recipes for Chinese ingredients and dishes.