Cookbook #39: 365 Great Cookies You Can Bake. Lois Hill, Weathervane Books, NY, 1990.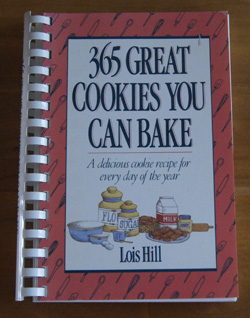 I must have bought this cookbook on a whim, because the last thing I need is more cookie recipes! It is, though, a good selection of cookies, and it would be fun to make a different kind of cookie every day for a year.
I don't think this cookbook is in print any more. My edition is 1990, and by searching online, I find there was also a 1997 version. Both are available "new" from Amazon resellers.
"Nothing tastes quite as good as a homemade cookie fresh from the oven." Thus begins the introduction, and I totally agree. This cookbook has recipes for "bars, brownies, drop cookies, macaroons, meringues, hand-rolled cookies, cookie cutter and pressed cookies, special one-of-a-kind cookies, and sugar-free cookies." It really is a good selection, a one-stop book to search when I am looking for a particular type of cookie to bake. The layout and recipes are pleasing and straightforward.
I decided to try "Butterscotch Oatmeal Raisin Cookies". The oatmeal, nuts, and raisins will lend a hint of fiber and nutrition to this treat.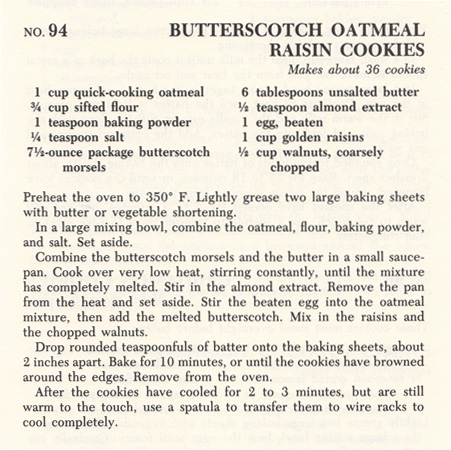 I chose these for the oatmeal-raisins-nuts, and it wasn't until I was mixing them up that I realized there is no added sugar in this recipe. I had to double-check to make sure. You add a beaten egg to the dry ingredients, a very unusual cookie-practice. Also, you don't use a mixer. Hmm, are these really going to work?
I went ahead and followed the directions. My butter-butterscotch chip mixture separated into two layers, no matter how much I stirred it. After mixing it with the egg-dry ingredients and the nuts and raisins, the batter looked like this: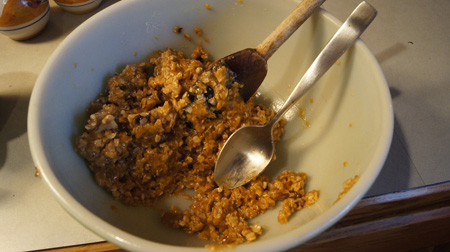 It's wet and gooey. I went ahead and used the teaspoon to form cookies: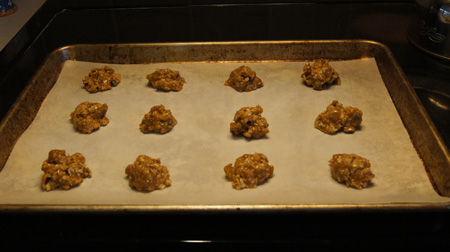 And baked them 10 minutes: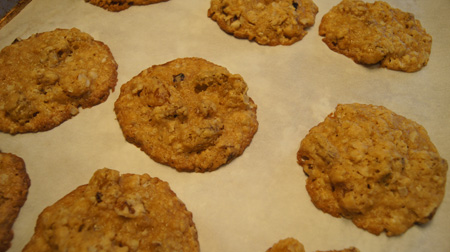 They were just nicely browned along the edges. I let them cool a couple minutes before removing from the pan, as suggested. And wow! These are great cookies! Warm from the oven, they are chewy and not too sweet. Perfect. Almost like a really good and fresh energy bar.
Butterscotch Oatmeal Raisin Cookies
-be sure to get golden raisins because they really make these cookies pretty
-made exactly 36 cookies
1 cup quick oatmeal
3/4 cup flour
1 teaspoon baking powder
1/4 teaspoon salt (leave out if you use salted butter)
7 1/2 ounces butterscotch chips (they are now sold in 12 ounce packages, sorry, you will have some left over)
6 tablespoons unsalted butter
1/2 teaspoon almond extract
1 egg, beaten
1 cup golden raisins
1/2 cup chopped walnuts
Combine the oatmeal, flour, baking powder, and salt. Set aside.
Combine the butterscotch chips and the butter in a pan and melt on the stove top, stirring constantly. Don't worry if it separates into two layers, but be sure to heat long enough so the melted chips are smooth. Stir in the almond extract.
Stir the beaten egg into the dry ingredients, then add the melted butter-butterscotch mixture, the raisins, and the walnuts. Mix together well.
Drop by a teaspoon onto baking sheets. I used a parchment-lined half sheet pan; the other option is a lightly greased baking sheet. Bake for 10 minutes at 350˚, until the cookies are brown around the edges. Cool on the pan for 2-3 minutes before transferring the cookies to a wire rack. (At first, they are too soft to transfer without breaking the cookies.)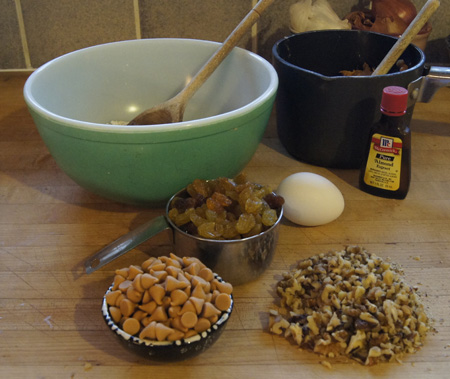 Above are the ingredients. I was going to add the leftover butterscotch chips to the batter just before cooking, but decided not to.
Here are the cookies! They were wonderful.