Cookbook #51: Hamburger & Ground Meats Recipes. Better Homes and Gardens, Meredith Corporation, Des Moines, Iowa, 1980.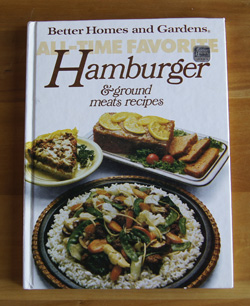 Hamburger ideas: More! This is the second hamburger-recipe cookbook I've covered in this blog. Ground meats are a mainstay in my freezer, great for easy and tasty mid-week meals. I'm always on the lookout for new recipes to try, even if I only cook the recipe once. "Variety is the spice of life."
I'm going to keep this cookbook. Sure, it's over 30 years old, but people ate well back then, too. I want to try the Crepe-Style Manicotti, Swedish Burgers, Greek-Style Crepes, and Sausage Quiche. I found a recipe for "main dish crepes" that I had been looking for for years. I was surprised to find recipes that incorporate feta cheese – I didn't discover feta cheese until about ten years ago. I also found a recipe for "oven meatballs" that I think I used to make a lot. Baked meatballs can be low-fat, and meatballs freeze well, great for quick thawing to pop into a spaghetti sauce.
For this blog, I chose "Hearty Mexican Casserole".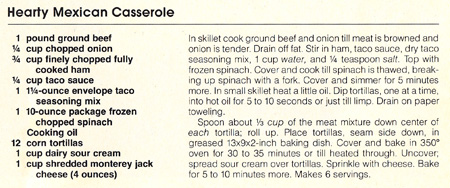 It wasn't until I was halfway through cooking this dish that I realized it was a lot like the "Wyoming-Mexican Casserole" that I have been making for years. Sure enough, it is exactly the same recipe that I typed it onto an index card in the 1970s. I probably clipped it from a Better Homes and Gardens magazine. I remember it being touted as "John Wayne's favorite casserole". When I google that phrase today I come up with a different recipe, one with chiles and eggs and evaporated milk. I guess I was wrong about John Wayne.
I'm killing two birds with one stone with this blog entry, sharing a favorite recipe and covering one of my 250 cookbooks.
Hearty Mexican Casserole
or, "Wyoming-Mexican Casserole"
serves about 4
1/4 cup chopped onion (I used more like a half cup)
1 pound ground beef
3/4 cup finely chopped ham
1/4 cup taco sauce (I used a bottled, chunky salsa)
1 1/4-ounce envelope taco seasoning mix OR use 1 teaspoon each: cumin, chile powder, and oregano (preferably Mexican oregano)
salt to taste
10 ounces spinach, cooked (can use frozen spinach)
cooking oil
12 corn tortillas
1 cup sour cream
1 cup grated jack cheese
Cook the onion in a little olive oil, then remove them from the pan and set aside. Brown the ground beef (drain off fat if necessary), then add back in the onions along with the ham, taco sauce, and seasonings. Add the spinach and some water (about a half cup) and simmer 5-10 minutes.
Cook the tortillas in hot oil until just limp. Alternatively, you can steam or microwave the tortillas to soften them.
Spoon about 1/3 cup of the meat mixture on each tortilla; roll up. Place the filled tortillas, seam side down, in a greased baking dish (13×9-inch). Cover and bake at 350˚ for 30-35 minutes or until heated through. Uncover; spread sour cream over tortillas. Sprinkle with cheese. Bake for 5-10 minutes more, until the cheese is melted.
Comments
These are actually enchiladas. And they are good! Here is the mixture before it was rolled into the tortillas: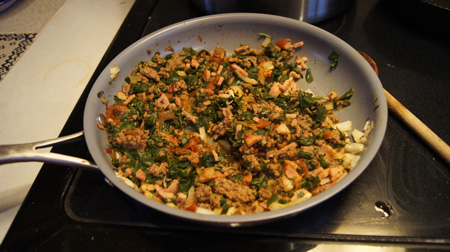 I made a half recipe and baked them in a 7×11-inch pan. I like these scrunched up next to each other. Here they are, ready for their first phase of baking: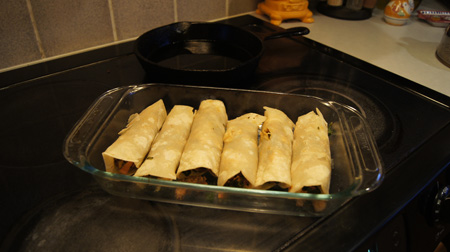 And here they are, sour cream and cheese on top and baked, ready to be plated next to avocado-tomato-queso-fresco salads: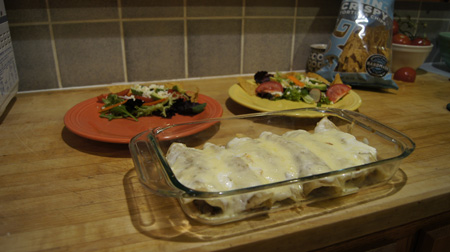 Time to enjoy a great meal!